Send money to Azerbaijan
Send money to Azerbaijan using an international money transfer service and you could beat the bank's rates.
Although not a common tourist destination or international business centre for Canadians, there are quite a few ways to send money cheaply between Canada and Azerbaijan.
While many of the big Canadian banks allow international money transfers to Azerbaijan, a fair number of specialist money transfer companies also allow transfers between the two nations. These types of companies generally offer more competitive exchange rates and charge lower fees to send money overseas.
If you are looking for cheap ways to send money to Azerbaijan, read on.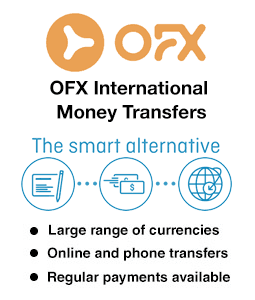 OFX International Money Transfers
Exclusive offer: OFX is currently offering exclusive exchange rates to Finder readers.
$0 transfer fees. Send fee-free transfers to a large selection of countries worldwide.
Transfers in 50+ currencies. OFX supports major, minor and exotic currencies.
Flexible options. Choose from forward contracts to scheduled transfers for convenience and flexibility.
Compare money transfer services below
---
The "Rate" and "Amount Received" displayed are indicative rates that have been supplied by each brand or gathered by Finder.

Exchange rates are volatile and change often. As a result, the exchange rate listed on Finder may vary to the actual exchange rate quoted for the brand. Please confirm the actual exchange rate and mention "Finder" before you commit to a brand.
Jason compares money transfer services
Jason is a Canadian and is planning to take a trip starting in the Ukraine, going through Turkey and ending in the city of Baku, Azerbaijan. He wants to be prepared and looks up ways he can receive money transfers to the nation.
His Canadian bank do not allow transfers to Azerbaijan. Instead, Jason decides to compare two well-known money transfer companies. Below is a summary of his findings using $1,000 Canadian dollars.
| | Money transfer company A | Money transfer company B |
| --- | --- | --- |
| Exchange rate | CAD$1 = 1.28 AZN | CAD$1 = 1.27 AZN |
| Transfer fee | $15 | $40 |
| Amount received in AZN (for CAD$1000) | 1,286.07 AZN | 1,276.02 AZN |
| Transfer time | Two to three days | Minutes |
| Transfer options | Online | Agent, online |
| Difference | + 10.05 AZN | |
How to compare transfer companies when transferring money between Azerbaijan and Canada
Exchange Rates. Exchange rates can vary between different services. Some companies will offer more competitive exchange rates, but charge higher transaction fees, so be careful.
Pickup Methods. You can choose between bank account transfers and cash pickups.
Fees. Lower fees usually result in longer transfer times. This means that high fees are generally more likely when the turnaround time is very short. Some companies will completely waive transfer fees if you send over a certain amount of money.
Turnaround Time. Expect turnaround times ranging from just minutes to five or six days. If you need emergency cash available for pickup within minutes, cash pickups will be the way to go.
Transfer Methods. Depending on the company, you may have a variety of options when sending money. These may include by phone, online, in person at a branch and through a mobile app.
Transfer Options. Some options included are regular payments, one-off payments, market orders and forward contracts.
Minimum/Maximum Transfer Amounts. Some companies will have minimum transfer amounts in place, with amounts around $100 or more, while other companies will have maximum limits in place.
Customer Service. Most of the customer service options available to you will be phone, email, in person or online chat. Always choose a reputable company to handle your international money transfers.
How do I send money to Azerbaijan from Canada?
Money transfer services – OFX, FairFX and Western Union can send international money transfers from anywhere between 10 minutes to five days. Cash pickups are limited to Western Union, however OFX and FairFX generally offer features like regular payments and market orders.
PayPal – With online services, PayPal generally allows transfers almost anywhere in the world. As long as both you and your recipient have accounts, you can send and receive money using the service. Accounts are free online and take minutes to create.
Banks – Your Canadian bank may allow transfers to Azerbaijan. Contact your bank to determine if it is possible.
How do I receive money from Azerbaijan in Canada?
Money transfer services – You can use a service like Western Union, where money can be sent to Canada and be available as cash.
PayPal – As long as both you and your recipient have PayPal accounts, you can send money using the online service.
Banks – You may be able to use your local bank, however you will first need to make sure this is possible between Azerbaijan and Canada.
Emergency cash transfers in Azerbaijan
Western Union will allow you to receive emergency cash when you're visiting a branch location. You will be able to pick up cash within minutes of someone sending it to a specific location near you.
Someone will send you money and you will need to take your valid photo ID with you along with the tracking or reference number. Even though cash pickups through a service like Western Union are much more expensive than other specialist money transfers, it adds peace of mind when you are in desperate need of cash.
Cash pickup locations in well known Azerbaijan cities when using Western Union
Western Union
Baku
AccessBank
Nizami Ul 100v, Baku, AZ1095+994-20-2130723Monday to Friday, 8:30am to 6:30pm, Saturday and Sunday closed
AFB Bank Division N 2
International Airport, Baku,+994-12-4048128Monday to Sunday, 9am to 6pm
Qabala
Azerpost
Nidzh 1 Ul, Gabala, AZ3623+994-2420-76530Monday to Friday, 9am to 5pm, Saturday and Sunday closed
Useful tips for picking up cash in Azerbaijan
When expecting money at an agent location, make sure that the agent location has the necessary funds and currencies available. You don't want to find yourself in a pickle when you're awaiting emergency cash.
Remember your valid photo ID to prove you are the recipient along with the tracking or reference number. Always double check the address of the location and, if possible, call ahead to make sure the funds are available. Avoid public transportation with large amounts of cash and never flash your cash around in public.
What are the steps to send money to Azerbaijan from Canada?
What will you need to send money using Western Union?
Send money through an agent using your recipient's details and agent location close by to them.
Send money online by creating an account and following the online steps.
Pay using a Visa or Mastercard credit and debit card issued by a Canadian bank.
What will you need for a cash pickup in Azerbaijan?
Valid photo ID
Tracking/Reference Number
What will you need to send money with OFX or FairFX?
You will first need to set up an online account with the company. Your account setup will require basic details, ID and payment details.
The next step is to transfer your money. You may be able to also select other options like regular payments, market orders and forward contracts at this stage.
Your funds will then be sent to your recipient after you have supplied all of the necessary details. Processing times may vary between one day to four or five days.
Ask an Expert
You must be logged in to post a comment.