Finder is committed to editorial independence. While we receive compensation when you click links to partners, they do not influence our content.
5 tips to keep a positive cash flow
Maintaining a positive cash flow is one of the most important parts of running a business.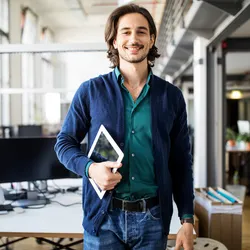 Cash flow can become a big problem if you're spending more than you're earning. Entering a negative cash flow can cause financial trouble for your business and impede growth.
If a creditor gets the sees that your business might be struggling, it may start demanding full repayments. And if you aren't honest with your creditor, it might report your situation to a credit agency. From there, things can start to go downhill.
If you fear you may be in this position, follow these tips to learn ways to save yourself before you're in too much debt.
1. Keep a budget to monitor cash flow
To know what your present cash flow is, you'll have to draw up a budget. One side will have all the bills you need to pay. The other will have your business's earnings. To maintain a positive cash flow, you must always have excess in your earnings column. Failure to do something about it now will make it harder when you start missing payments and your credit rating becomes affected.
When you draw up a budget to see exactly where you stand as far as cash flow is concerned and take action to do something about it, even if you get a negative result, you're exercising effective cash management. This way, you will always know exactly where you stand. Whatever you do, don't borrow money from any source unless you are certain you'll always keep a positive cash flow.
2. Keep spending in check
If you've been spending money on unnecessary things, you can find yourself up against a financial brick wall. Some people put off paying credit card bills until it becomes too late. The interest becomes extremely high, and the lender deactivates the card while the bill still needs to be paid.
When this happens, you'll have no choice left but to knuckle down and begin the long, hard road of paying your creditors back. It might change day-to-day luxuries considerably, but you'll be left with no option other than declaring yourself bankrupt — and that has its own long-term consequences.
3. Track your receivables
You should closely and routinely keep track of your receivables to maintain a steady cash flow. The best way to do this is to create and update a detailed list of how much money you are owed from each customer with dates for each transaction. This can easily help you keep track of any overdue money you have yet to receive, as well as to efficiently keep a short window of time for your customers to pay you back before issuing late fees.
Invoice financing: How to use your accounts receivables to get a loan
4. Boost your cash inflow whenever possible
You should always be striving to increase your cash inflow to help cushion your business against stagnating or falling into debt. There are many strategies you can take to achieve this.
One method is to increase prices on your products and services — but make sure you research your market to make sure you're not overcharging and driving away customers. This can extend to requiring deposits or advance payments on larger orders, to ensure you have at least some of your payment upfront. You can also cut back expenses on equipment, as well as keep your funds in an interest-earning checking account to let your money grow naturally over time.
5. Don't accept late payments without penalty
There are many ways your cash flow can dry up, but it can be especially problematic if you've been too lenient with payments from your customers.
Some debtors like to hang onto their money for as long as they can. If you have many debtors doing this, your cash flow can dry up. If this is the case, you can do something about it by sending timely invoices and clearly enforcing fees for late payments. A good rule of thumb is to start enforcing late payment fees 30 days after the due date listed on the invoice.
Bottom line: A positive cash flow is simple — don't complicate it
Being owed money doesn't mean you have cash in the bank. It isn't considered cash until it's in your hand and doesn't have to be paid back. If you simply have a list of customers who owe money to you, it isn't cash you have available to spend.
You can take financial responsibility a step further if you decide to be disciplined and only regard cash as spendable after you've paid the rent or mortgage, invoices and all other bills. The remaining money is considered yours.
Need financing? Compare business loans
You might also be interested in...
More guides on Finder
Ask an Expert
You must be logged in to post a comment.