It looks like we don't have any coupons at the moment.
What can I buy at Gravydrops?
Gravydrops sells full-spectrum CBD oil made from organically grown hemp flower distillate and organic coconut derived MCT oil. It currently offers 4 CBD oils ranging in concentration from 500mg to 2000mg per 30ml bottle. This is about 16mg to 66mg of CBD oil per dropper (1ml).
"Full-spectrum" CBD oils contain naturally occurring compounds from the entire cannabis plant. Besides cannabidiol, Gravydrop products also include other cannabinoids, essential oils and terpenes (which produce the unique aroma of cannabis). In accordance with US regulations, all products contain less than 0.3% THC (tetrahydrocannabinol, which is the main psychoactive compound in cannabis).
All Gravydrops products are tested by an independent third party to ensure high quality. You can view the Certificate of Analysis for each product on gravydrops.com.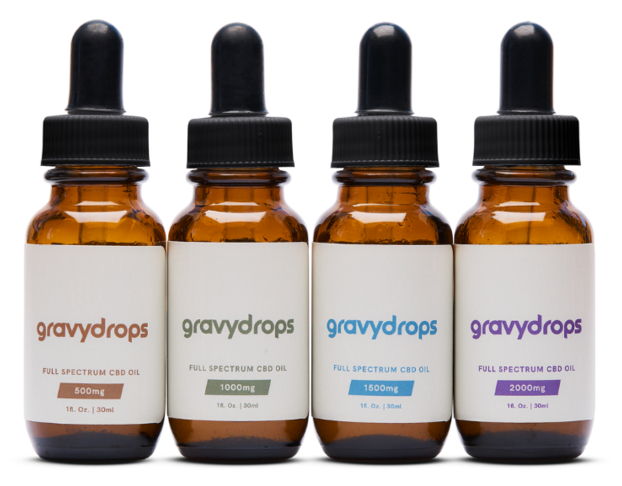 How do I use my promo code?
To use your Gravydrops promo code, follow these steps.
Browse the online catalogue until you find the right product for you.
Click "Add to Cart" to get your order started.
When you've finished shopping, click the shopping bag icon at the top, right corner of the page.
Review your order and click "Cart" to proceed
Make changes to your order or click "Check Out" to continue.
On the next page, enter your personal information and shipping address. Click "Continue to shipping method."
Wait for your shipping options to load, and select the option that works for you. Click "Continue to payment method."
Enter your credit card information.
Enter the discount code in the "Discount" field above the order subtotal. Be sure to click "Apply."
Review your order details to make sure everything is correct, and click "Complete Order" to finalize the transaction.
Why is my code not working?
If the site doesn't accept your discount, your promo code could be expired, not available in your country or case-sensitive. Remember that Gravydrops only allows one coupon code to be used per order.
What is Gravydrops?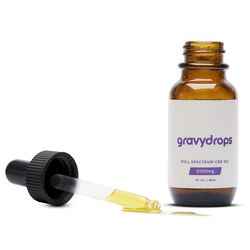 Gravydrops is a "Soil to Oil" full-spectrum CBD oil producer and retailer based in Oregon (United States).
It operates an online store and offers shipping around the world. Gravydrops follows sustainable and organic farming practices to reduce its carbon footprint, leaning heavily on natural resources like natural sunlight and an optimal climate to nurture its supply of cannabis plants.
Best of all, its products are 100% vegan, non-GMO and contain no pesticides, heavy metals, artificial flavours or artificial colours.
Shipping, delivery and payments
Can I get free delivery?
Yes, Gravydrops offers free express shipping worldwide on orders over $100.
Shipping costs
Gravydrops offers free express shipping worldwide for orders over USD $100. If you don't spend USD $100, you'll pay a flat fee of $25 to have your items shipped to Canada using USPS Priority Mail International.
How do I track my order?
You should receive an email from Gravydrops that contains tracking information as soon as your order ships. Visit the United States Postal Service (USPS) website, and enter your tracking number on the homepage to see the status of your shipment.
Payment options
Pay for your Gravydrops order on its secure website using your credit card. Gravydrops uses Square Payments, a secure third party payment processor, to handle transactions. You can pay by Visa and Mastercard (both debit and credit cards).
What's Gravydrops's return policy?
Gravydrops offers refunds on unused, unopened items within 7 days of purchase. After this, you can't get a refund. Here's what you need to know about Gravydrops's general return policy:
All returns must be accompanied by proof of purchase such as a receipt. Without proof of purchase, you'll only get store credit.
Regularly-priced items can be returned, but sale and clearance items cannot.
You must ensure that your items are safely packaged. If items arrive damaged or used to the point where an inspection is impossible, you may not get a refund.
Can I exchange my item for a different color or size?
Yes, Gravydrops allows exchanges on unopened items.
Are Gravydrops returns free?
No, you'll be responsible for covering the return shipping costs.
How do I return an item to Gravydrops?
To return an item to Gravydrops, you'll have to send it by mail. Follow these steps:
Contact Gravydrops customer service and request a return shipping label.
You will receive an email with the shipping label.
Pack the return item(s) back in its original packaging, if possible.
Attach the return shipping label to the outside of the package.
Place the package in the mail using the carrier identified on the package.
You can track the status of your return by visiting the website of the shipping carrier.
Gravydrops's returns address
Be sure to send all returns to:
Gravydrops
386 Sheraton Dr.
Williams, Oregon 97544
USA
When's the next sale?
Sign up for the Gravydrops email list to stay up-to-date on the latest sales and product updates.
What sets this brand apart?
Gravydrops protects the quality of its products by controlling the growth, extraction and production of its CBD oil from "Soil to Oil." The company follows best practices for sustainable and organic farming, so you can feel good knowing that you're helping your mind and body while respecting the environment.

Pros and cons
Pros
Free shipping. As long as you spend over USD $100, your order ships for free.
Quick absorption. Gravydrops's CBD oils are made with Medium-Chain Triglyceride (MTC) oil for faster absorption.
Prices in CAD. For shoppers in Canada, product prices are flat rate and stated in Canadian dollars. This saves you the trouble of dealing with unpredictable exchange rates and fluctuating prices like you might with other international retailers. (Note that orders are processed in USD.)
Cons
Returns aren't free. You'll have to pay for return shipping.
Limited range of products. As of the time of writing, Gravydrops only sells 4 CBD oils with no choice of size or flavour.
Bottom line
Check out Gravydrops for your next CBD oil purchase. When you're looking for high-quality CBD oils that are carefully made with natural ingredients, this retailer has you covered.
Frequently asked questions
Do I need to create a Gravydrops account to place an order?
No, you can place an order without opening an account. However, if you create an account, your shipping details are saved for future transactions, making it quicker and easier to place your next order.
How do I login to my Gravydrops account?
Visit gravydrops.com, and click on the hamburger icon (3 stacked lines) on the top, left corner of the page. A menu with a number of tabs will appear. Click on "Login."
How long do Gravydrop's CBD oil drops last?
If you follow Gravydrops's storage instructions, your oil could stay good for up to 18 months. Store your bottles away from sunlight, preferably in a cool, dry place.
How do I contact customer service?
You can reach the Gravydrops customer service team using the contact form on its website (gravydrops.com).
Will CBD oil make me high? Is it addictive?
Unlike THC, another active ingredient in marijuana, CBD does not produce a "high." Although the full effects of CBD have not been well researched, there is no indication that it is an inherently addictive substance.
That being said, high consumption of CBD may produce a dependency, and people may experience different reactions from CBD products. If you're currently taking prescription medications, are pregnant or breastfeeding, suffer from any clinical conditions or are simply unsure whether you should use CBD oil, speak to your doctor first.