Finder is committed to editorial independence. While we receive compensation when you click links to partners, they do not influence our content.
Funding your secured credit card
If you're new to credit or need to improve your credit score, a secured card is a step in the right direction.
If you're having trouble getting approved for a credit card, you might want to start out with a secured card. A great way to build your credit score, secured cards are almost indistinguishable from unsecured credit cards, except for one major difference: secured cards require that you pay a security deposit.
Secured cards let you build your credit as long as you make on-time and regular payments. To lower the risk, credit card providers require a refundable deposit as collateral. The amount of your deposit usually determines your monthly credit limit, and if you miss a payment, not only is it reported to the credit bureaus, but you'll also lose your deposit.
How to fund a secured credit card
Once you're approved for a secured card, you need to fund your security deposit before you can use your card. Some providers will allow you to choose your deposit amount – and therefore choose your monthly credit limit. Although, some providers set minimum and maximum deposit amounts, which means you'll have to settle somewhere in between.
While it varies between providers, funding your deposit can usually be done in a handful of ways:
Funding your card online. Many providers will offer an online system that allows you to manage your account, which often includes the option to pay your deposit and manage your monthly payments, among other things. Once you receive your card, follow the instructions to set up your online account. Once your account is set up, navigate to the section dedicated to deposits, then fill out and submit all required information.
Funding your card by phone. Most new credit cards have a sticker on the front or back of the card with a number to call to activate the card. If the provider uses an automated system, follow the prompts to fund your deposit and activate the card. If you'd like to speak to a representative, they can walk you through the process.
Funding your card by mail. Some lenders may allow you to fund your new card by sending a cheque or money order by mail. You can find the address and any other necessary information in the package you receive from the provider.
How to find the minimum and maximum deposit amounts
Secured credit card providers usually allow you to choose a deposit amount that's right for your financial situation. When choosing your deposit about, select a manageable amount that won't break your budget. Remember, the goal is to build your credit score – not throw yourself into a spiral of debt.
Credit limits vary from card to card, so make sure you know what's available as you compare cards. Here's how to find the minimum and maximum deposit amounts on a secured credit card.
1. Navigate to the provider's website and select the secured card that you are interested in applying for. Look for the product details or card features section, which you can typically find by selecting "Learn more". Here is an example of the Refresh Financial Secured Card: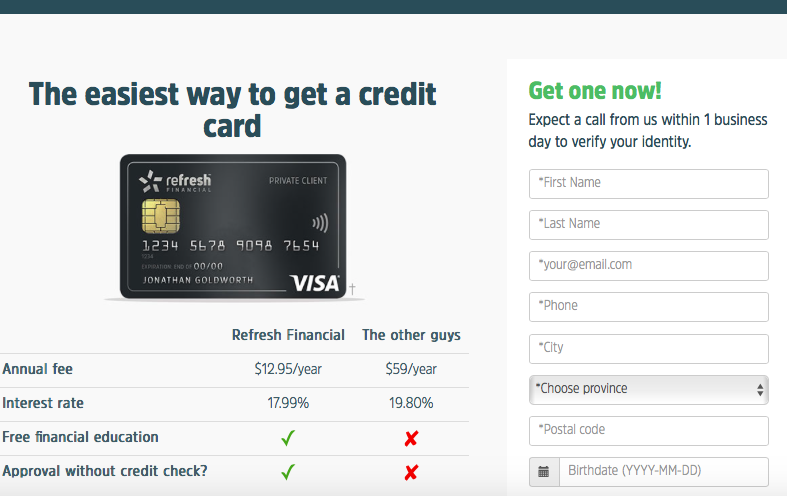 Screenshot: Refresh Financial
2. Most of the time, the minimum and maximum deposit amounts will be listed in plain sight, but if not, you might have to do some digging.
3. If you can't find the information, look for a link to the terms and conditions or full cardholder agreement. This document should have details regarding the deposit, fees and APR.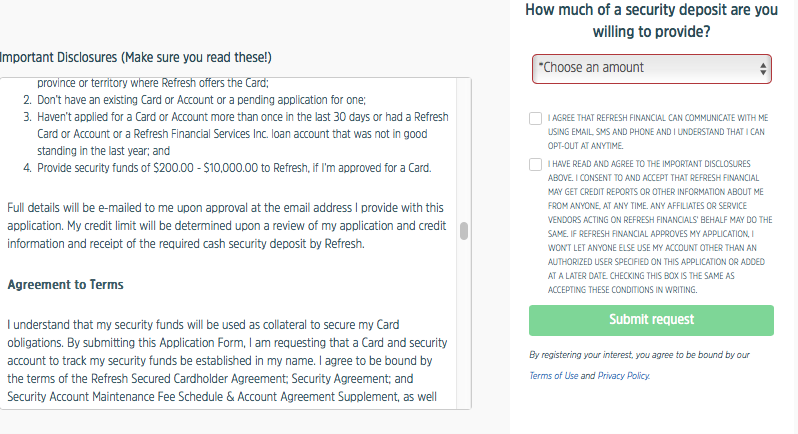 Screenshot: Refresh Financial
4. If you're still having trouble finding the minimum and maximum deposit, you can always contact the provider for more details. The customer service number can usually be found on the contact page of the website.
How long do I have to fund my secured credit card?
When you apply for a secured credit card, you'll usually be required to provide a deposit when you apply or shortly afterwards. Most providers require a payment once you're approved for the card. However, other providers may be a bit more lenient and give you a few weeks or months to provide the deposit.
Compare secured credit cards for 2021
What happens if I don't fund my secured card in time?
If you don't fund your secured credit card in time, your approved application may be voided. It's best to have a plan of how you'll pay the deposit before filling out the application. The deadline for your deposit will vary between each provider, so it's important to know when you have to pay in order to avoid further damaging your credit score.
Credit card companies do a hard pull on your credit score, causing your score to drop a few points temporarily. The initial dip in your score isn't a big deal once you start using the card – but it can be if the card is rejected before you even use it. This is because you won't be making any repayments which will help increase your credit score again.
Bottom line
Getting a secured credit card is exciting, helping you lay the groundwork towards building a positive credit history. However, it's important to pay attention to the details and deposit deadline to get the most out of your card.
From credit limits to security deposits, you should always read the terms and conditions and information on the website to better understand the features and benefits of your card. Like any other financial product, be sure to weigh your options carefully to find a credit card that is right for your financial situation.
Frequently asked questions
Pictures: Shutterstock