Finder makes money from featured partners, but editorial opinions are our own.
EnjinX Marketplace review and guide
How to buy, sell and create NFTs on the EnjinX marketplace.
One of the most popular gaming protocols on the market, the team at Enjin has created a unique platform for one of a kind in-game items. Enjin is building a marketplace where all special items found in games are issued to players as NFTs allowing the player to actually own that item as a blockchain asset. The team also wants to create an open ecosystem that allows players to own, trade and profit from those special in-game items, on multiple gaming platforms. It is looking to disrupt the traditional gaming industry wherein centralised servers and companies own the digital assets and can censor or lock out users at any given moment.
Disclaimer: This information should not be interpreted as an endorsement of cryptocurrency or any specific provider, service or offering. It is not a recommendation to trade.
What is EnjinX?
To understand Enjin´s new marketplace, it's important to get a feel for non-fungible tokens (NFTs). Put simply, NFTs are cryptographic entities that imply ownership over a digital or physical item. They aren´t the item as such, but they "prove" that a player, individual or organisation is the owner of that item. An NFT is an issuance of property over an art piece, in-game object, or anything from the real world. If you want a deep-dive into the newest hype in crypto, use our in-depth guide to learn more about these tokens.
The team's vision of an open ecosystem can be seen with the Enjin Multiverse, which bridges numerous gaming worlds and where players can come together to buy, sell or trade their unique objects through a variety of games. Enjin also provides game developers with a complete toolkit to create these games with NFTs, along with giving players an entire library of information about how to buy and store these digital assets on the blockchain.
What is the Enjin Smart Wallet?
Enjin has created a brilliant non-custodial wallet for all your cryptocurrency and NFT needs within and beyond its ecosystem. It supports Bitcoin, Ethereum, most ERC20 and ERC721 tokens. It also supports ERC1155 tokens which is a unique token standard developed by Enjin for developers to create both in-game fungible and non-fungible tokens. The app allows you to claim NFTs by scanning a QR code, as well as trade them and link your wallet to a number of blockchain games or dApps. It is an easy and seamless way to interact with Enjin´s NFT Marketplace and the wider gaming ecosystem.
What is Enjin Beam?
In their quest to make NFTs available and accessible to all, the team has created Enjin Beam. This allows for users to easily make a QR code, which then is labelled onto an in-game or real life item, and instantly connects them to the blockchain. It uses an easy 3-step process: Assets are created on the Enjin platform which is then locked into a smart contract that provides a QR code. Users then scan the QR code with their Enjin wallet and receive the blockchain asset.
Essentially, users can "beam" an in-game item directly into their Enjin wallet through a specially created QR code. Beam also unlocks the door for developers to easily create NFTs which can then be airdropped or distributed among players, in a bid to promote their games.
How to buy NFTs on EnjinX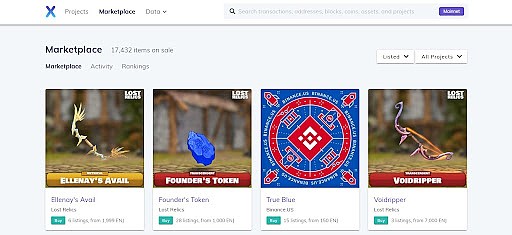 Go to Enjinx´s website and click on Marketplace. The team has created a very intuitive and straightforward market for users to browse and buy thousands of unique NFTs. When you find one you are interested in, click Buy, which will prompt you to pick one of the multiple sellers, scan a QR code with your Enjin Smart Wallet, and purchase the NFT. It's important to remember that Enjin operates on the Ethereum blockchain, so along with holding ENJ tokens you will always need a bit of ETH to pay for transaction fees.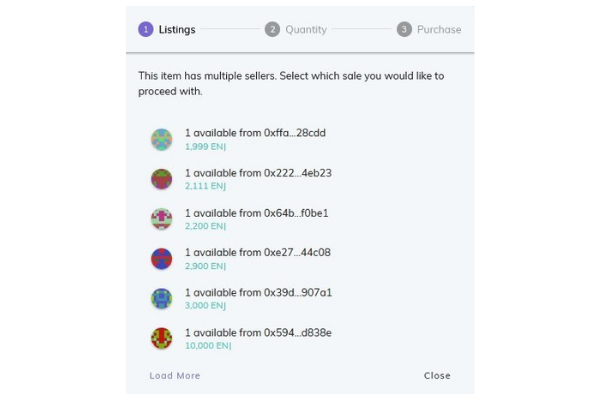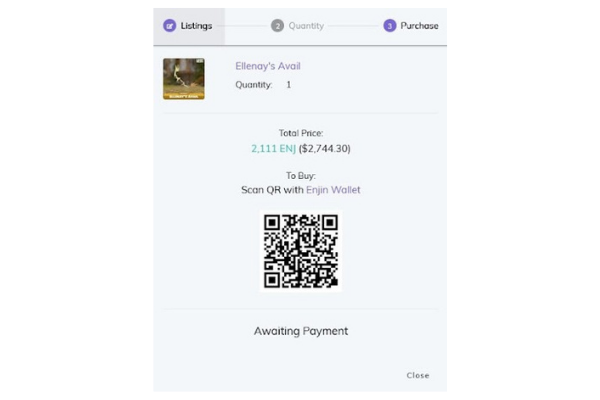 The team at Enjin have included an interesting feature, where you can see key information for the item if you click on the image of the NFT you are looking to buy. It shares data points for total supply, melt fees to get the ENJ back, number of transfers for the item, and more.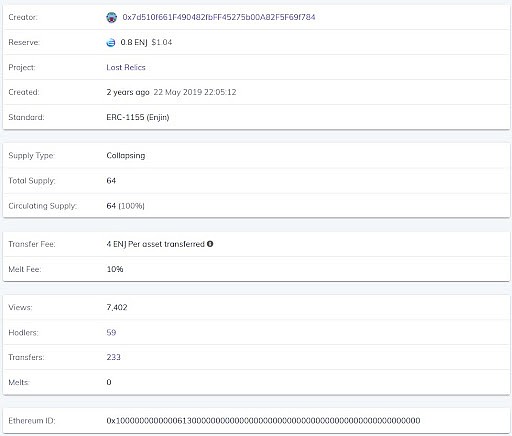 How to sell NFTs on EnjinX
Anybody can sell NFTs on Enjin, and listing your ERC1155 token is very simple. Navigate to the collectibles section in your Enjin Wallet and select the object you wish to sell. There will be a Sell Item option under each item's details. Select the number of units you will be selling and set your price in ENJ, which will provide a fiat price. Remember to set a gas fee as well. Then you will be prompted to Confirm the sale details and list your item. This option can be cancelled or edited at any time.
How to create an NFT with EnjinX
Enjin´s marketplace allows anybody to create an NFT.
Make an account on

https://cloud.enjin.io/login

.

Create a project, and pick a name, image and description.

Link your wallet to the blockchain by scanning a QR code or copying a linking code.

Mint tokens.
The Enjin team has made minting NFTs easy and simple. If you want more information to start creating your own unique collectibles, go to https://enjin.io/products/platform.
What NFTs can you buy on EnjinX?
Enjin's marketplace is quickly becoming one of the most complete NFT collections on the market. Although it has a strong focus on gaming, it offers something for every interest, from music to artwork and beyond. Below is a list of different NFTs you will find on EnjinX.
Art. Create digital art and make it programmable with the blockchain. Called "Smart Artwork" by the team at Enjin, all your creations can be tokenised, easily uploaded via the Enjin Wallet to the blockchain and its ecosystem, and then monetised.
Sports. EnjinX allows for easy minting of rare collectibles, such as sports tickets, autographs, jerseys and balls. Tokenise anything from a sports experience to a new sponsorship for your team, and excite fans from all around the world. Place a QR code onto a sporting event ticket and connect it to the Enjin blockchain to create your NFT.
Music. Tokenise your sound, by releasing limited edition songs, signed albums or concert tickets and monetise your creations directly with the Enjin wallet.
Collectibles. Enjin allows you to tokenise digitally created characters and mint them on the blockchain. The ecosystem provides tools to "breed" tokens, thus creating more that users can trade and own. Tokenise your company's mascot or even the IP you own. Microsoft Azure is now using NFTs to recognise and reward inclusive behaviour of the Microsoft technical community.
Gaming. This is what Enjin aims to galvanise, the creation of NFTs for unique in-game items, by building an ecosystem that allows players to freely trade and own objects from their games.
Real world. Enjin allows users to mint rare paintings, real estate or a stamp collection. Place QR codes on real life objects which users can then verify on the Enjin blockchain.
What does the Enjin token do?
Enjin coin (ENJ) is an ERC20 token that runs on the Ethereum blockchain. In Enjin's unique marketplace, it is used in the creation or minting of NFTs on the platform, through use of the ERC1155 standard which applies to fungible and non-fungible tokens. Each digital item created with this system contains a certain amount of Enjin coin within it, and interestingly, that process can be reversed by melting down that NFT back into Enjin coin. This gives instant liquidity to NFTs and means that every in-game item will hold some real life value.
Another feature is that some games will allow players to earn Enjin coins as a tokenised reward, which can then be used to buy other objects from in-game stores.
EnjinX fees
There are a number of fees that come within the Enjin Marketplace. These are charged in ENJ and are set up during the asset minting process. Interestingly, there is an option for creators to charge a transaction fee when selling an NFT.
There are 4 types:
Transfer fee: a flat fee per transaction, paid by the sender to the creator.
Per item fee: a cost per object being transferred, also payable by the sender to the creator.
Ratio cut: where a percentage of the items is taken from the total being transferred and delivered back to the creator.
Ratio extra: where a percentage of the items is taken from the sender and delivered back to the creator.
As for commission, the platform charges a standard 2.5% to every NFT sale.
What is Efinity?
The Enjin team is on the quest to mass adoption of NFT technology, and to do so have built Efinity, a purpose-based NFT cross chain network, on Polkadot. Claiming to be a next-generation blockchain, the project looks to become a highway for NFTs, with a clear focus on creators, buyers and sellers. Efinity is looking to become interoperable with NFTs not only on Ethereum, but any other network.
To jumpstart NFT minting, the team at Efinity have also created JumpNet. This is a private proof of authority (PoA) blockchain that has reduced all gas fees to zero, making the creation and minting of NFTs on Enjin accessible to all creators. The NFTs are created as JENJ which can then be converted back to ENJ through the Enjin Wallet. You are able to mint ERC-1155 tokens for free, send ENJ and ERC1155 tokens for free, distribute your tokens, and so much more, for free. It looks to create a multi-chain approach for NFTs and power the Enjin-Ethereum ecosystem.
EnjinX vs OpenSea
As of writing, OpenSea is the cryptocurrency leading NFT marketplace. In August, reports informed trading volume of over US$1 billion in NFTs with the volume looking to increase. As such, anyone interested in NFTs is immediately pointed in OpenSea´s direction. It holds an immense library of anything from digital artworks, photographs of Marilyn Monroe, to memorable sports experiences and more.
At the moment, OpenSea offers a whopping 20 million plus NFTs, whereas Enjin currently offers roughly 800,000. The former has built an exceptionally strong name for itself by catering to many different projects, including Ethereum Name Service and virtual worlds. Enjin, although it is packing a lot of potential, still has a long way to go against the grandfather of NFT platforms.
Enjin sets itself apart from OpenSea with its native wallet. With a super simple user interface, it allows for easy minting and NFT creation, along with support for hundreds of ERC tokens.
Verdict
EnjinX is creating an impressive NFT marketplace. Focused on its speciality, blockchain games, it is taking the current market hype seriously. Through its native wallet, with a seamless integration to its platform, the team is busy building exceptional products. They are in the midst of disrupting the entire gaming industry by harnessing their strong hold on blockchain games and aligning it with NFTs. In the process they are making their platform and wallet easy for beginner and non-crypto users, in a bid to boost mass adoption. For cryptocurrency veterans, Enjin also has you covered, with a large collection of tokens and NFTs available. It is too soon to say, but there are exciting projects in the pipeline for creators, gamers and developers on Enjin.
Pros
Large gaming ecosystem. Large gaming ecosystem. Enjin hosts one of the largest blockchain gaming infrastructures and provides a popular network for users looking to interact with their marketplace.
Native wallet. The Enjin smart wallet has been created for beginners and NFTs in mind, making the minting and trading process simple and straightforward.
Enjin Beam. This new project makes NFT creation as simple as creating and scanning a QR code. A vital tool for developers and players looking to buy, sell and swap unique in-game items or promote a new game.
Cons
Wallet is not open source. The code behind Enjin´s smart wallet is not open and auditable by users.
In development. Although it has huge potential, the Enjin Marketplace is still in the process of being fully built and operational.
One large pillar. Enjin is beginning to expand into other areas, but its primary focus continues to be gaming.
Disclaimer: Cryptocurrencies are speculative, complex and involve significant risks – they are highly volatile and sensitive to secondary activity. Performance is unpredictable and past performance is no guarantee of future performance. Consider your own circumstances, and obtain your own advice, before relying on this information. You should also verify the nature of any product or service (including its legal status and relevant regulatory requirements) and consult the relevant Regulators' websites before making any decision. Finder, or the author, may have holdings in the cryptocurrencies discussed.
More guides on Finder
Ask an Expert
You must be logged in to post a comment.