Finder is committed to editorial independence. While we receive compensation when you click links to partners, they do not influence our content.
Earning on KuCoin review
How to earn interest on cryptocurrency using KuCoin
KuCoin is one of the leading cryptocurrency exchanges in the market. It launched in 2017 and has grown to encompass 1 in 4 cryptocurrency holders globally. KuCoin was incorporated in Seychelles and operates out of Singapore. KuCoin has over 8 million users in 200+ countries and offers an array of financial instruments to its users. KuCoin offers over 400 coins on the exchange and has 500 billion in total trade volume (USD) across its trading pairs. KuCoin offers spot trading, margin trading, P2P fiat trading, futures trading, staking and lending. Here is an overview of how to earn cryptocurrency on KuCoin exchange.
Disclaimer: This information should not be interpreted as an endorsement of cryptocurrency or any specific provider, service or offering. It is not a recommendation to trade.
KCS bonus
KuCoin Token (KCS) bonus is a method of earning that utilises KuCoin's native token. The KCS Bonus is a dividend-based reward and works by holding at least 6 of the KCS tokens on the exchange. Investors are then rewarded with a 7-day annual yield. Users in the KCS bonus program are also entered into daily draws for additional rewards including up to a 50% 7-day annual reward rate.
The bonus is a scalable way to incentivise and reward users for using KuCoin exchange over other exchanges. The KCS bonus is supported by taking 50% of KuCoin's daily trading fees as the pool for the KCS bonus payouts. The tool is available and accessible to anyone who meets the 6 KCS account minimum, making it a safe and reliable investment strategy for traders of all experiences.
Staking on KuCoin
Staking is a tool where users combine cryptocurrency assets into a staking pool that uses a proof of stake (PoS) consensus method. These staking pools enable users to support a validator. When the validator secures a block in the blockchain the reward is then distributed out to the staking pool. Staking is an investment strategy that creates a passive revenue stream for the user. Returns are paid out in the asset that is staked.
What tokens can be staked on KuCoin?
This is a list of the available tokens that can currently be staked on Kucoin, the annual yield and the payout frequency. It is important to note that similar to the buying, selling and trading of cryptocurrency assets, these rates can fluctuate as they adjust to the market. There may be more assets available in the future.
| Coin/Token | Reference annual yield | Payout frequency |
| --- | --- | --- |
| XPRT | 26.17% | 21 days |
| ADA | 3.46% | 1 day |
| MATIC | 10.46% | 4 days |
| OUSD | 32.11% | 1 day |
| ANC | 9.44% | 7 days |
| HYDRA | 56.46% | 1 day |
| KSM | 10.70% | 7 days |
| DOT | 11.17% | 28 days |
| LUNA | 5.17% | 21 days |
| ZIL | 11.46% | 3 days |
| LINK | 0.93% | 14 days |
| KCS (Beta) | 0.93% | 14 days |
| VSYS | 10.46% | 3 days |
| WAN | 6.46% | 3 days |
| TRX | 3.46% | 3 days |
How to stake cryptocurrency on KuCoin
To access staking on the KuCoin web browser users can click on the "Finance" tab in the top left and then select the "Pool-X Earn" tab. From here traders can access the newest available staking rates, promotions, flexible terms and overall staking options.
Users on the app can access staking options through the "Staking" button in the bottom left of the home screen:
Users then select the cryptocurrency asset to stake and follow the instructions that are prompted: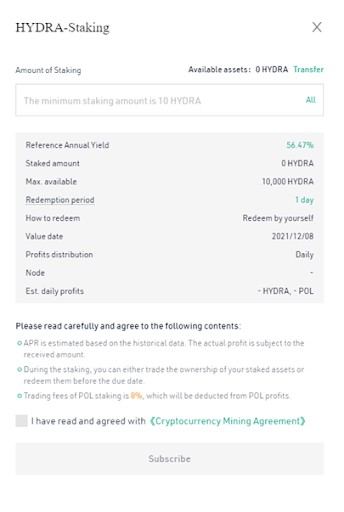 What is Pool-X?
Pool-X is a separate exchange owned and operated by KuCoin that provides liquidity for staked cryptocurrency. It is a free market that enables the integration of diversified cryptocurrency assets on the public blockchain. Users can trade their staked cryptocurrency assets in exchange for liquidity.
How does Pool-X work?
Pool-X works by operating as a liquidity pool for users' staked coins. It is a free market. Pool-X is focused on introducing diversified cryptocurrency assets and multi-nodes on the public chain to all users of the exchange. Users can choose which node to stake with, and receive benefits from staking the digital asset, plus some POL is generated for the user to redeem. Users can get liquidity by trading the staked cryptocurrency assets through the use of the platform's liquidity trading market.
What is the Pool-X token (POL)?
Proof of liquidity (POL) is a decentralised token issued by KuCoin's Pool-X exchange and is based on TRON's TRC20 protocol. It is listed on KuCoin and with none provided to the KuCoin team or any other individual upfront. POL bridges tokens that are staked and those in circulation. Even when POL is staked, users can obtain instant liquidity against it. POL is an incentive for participants who contribute funds, as those users help balance market volatility and ecological governance. POL is also the fuel required to extract Pool-X system resources.
KuCoin lending
KuCoin provides a peer-to-peer lending market, where users can lend cryptocurrency assets to create passive income, or borrow cryptocurrency assets for additional leverage. KuCoin lending currently offers 50+ different cryptocurrency assets available for lending and borrowing. A peer-to-peer marketplace provides greater liquidity to the exchange because the assets involved are owned by the users. KuCoin operates as an intermediary providing a smart contract between 2 users and holds the balance for the term. KuCoin lending is a tool for users seeking a more secure passive revenue stream or users looking for additional cryptocurrency assets in the short term.
How to lend your cryptocurrencies on KuCoin
KuCoin lending is easily accessed through the "Finance" tab in the top left of the web browser or under the "Finance" section in Quick Access on the app. Lending on KuCoin exchange is done through funds in a user's main account in the exchange wallet.
From here users can select the coin to lend, the terms for the loan, and set the interest rate. The right section shows the current Funding Market for the token that users are wishing to stake. The Funding Market shows the other users' current loans that exist in the market and what is accessible to users looking to borrow. This creates a liquid environment and incentivises loanees to price loans competitively.
Automated trading bots on KuCoin
Cryptocurrency markets operate 24/7, meaning there are constant fluctuations in the market that could be to users' benefit to take advantage of when they occur. KuCoin's automated trading bots offer a few different methods to ensure that users can do that.
What is a trading bot?
An automated trading bot is a free trading tool on KuCoin exchange that manages users' investments. Bots automatically respond to shifts in the market based on trading strategies and execute trades on the user's behalf. Users can set their own strategies or use pre-existing ones. There are a variety of trading bots to use on KuCoin.
What kind of trading bots exist?
Spot Grid
Spot trading is a trading strategy that aims to take advantage of volatility and fluctuations in the cryptocurrency market. A Spot Grid trading bot can accomplish this by positioning buy and sell orders that will automatically trigger. The trading bot places buy orders when the price of the cryptocurrency drops and sell orders when the price increases over the set interval price.
Futures Grid (short)
The futures trading bot is a trading tool for more advanced traders. Similar to the Spot Grid trading bot, the Futures Grid will automatically place buy and sell orders based on the parameters users set. With a Futures Grid users have the option to long or short a position. Through shorting a position, traders can reap profits from the initial position similar to the spot grid, while also receiving profits from the short position and funding fees. However, when shorting a position with the Futures Grid trading bot, there is also the risk of liquidation like there is in traditional futures trading.
Smart Rebalance
A Smart Rebalance bot is best suited to investors who don't want to balance a portfolio manually. With a Smart Rebalance bot, traders assign the percentage breakdown of a portfolio to desired proportions. For example,the bot can be set so that BTC is always 75% of the portfolio and ETH is 25%. The smart rebalance bot will make adjustments for price fluctuations in BTC and any other cryptocurrencies in the portfolio accordingly.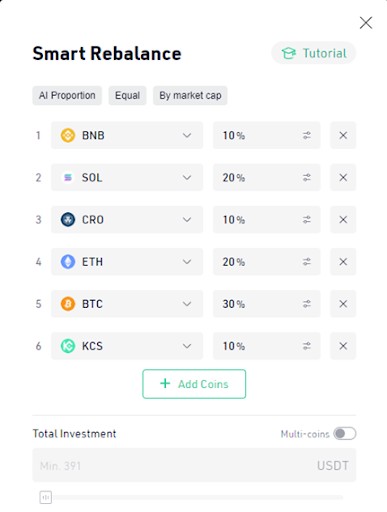 DCA (KuCoin app only)
Dollar-cost averaging (DCA) is an investment strategy commonly used throughout the investment industry. It is a means to reduce the impact of volatility. It works by averaging out the purchasing of a cryptocurrency over time. Utilising a DCA strategy can limit exposure and protect your investment. KuCoin exchange has made this process easy to operate through the use of a DCA trading bot. The bot aims to earn a profit, and KuCoin suggests users have a clear profit target before creating a DCA trading bot. Simply click through the stages on the KuCoin app:
Step 1: Select which coin you would like the DCA trading bot to regularly purchase.
Step 2: Customise the amount, frequency and time of the first investment.
Step 3: Select an end profit target, limit or date for the trading bot to end.
How to set up a trading bot
KuCoin has made the process of setting up a trading bot an approachable and streamlined process for traders of all experience levels. When using KuCoin via a web browser users can access the trading bots through the "Trade" tab in the top left of the screen. The web browser only offers Spot Grid, Futures Grid and Smart Rebalance trading bots. To access the DCA trading bot, users must download and install the KuCoin app for Apple or Android.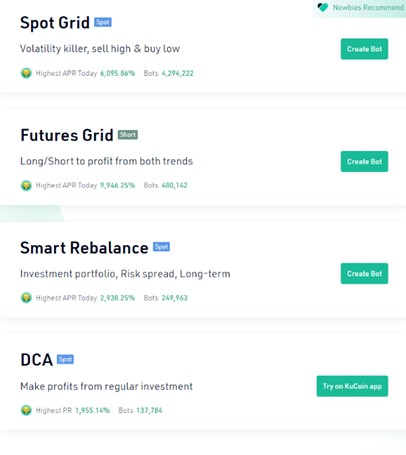 For KuCoin app users:
Step 1: Locate the "Trading Bot" icon in the middle of the app.
Step 2: Click on the type of trading bot to use and proceed through the same steps as with the web browser.
Overview
KuCoin exchange has no shortage of tools that users can use to earn more cryptocurrency. The variety of tools offers something to investors of all experience levels. The exchange can be intimidating for new users and those unfamiliar with trading. However, users that take the time to learn the various tools KuCoin has provided reap the benefits of extra passive income.
Disclaimer: Cryptocurrencies are speculative, complex and involve significant risks – they are highly volatile and sensitive to secondary activity. Performance is unpredictable and past performance is no guarantee of future performance. Consider your own circumstances, and obtain your own advice, before relying on this information. You should also verify the nature of any product or service (including its legal status and relevant regulatory requirements) and consult the relevant Regulators' websites before making any decision. Finder, or the author, may have holdings in the cryptocurrencies discussed.
More guides on Finder
Ask an Expert
You must be logged in to post a comment.