Finder is committed to editorial independence. While we receive compensation when you click links to partners, they do not influence our content.
Get a payday loan on a prepaid debit card
Need fast cash? Borrow money and have it loaded onto a debit card, instead of into your bank account.
If you don't have a valid bank account that allows direct deposits, it can be challenging to get cash quickly when an emergency comes up. Nowadays though, you'll find some payday lenders who offer fast cash conveniently loaded on a prepaid debit card. These debit cards are typically branded with Visa or Mastercard, offering the flexibility to pay bills or swipe for necessities at stores and online.
⚠️ Warning: Be cautious with payday loans
Payday loans are expensive. If you're experiencing financial hardship and would like to speak to someone for free financial counselling, you can call Credit Counselling Canada from 8:00am to 5:00pm Monday to Friday at +1 866-398-5999. Consider alternatives before applying for a payday loan:
Local resources. Government agencies, nonprofits and local charities may offer free financial services and help with food, utilities and rent for those in need.
Debt relief companies. These services can help you find a solution to reduce your debt payments and work toward becoming debt-free.
Payment extensions. Talk with your bill providers about a longer payment plan or extension on your due date if you're behind on payments.
Side jobs. Today's digital marketplace offers the ability to more easily sell unwanted items, sign up for food delivery or drive for rideshare services.
How do debit card payday loans work?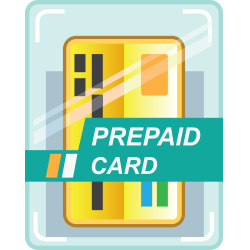 You can apply for a debit card payday loan either online or in a store. Once you've completed the application and have been approved, the lender will transfer your approved funds into an eligible loan account. The lender will then register your payday loan with a prepaid debit card associated with that account, either handing the card to you in person or mailing it to your home.
You'll typically need to register the card in your name, either in person, by phone or online. Since most prepaid debit cards are either Visa or Mastercard, you can then begin using your card just like you would use any other type of credit card. You can use the card at retailers, online, ATMs to withdraw your cash or even at utility bill companies – wherever and whenever you need it.
What is a prepaid debit card?
A prepaid debit card essentially works like a reloadable gift card. Once money is loaded onto a prepaid card, from your bank account or payday loan lender, you can use your card like you would any debit or credit card. Once you use up the full balance on your prepaid card, you can usually reload the card with more money
Prepaid cards are handy because they can be used in a wide range of stores. You may even be able to withdraw cash from your prepaid card at an ATM, though you might be charged a fee. Payday lenders that offer prepaid debit cards may be able to use an existing prepaid card. Be sure to check with the lender for any restrictions.
Looking for a loan that doesn't require a bank account?
Can I reuse the prepaid card for another loan?
Yes. If you need a loan in the future, you're often able to receive your funds on the same card for a small fee, sometimes even with a different lender. You're not limited to receiving only payday loans to your prepaid debit card. You can often set it up to receive direct deposits, providing quick access to your paycheque, government benefits or tax refunds.
Can I have my payday loan deposited into a friend's account?
No. You need to have an active bank account in your name – not just any bank account. Lenders typically check this before approving your application. If you don't have a bank account, then getting a payday loan loaded onto a prepaid debit card may be your best option.
Top 8 reasons to consider a prepaid debit card payday loan
A prepaid debit card offers the flexibility to discreetly spend your payday loan funds anywhere your card is accepted. Here's what we consider the top 6 reasons you might benefit from having your loan on a prepaid debit card:
They're reloadable. If you've already had a payday loan on a prepaid card, you may be able to reload the card with a new loan.
They're reliable. Prepaid cards are often issued under Mastercard or Visa, two trusted and widely accepted brands.
You don't always need a bank account. With a prepaid debit card loan, the lender deposits your approved funds onto the card, which you can then use immediately.
You'll have quick access to funds. Most lenders can transfer your money by the next business day. If you're a repeat borrower, you may already have the prepaid card to load your funds.
You can easily access your funds. Once the lender transfers the money to your card, you can use it to shop for groceries, clothing and more at stores, pay your bills online or over the phone and even withdraw cash at an ATM.
You can set up your card for other deposits. Most prepaid cards can receive direct deposits, offering a way to quickly access your paycheque, tax refunds and government benefits.
You could earn rewards with the right card. Some prepaid card providers allow you to earn cash rewards with your spending.
You can choose from multiple lenders. There are plenty of different lenders to choose from across all provinces and territories in Canada. Compare the ease of applying and the turnaround time to find the best option for your needs.
Having poor credit is OK. As long as you can demonstrate your ability to repay your loan, your credit score isn't the biggest factor for approval.
The 3 drawbacks of prepaid debit card payday loans
High fees. Payday loans charge considerably higher fees than other types of loans, resulting in a costly form of credit. Interest fees are regulated by the provincial/territorial governments, and rates vary.
Short repayment terms. As the name implies, your loan is typically due on your next payday. Make sure it won't strain your budget too much before you apply and set aside money from your next paycheque to pay off your loan.
Disreputable lenders. Plenty of shady lenders are out there trying to take advantage of people at their most vulnerable. Confirm that your lender is licensed and operates legally before signing a contract.
How to avoid a payday loan scam
Other considerations to keep in mind
Before you apply for a prepaid debit card payday loan, consider how you'll repay it. Payday loans are among the most notorious types of lending products because they often come with high fees and interest rates. Late or missed payments can lead to stiff fees and penalties. Defaulting on your loan can result in long-term damage to your overall credit.
Prepaid debit card payday loans are regulated by the provincial or federal government in order to help protect you against predatory lending. Before signing any loan agreements, confirm that the lender is licensed and follows all government regulations. You should also review the terms and conditions of your specific loan, and ask questions about anything you don't understand.
How to know if a payday lender is legit
How to apply for a prepaid debit card loan
Depending on the lender, you're often able to apply for a prepaid debit card loan online or in person.
To apply for a payday loan:
You typically must be a Canadian citizen or permanent resident.
You must be at least 18 years old, or the age of majority in your province or territory.
You must be able to prove that you have a steady source of income.
When applying, you must usually submit:
Your name and personal contact information.
Your Social Insurance Number and date of birth.
Valid government-issued ID, such as your driver's licence.
Your employment status and income details.
Compare ways to get your loan: Prepaid card, online and in-store
There are generally 3 ways to get a payday loan: in-store pickup, online e-transfer and getting a prepaid debit card payday loan. Keep in mind that not all loan providers will offer all 3 options. Choosing the best option for you will depend on your financial needs and personal preferences.
Prepaid debit card vs. online vs. in-store
| | How to apply | Turnaround time | When is this option best? |
| --- | --- | --- | --- |
| Prepaid card | Primarily online, sometimes in-store | 1–3 business days | When you don't have a valid bank account that permits direct deposits |
| Online | Online | Sometimes within the the hour via Interac e-transfer | When you need money as quickly and conveniently as possible |
| Store | Primarily in-store, sometimes online | As soon as the same day | When you want help with the application or want to discuss details with a representative |
Online vs in-store payday loans
What if my payday loan application is denied?
A lender could deny your application for a number of reasons. One common rejection reason is having insufficient income. If you're denied because you don't make enough money, consider looking at lenders that accept applicants who are unemployed or receive government benefits or welfare.
Bottom line
Even though your payday loan options are more limited when you don't have a bank account, there are some lenders who are willing to work with you. Getting a prepaid debit card loan could be the right option for you.
To learn more about payday loans work, check out our comprehensive guide to payday loans.
Are payday loans available in my province or territory?
Payday loans are available in all provinces and territories across Canada. You should be aware that payday loans are regulated by individual provinces, which means costs and fees can vary. Ensure that any lender you choose abides by the laws of the place you live.
What are the payday loan regulations in my province or territory?
Hover over your province in our interactive map to see if payday loans are regulated on the provincial or territorial level and the maximum cost per amount borrowed – darker shades correspond with a higher cost. You can also click on a province or territory to see its payday loan options.
Find out how much lenders can charge across Canada
Frequently asked questions