Finder is committed to editorial independence. While we receive compensation when you click links to partners, they do not influence our content.
Credit cards with roadside assistance
Get peace of mind on the road and earn rewards to redeem for travel, merchandise and more.
Whether you get a flat tire or break down on the side of the road, help can be on the way in no time when you have a credit card with roadside assistance. These cards are typically designed with drivers in mind and are meant to cover the costs associated with emergency services like towing, battery boosts, door unlocks, tire changes, gas delivery and more.
We'll help you learn more about the benefits of roadside assistance and compare credit cards offering this service.
How does roadside assistance work?
Roadside assistance is a type of insurance that helps you cover costs when your vehicle breaks down. It doesn't cover regular maintenance or repairs, but most basic plans will offer the following services.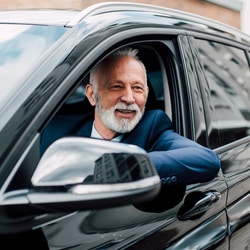 Towing. The majority of plans will cover towing to a mechanic up to a limited number of kilometres. Anything beyond that number, you'll have to pay out of pocket.
Battery jump-start. You'll get a boost if your car won't start, no matter if you left your lights on overnight or can't get your engine going because of the cold.
Flat tires. Your provider will send someone to help you change your flat with a spare so you can get as far as your mechanic.
Lockout service. If you lock your keys in your vehicle, then a technician will help you jimmy open the door.
Fuel delivery. If you run out of gas, many roadside assistance plans will send someone to your location with enough fuel to get your vehicle to the nearest gas station.
Winching service. If your car goes into the ditch or gets stuck somewhere, then you might get help covering the costs of removal.
Types of roadside assistance plans
There are a number of different roadside assistance programs on offer in Canada, including the following:
CAA. CAA offers five plans including Basic, Plus, Plus RV, Premier and Premier RV. The major difference between the five plans is the cost and type of vehicle being covered as well as the towing distance per tow.
Canadian Tire. Canadian Tire offers both a Gold and Silver plan that provide all of the services listed above. Cost will vary by plan and differences include towing distance and the number of vehicles available for winching.
Costco. Costco Roadside Assistance offers all of the basics, along with coverage across Canada and the United States. The cost of your plan will depend on the age and type of vehicle.
Esso. Esso provides 24/7 emergency assistance anywhere in Canada and the US, with coverage for roadside assistance, traffic accidents, vandalism and stolen vehicles. Membership in the Esso Auto Club is also included, ranging from basic to deluxe, single or family.
Do you really need car roadside assistance?
Roadside assistance isn't for everyone. Whether or not you would benefit from a credit card that offers this feature depends on the following factors:
Vehicle age. If you have a brand new vehicle, you may not need emergency assistance (unless you run out of gas). This type of coverage is best suited for old or more unreliable vehicles.
Frequency of driving. Roadside assistance can come in handy if you cover long distances or spend a lot of time on the road. If you tend to stick close to home or don't drive often, it might not be the right option for you.
Speed of service. Many plans offer 24/7 assistance, which can be really handy if you get into trouble after regular business hours.
Overall savings. Roadside assistance plans typically cost between $70 and $140 per year, depending on benefits. The cost of an average tow in Canada can be between $70 and $250.
Free plan. If you can find a credit card that offers a free roadside assistance plan, then it could be worth your while to sign up, especially if you think you'll use benefits regularly.
What to watch out for
Towing distances. Some plans cover up to 250km of towing while others set the maximum at 10km. Aim for one that offers longer towing distances for the lowest fee.
Costs for service. Be aware of deductibles or hidden charges before you sign up for a plan, since you don't want to get stuck paying out of pocket for using the service.
Vehicles insured. Make sure you're able to access roadside assistance for any car you drive, rather than limiting coverage to your personal vehicle.
Geographical coverage. Find out if you'll be covered for the areas you drive the most, as some plans only offer in-province towing while others apply across Canada and even the US.
Eligibility requirements. Double-check you meet the eligibility requirements for any credit card offering roadside assistance before you apply.
Fine print. Read your contract thoroughly to make sure you understand the benefits and exclusions of your plan before committing to a card.
Bottom line
If you pay out of pocket for a roadside assistance membership, you might like to switch to a credit card that offers this feature for free.
Take advantage of services like towing, battery boosts, door unlocks, tire changes and gas delivery when you sign up. Many cards will also offer additional benefits like a decent return on rewards, car rental insurance, travel insurance and more.
Back to top
Frequently asked questions