Finder is committed to editorial independence. While we receive compensation when you click links to partners, they do not influence our content.
Chevrolet financing options in Canada
Learn about Chevy financing and how students, military members and health care workers may qualify for a discount.
No matter if you're looking to spend less than $15,000 on a modest hatchback or you're willing to shell out over $50,000 for a luxurious SUV, Chevrolet has you covered. And when it comes to Chevy financing, you have a few different avenues to take. While in-house financing at an authorized dealership might be the fastest way to go, you'll likely find a more competitive rate if you shop around elsewhere.
How does Chevy financing work?
To get the best deal on a car loan, you'll want to shop ahead. Prequalifying with a few different banks, credit unions or online lenders will allow you to compare rates and learn how much you can really afford to borrow. And while it takes some preplanning, it gives you the ability to walk into the dealership with funding in hand — which can help you avoid rate markups.
Chevy financing through GM Financial
GM Financial offers auto financing for Chevrolet, GMC, Buick and Cadillac brands all over the world including in North America, South America and Asia. You can expect to see interest rate offers through GM Financial ranging anywhere from 0% to 1.99% for 60-72 month terms. For example, in the past you could finance a 2021 Equinox for 0% on a 72 month term with $2,105 in price adjustments. As with any loan, the exact rates and terms you qualify for will depend on your personal financial situation.
You can also lease many Chevy models through GM Financial. Leasing terms typically last between 24 and 48 months. Lease interest rate offers typically range from 2.5% to 4.9% with anywhere from a $500 to $3,500 down payment.
Financing and leasing offers will vary based on where you live, so check with your local dealership to explore your Chevy financing options. The lowest rates are typically reserved for well-qualified drivers with spotless credit reports, low debt-to-income ratios and high incomes.
Compare Chevy financing options
Does Chevrolet offer special discounts or programs?
Yes, Chevrolet offers a variety of discount programs through its parent company, GM. These can be combined with current offers for extra savings. Discounts include:
GM Scotiabank Visa Cards Rewards Program. This program allows you to earn rewards points with everyday purchases on your GM Scotiabank Visa Card, which you can redeem toward the purchase of a Chevrolet vehicle.
GM Preferred Pricing Program. Any eligible GM employee can purchase a new Chevrolet, Buick, GMC and Cadillac at a discounted GM Employee Pricing.
$1,000 GM Mobility Program. This program offers up to $1,000 in reimbursements to adapt an eligible GM brand vehicle with select mobility equipment. You'll also get a 2 year subscription for OnStar Essentials Plan.
Heroes Program. Eligible Canadian Forces personnel, first responders and professional healthcare workers may be eligible for a discount of up to $1,000 bonus towards buying or leasing a new Chevrolet, Cadillac, Buick or GMC vehicle.
GM Family First Discount Pricing Program. This program allows employees and family members of GM to purchase or lease a new GMC, Chevrolet, Buick or Cadillac vehicle at a discounted price below the MSRP.
$750 Student Bonus program. Current students and those who have graduated within the past 4 years may also qualify for a discount of up to $750 on the purchase of a Chevrolet, GMC, Buick or Cadillac vehicle.
What will a new Chevy cost me?
Because of the wide range of models and trims available, you may pay anywhere from $13,000 to over $50,000 for a new Chevrolet. The final price will depend on where you live, your negotiation skills and any discounts you may qualify for.
Choose a type of vehicle
Cars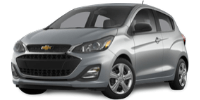 2021 Chevy Spark
Starting MSRP: $10,398
Build: Hatchback
City/highway (L/100 km): 7.7/6.2
2021 Chevy Malibu
Starting MSRP: $25,598
Build: Sedan
Highway (L/100 km): 6.6
2021 Chevy Camaro
Starting MSRP: $29,598
Build: Coupe
City/highway (L/100 km): 14.9/9.9
2021 Chevy Corvette Stingray
Starting MSRP: $69,398
Build: Sports car
City/highway (L/100 km): 15.7/8.7
SUVs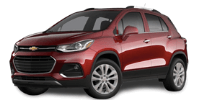 2021 Chevy Trax
Starting MSRP: $22,098
Build: Crossover
Highway (L/100 km): 7.3
2021 Chevy Equinox
Starting MSRP: $26,498
Build: Crossover
Highway (L/100 km): 7.7
2021 Chevy Blazer
Starting MSRP: $37,498
Build: Crossover
City/highway (L/100 km): 10.6/8.0
2021 Chevy Traverse
Starting MSRP: $36,498
Build: SUV
Highway (L/100 km): 8.8
2021 Chevy Tahoe
Starting MSRP: $57,048
Build: SUV
Highway (L/100 km): 12.0
2021 Chevy Suburban
Starting MSRP: $60,048
Build: SUV
Highway (L/100 km): 12.0
Trucks
2021 Chevy Colorado
Starting MSRP: $27,948
Build: Truck
City/highway (L/100 km): 15.0/13.0
2021 Chevy Silverado
Starting MSRP: $32,048
Build: Truck
City/highway (L/100 km): 14.7/11.2
Electric/hybrid
2022 Chevy Bolt EV
Starting MSRP: $38,198
Build: Hatchback
Electric range on full charge (km): 417
How much does it cost to insure a Chevy?
Does a new Chevy come with a warranty?
Chevrolet offers its drivers three warranties for most cars, as well as a special warranty for its electric and hybrid models:
Bumper-to-bumper limited warranty — 3 years or 60,000 km
Powertrain limited warranty — 5 years or 100,000 km
Electric and hybrid warranty — 8 years or 160,000 km for certain components
In addition to these warranties, you'll also receive 1 month of OnStar Safety & Security coverage.
Bottom line
There are many Chevy financing options available to meet the needs of a wide variety of drivers. If financing directly through GM Financial doesn't appeal to you, compare your other car loan options from banks, credit unions and online lenders to find the best deal available to you.
Frequently asked questions about Chevy financing
More guides on Finder
Ask an Expert
You must be logged in to post a comment.