Finder is committed to editorial independence. While we receive compensation when you click links to partners, they do not influence our content.
Audi A3 insurance rates
Find out the average Audi A3 car insurance rate, and what factors contribute to it.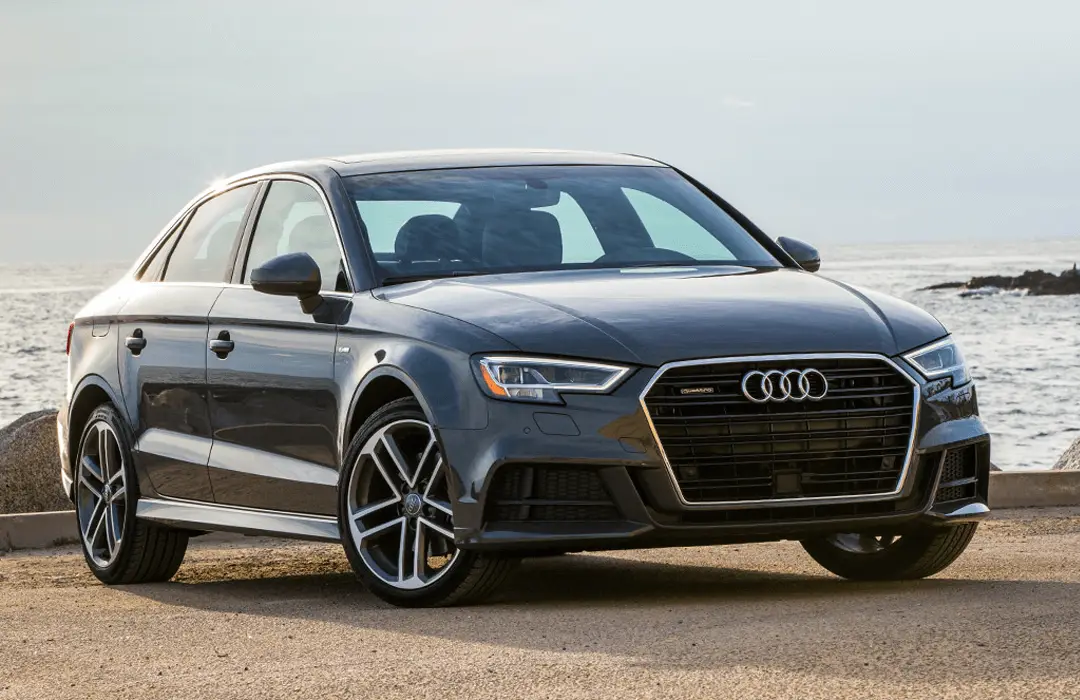 Auto insurance on an Audi A3 costs about $188 per month, or $2,256 per year on average, which is much higher than the average of any one province or territory. As a luxury car, the Audi A3 is more expensive to insure but has a good cost-to-insure value for a high-end car. With a base price of $34,500, the annual insurance cost–to–base car price ratio is 6.5%.
Compare free car insurance quotes online for your Audi A3
How to compare insurance for the Audi A3
Comparing auto insurance can be tough when all providers and policies seem the same. However, it helps to know what to look for when choosing a policy. In order to accurately compare your options, you should consider a variety of factors beyond price alone.
Price. Although price is important, it's best used a tool to compare similar policy options rather than your deciding factor.
Deductible. Choose a deductible that suits your budget and situation. Higher deductibles may cost more up front but can make for lower monthly premiums. Similarly, a lower deductible costs less if you file a claim, but could cost you more in monthly premiums
Minimum coverage. Every province and territory requires drivers to have car insurance. Make sure your provincial or territorial minimums are met before choosing a policy.
Additional coverage. Personal injury protection and uninsured motorist coverage are just two of the many available types of extended coverage. Be sure to choose a provider that offers the additional coverage you need.
Extras. Accident forgiveness, roadside assistance and no-deductible glass repair are all extras that may be available on your policy. If extra features are important to you, be sure to speak with your provider to find out whats available.
Restrictions. Some policies may have restrictions on ridesharing, traveling out of the country, or other limitations. Be aware of any restrictions to avoid gaps in coverage or bring denied claims.
Manufacturer offer or loyalty discount. Some manufacturers have partnerships with insurance providers to provide special offers or discounts. Speak with your Audi dealer to find out if any offers are available.
Warranty. Find out what coverage is offered through your manufacturer warranty to avoid paying for extra coverage you don't need
What factors affect car insurance rates for Audi A3?
Your premiums are determined by a combination of multiple factors including driving history, location, choice of provider, and of course, the vehicle you drive. Every vehicle has its own safety features, body styling, engine and other elements that are all considered when calculating your premiums. This is why your rates may vary so much depending on the type of vehicle you are insuring.
Body type. The A3 is a four-door sedan, which is best suited for commuting and pleasure. This body type is less likely to be driven aggressively like a sports car might be, meaning insurance rates may be lower.
Type of car. The A3 is a luxury small sedan, which is generally cheaper to insure than vehicles like an SUV or pickup truck. However, it might be more expensive than an entry-level small sedan like a Volkswagen Jetta.
Theft. Sedans have the highest theft rate of all vehicles, which may be a reason why insurance rates are higher.
Repairs. Audi vehicles are extremely common in North America, meaning you should have no problem finding parts or repair shops. This could translate to lower insurance premiums.
Safety ratings. In general, Audi vehicles have great safety ratings, and the A3 is no exception. Safer vehicles generally cost less to insure.
How do trim packages affect insurance costs?
Trim packages and accessories can impact your vehicle on and off the road. For example, additional security systems can reduce the risk of theft, safety features can help prevent collisions, and engine packages can add more power. The way your Audi A3 is configured might impact the price of auto insurance.
Trims
Komfort. This package includes a rear view camera and Xenon headlights, which may increase visibility and decrease the cost of insurance.
Progrssiv. Includes all Komfort features plus auto-dimming rearview mirror with compass, which can make driving safer and potentially reduce your premiums.
Technik. This package includes everything in the Progrssiv package along with full LED headlights, rear cross traffic alert and Audi side assist, all of which could help reduce your rates.
Options
Sport suspension. This option may improve your handling which could in turn decrease your premiums.
Rear-passenger side airbags. This safety feature can decrease the risk of bodily injury in the event of an accident and could therefore reduce your premiums.
Does the Audi A3 qualify for auto insurance discounts?
Your vehicle may be eligible for various auto insurance discounts depending on which provider you choose. However, the exact discounts you receive may vary depending on location, provider, options, and other factors. Here are a few that could apply to the Audi A3:
New car discount
Anti-lock brake discount
Anti-theft discount
Passive restraint discount (Airbags, motorized seat belts, etc.)
Emergency roadside assistance discount
How reliable is the Audi A3?
J.D. Power has awarded the 2020 Audi A3 both the Highest Quality Small Premium Car and Best Performance Small Premium Car. Audi was also awarded the J.D. Power performance award, which is awarded to the car company with the highest design and performance ratings by new car owners within 90 days of purchasing their car.
However, there have been a number of recalls on Audi A3 models within the past few years. Here are a few of the recent causes:
2018. The underhood fuel connector was not properly secured in some vehicles, which could have led to fuel leaking into the engine compartment and potential fires.
2017. There was an issue with the calibration of the front passenger airbag control module where the airbag could have deployed with too much force during a collision.
2016. The side marker lights in certain vehicles may not have remained on when the car was parked causing reduced visibility at night. That issue was also a violation of the Canada Motor Vehicle Safety Standard requirements.
According to various online resources and forums, the 2015 Audi A3 released in the US had many problems and may be considered the worst model year because of high repair costs and frequency of issues. However, this may be related to the fact that 2015 was the first model year after its major overhaul. Common issues with the 2015 A3 include excessive oil consumption, transmission warnings, and sudden losses of power. Owners of 2016 models mention issues with jerking and hesitation during acceleration and water leaking into the vehicle.
How safe is the Audi A3?
Like many Audi vehicles, the A3 has great safety ratings and comes equipped with a number of safety features. The 2020 A3 received a 83/100 for safety from J.D Power, and good scores across the board from the IIHS. The NHTSA gives it an overall rating of 5 stars, which breaks down into a 4/5 rating for frontal crash, 5/5 for side crash, and 4/5 for rollover.
Audi A3 maintenance
The Audi A3 is considered a luxury compact sedan and can be expected to perform well as a daily driver. However, it's important to stay on top of maintenance in order to extend the life of the vehicle and increase mileage. Here's what to expect in terms of oil changes, mileage, and warranty on the Audi A3.
Audi provides your first scheduled maintenance free of charge, which occurs at 1 year or 15,000 kilometres. After that, follow the maintenance schedule outlined in your owners manual.
The standard 2020 Audi A3 gets an average of 7.8 litres per 100 kilometres, with 8.8 in the city and 6.5 on the highway.
The 2018 Audi A3 Cabriolet gets an average of 9.5 litres per 100 kilometres, with 10.8 in the city and 8.0 on the highway.
Audi encourages owners to bring their A3 to a dealer for service, but won't void your warranty if you bring it elsewhere.
The 2020 Audi A3 comes with a 4-year/80,000-km warranty and 24-hour roadside assistance.
Is an extended warranty worth it for the Audi A3?
The Audi A3 comes with a 4-year or 80-000 kilometre warranty, but you may want to consider extending your coverage after it expires. This is available in the form of the Audi Certified Plus Limited Warranty, which is available after the new vehicle warranty expires. If purchased, the Audi Certified :plus Limited Warranty becomes effective and provides coverage for 5 years or up to 100,000 km.
About the Audi A3
The Audi A3 was originally designed as a small family sized, compact car in 1996. The 2020 model is known for its relatively low cost and sporty performance for a luxury car. The 2020 Audi A3 has received a 5-Star Overall Safety Rating by the National Highway Traffic Safety Administration and the 2019 model was ranked as a Top Safety Pick+ by the Insurance Institute for Highway Safety.
Bottom line
The Audi A3 is an affordable luxury sedan designed for comfort and convenience. While its body style, safety features, cost of repairs, and other factors contribute to the cost of car insurance, you should compare your options to find the best rate you can pay to insure this vehicle.
Audi A3 questions answered
More guides on Finder
Ask an Expert
You must be logged in to post a comment.