Finder is committed to editorial independence. While we receive compensation when you click links to partners, they do not influence our content.
Where to buy clear face masks online
Communicate more clearly with an accessible, transparent mask.
Due to recent events, many stores are experiencing a shortage of certain products. Be aware that many retailers may currently be out of stock, have longer shipping times than usual or be charging above-average prices. Remember that stockpiling items isn't actually necessary right now and that over-buying can leave others vulnerable.
Clear or transparent face masks let those around you see your facial expressions and read your lips as you speak while your face is covered. Reading visual cues is especially important in the Deaf and hard-of-hearing community, those working with children and second-language learners.
Most clear face mask options consist of a cloth face mask with a transparent panel. Some are entirely made of clear plastic that's held in place by straps, similar to that of a regular cloth mask.
Where to buy clear face masks online in Canada
Top stores to shop for clear masks online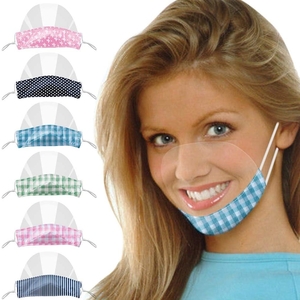 Amazon Canada stocks a great selection of protective face masks and respirators in one place, making it simple to compare brands, prices and customer reviews.
Sign up to Amazon Prime and get free shipping and returns on millions of items.
Huge product range.
Easily compare prices and ratings on similar products.
Go to Amazon
---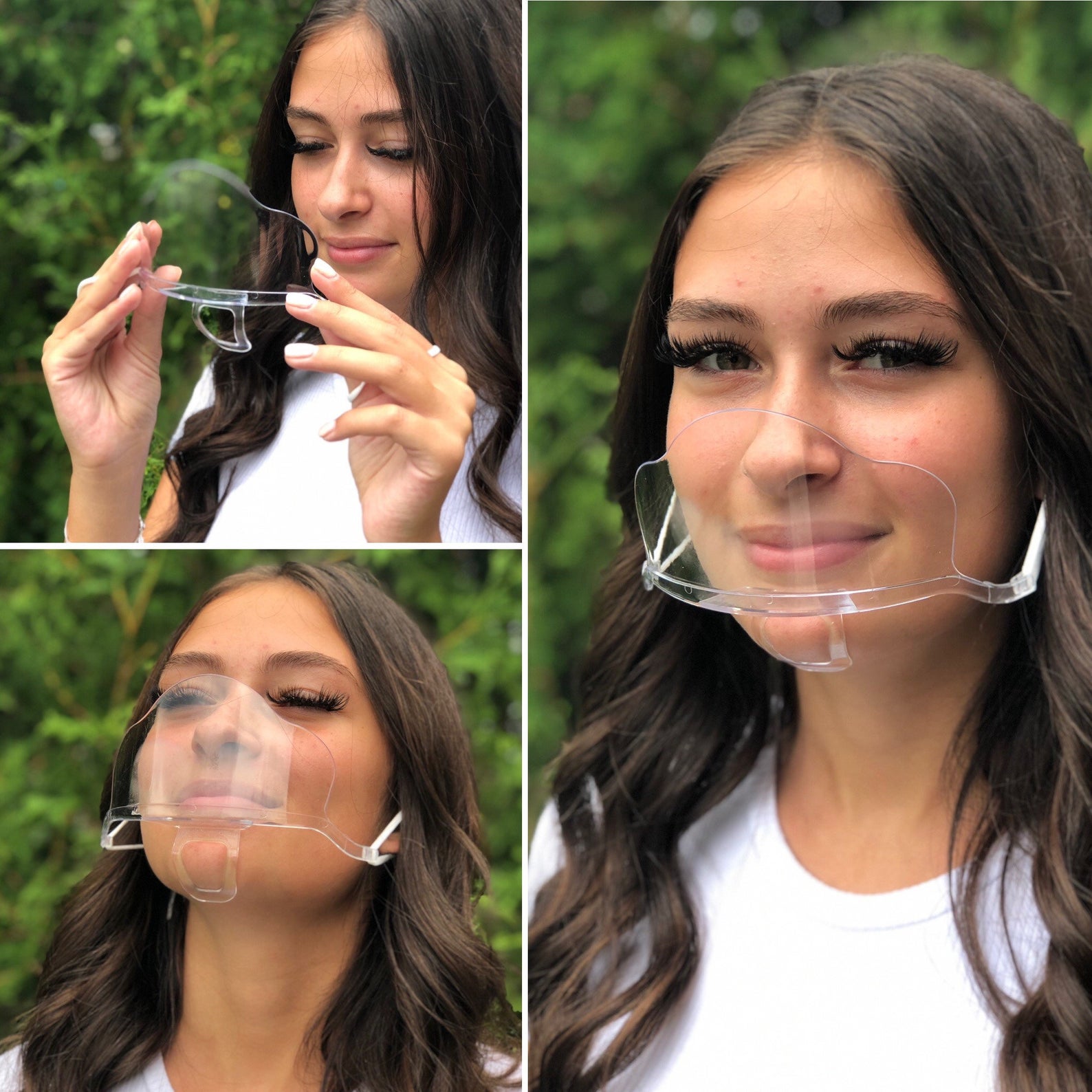 The terms Etsy and unique are practically synonymous. Being a marketplace for boutique makers, it's all about one-of-a-kind products here, many of which can be personalized.
Support local creators by buying domestically or browse items from international sellers.
Free delivery on some items.
Customer reviews available.
Allows for complete customization.
Go to Etsy
---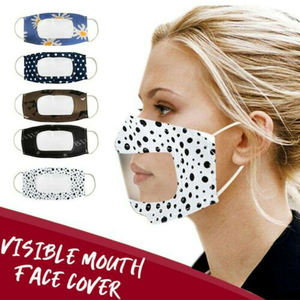 When it comes to competitive pricing, it doesn't get much better than eBay. Shop for respirator masks and other health and safety items here. Join in the thrill of a bidding war or browse the Buy It Now options to secure your purchase.
Secure site with a range of payment options including PayPal.
Prices are super affordable.
Helpful product reviews on site.
Free delivery from selected sellers.
Go to eBay
---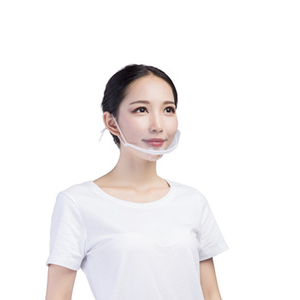 If you want bulk buy discounts and some of the lowest prices around, don't pass up on this site! Alibaba gives you a direct link to product manufacturers, and by cutting out the middleman, you can avoid retailer inflation.
Cut out retailer inflation by eliminating the middleman.
Check out using a secure shopping portal.
Enjoy order protection through Trade Assurance.
Go to Alibaba
---
With thousands of brands and millions of products, AliExpress offers a full shopping experience with loads of options to choose from! Browse through a range of masks at hugely discounted prices – you won't be disappointed!
Huge range of products, deals and sellers
Variety of shipping options
Competitive prices
Go to AliExpress
---
Tips for buying a clear face mask
Look for these qualities when shopping for a transparent face mask:
Fog-free panel. Some materials used to make the clear panel in the mask are better at resisting fogging than others. Look for product listings that say the mask is fog-free or fog-resistant. You can also try adding Dawn dish soap to the clear panel in your mask to help reduce fogging.
Breathability. The plastic panel in front of your mask may make it more difficult to breathe through. Make sure the mask is designed in such a way that will still allow proper airflow.
Washable. Most clear masks are made of a type of cloth with a plastic panel. Make sure the entire mask is washable. Otherwise, you'll have to keep buying new ones.
Proper fit. The mask should comfortably tie around your nose and chin so it can fit your face well.
Benefits of wearing a clear mask
Others can read visual cues while you speak. This is important for the Deaf and hard-of-hearing community and second-language learners, who often read lips and other visual cues when listening to someone talk.
Others can read your facial expressions. Clear masks allow others to see if you are smiling or making other facial expressions through your mask.
Children may feel more comfortable. Parents, caregivers and teachers may find that children are less afraid of those wearing face masks when they can see their facial expressions underneath.
How to make a DIY clear face mask
If you have a little sewing know-how, making your own transparent face mask can be fairly simple. There are several patterns you can download online to help you get started.
You'll need:
Cotton fabric
Two elastic strings
Clear plastic panel
Sewing machine or needle and thread
Follow the instructions for your specific pattern, or DIY your own clear mask using these basic steps:
Cut the fabric to size, according to your pattern or facial measurements. You will need two pieces to create one mask.
Cut a rectangle out of the middle of the fabric, where the plastic window will go.
Cut two 12-inch elastic strips.
Place the clear plastic panel between the two pieces of fabric and sew together around the window.
Sew along the outer edges of fabric to close the two pieces together.
Place a crease down the center of the mask and sew, creating a curve down the front.
Sew the elastic strips to the corners of the mask to create ear loops.
How to keep a clear mask from fogging up
Before wearing your mask, apply a thin layer of dish soap to the inner side of the plastic panel. Let dry — this will help to prevent fogging when speaking or breathing. Wipe and reapply as often as necessary throughout the day or after each use.
What material is a clear face mask made of?
Most clear face masks are made of a thick fabric such as quilted cotton and vinyl or a type of transparent plastic to create the see-through window.
Can you breathe properly in a transparent face mask?
Some types of plastics can be more difficult to breathe through than others. Try on your clear mask before wearing it out to make sure you can comfortably breathe and talk in your mask. Clear plastic masks may not be suitable for young children, as they can pose a greater risk of suffocation than regular cloth face masks. The CDC states that children under two years old should not wear a facial covering of any kind.
Clear face masks vs. face shields: Which do I need?
Clear face masks and clear face shields both allow others to see your facial expressions and lip movements while you talk — but each option comes with its own benefits and drawbacks.
Clear face masks
Face shields
Pros

Fits more closely to your face
Convenient to transport and store

Can be easier to breathe through
Covers your eyes

Cons

Does not cover your eyes
May fog up

Leaves openings around your face
Takes up more room to transport and store
Shop for medical-grade face masks
Use the guides below to learn about different types of medical-grade face masks. Plus, find out which online sellers let you order these masks to be delivered straight to your home.
More guides on Finder
Ask an Expert
You must be logged in to post a comment.