Finder is committed to editorial independence. While we receive compensation when you click links to partners, they do not influence our content.
Where to buy a Christmas tree online in Canada
Brighten up your home this holiday season with a beautiful Christmas tree from one of these online retailers.
No holiday celebration is complete without the perfect Christmas tree! Whether you prefer a classic, modern, slim, wide, short or tall tree — we can help you find exactly what you're looking for. Take a look at the following list of retailers that sell Christmas trees online for delivery across Canada. Be sure to check out which ones offer free shipping deals, so you can save while you shop.
For more ideas on how to prep for the season, check out our guides on where to buy Christmas decorations online, where to buy holiday-themed protective face masks and the perfect Christmas gifts in 2021.
If you're worried about staying on track financially this year, figure out how much to spend on gifts for each person on your list with our handy Christmas Cost Control Calculator.
Where to buy Christmas trees online
---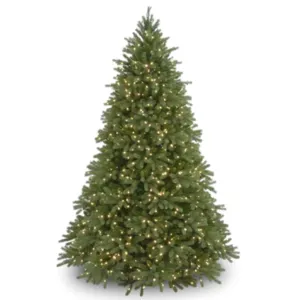 1. Wayfair

Wayfair carries a vast selection of fashionable Christmas trees as well as ornaments, lights, candles, wreaths and more to deck out your home for the holidays.
Wide range of home decor for all seasons
Prompt, expert customer service
Free shipping deals available
---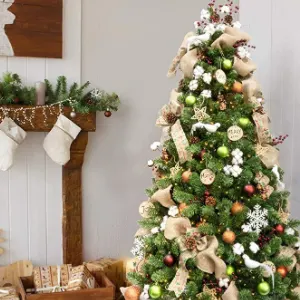 2. Amazon

Amazon stocks a huge selection of Christmas trees in one place, making it simple to compare brands, prices and customer reviews.
Trusted online marketplace
Free shipping on tons of items with an Amazon Prime membership
Easily compare prices and reviews on similar products
---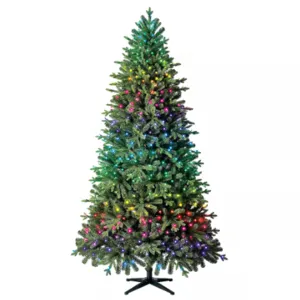 3. The Home Depot

A dominant player on the Canadian home and hardware scene, The Home Depot has just about every type of Christmas tree you could want including tabletop, floor height, pre-lit, unlit and more.
Plenty of time to decide if you want to return unused items (especially if you pay with a Home Depot Consumer Credit Card)
Free shipping on orders that reach or exceed a certain amount
Ship directly to your home or a nearby store.
Go to The Home Depot website View coupon codes for The Home Depot
---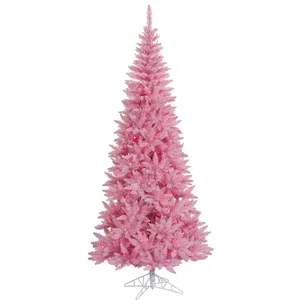 4. Walmart

If you're searching for a wide selection of Christmas decorations with plenty of styles and colours in different price ranges, Walmart won't let you down!
Very competitive prices
Ad match available
Get special offers direct to your inbox by signing up to receive Walmart's weekly flyer.
---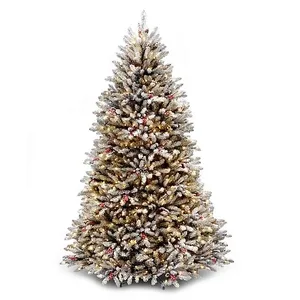 5. Bed, Bath & Beyond

Browse a selection of high-quality Christmas trees and holiday decor at Bed, Bath & Beyond. While you're at it, check out items to furnish your bedroom, bathroom, kitchen, office and more.
Sign up for email promotions, and get 20% off your first purchase
Free shipping on orders over a certain amount
Carries a range of well-designed, high-quality items
Go to Bed, Bath & Beyond website View coupon codes for Bed, Bath & Beyond
---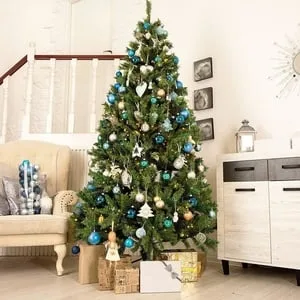 6. Etsy

The terms Etsy and unique are practically synonymous. Being a marketplace for boutique makers, it's all about one-of-a-kind items here, many of which can be custom-made to suit your wants and needs.
Support local creators by buying domestically or browse items from international sellers
Many sellers will customize your product(s) for you
Free delivery and express delivery available on some items
---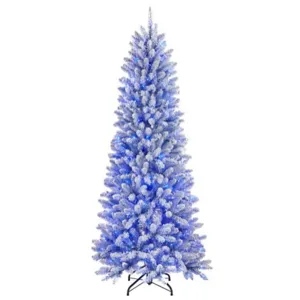 7. Canadian Tire

A go-to source for home and hardware purchases, Canadian Tire carries loads of items you can't live without. Browse through a great supply of quality Christmas trees, indoor and outdoor lights, wreaths and more.
Earn Triangle Rewards, which you can redeem for Canadian Tire Money that can be used at SportChek, Atmosphere, Hockey Experts, Mark's, Canadian Tire (including gas purchases) and other retailers
Refund policy allows you tons of time to decide if your want to return unused purchases
Have online purchases delivered to you, or choose free in-store pickup
Go to Canadian Tire website View coupon codes for Canadian Tire
---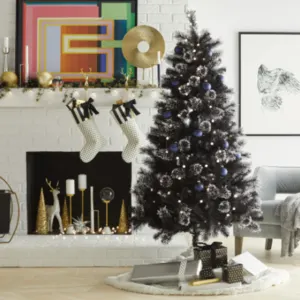 8. Bonanza

If you're craving a diverse shopping experience, you'll love Bonanza. This site has an eclectic array of holiday furnishings, Christmas trees and seasonal decor as well as some unique, statement artwork.
Sort items by lots of different filters including price, brand, size, manufacturing country and more
Pay for purchases using PayPal's secure checkout system
Compile your own wishlist by creating an account
---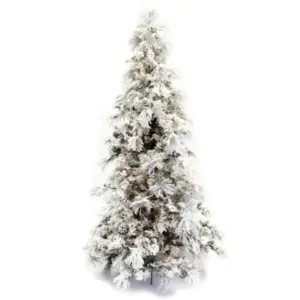 ---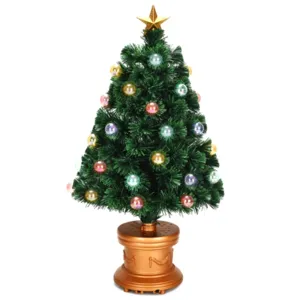 10. Best Buy

Best Buy is a go-to source of top brands across essential consumer electronics, but did you know it also stocks Christmas trees? That's right. Find a variety of trees at different price points at this trusted retailer.
Low price guarantee
Hassle-free returns for online orders
Easy-to-use website
---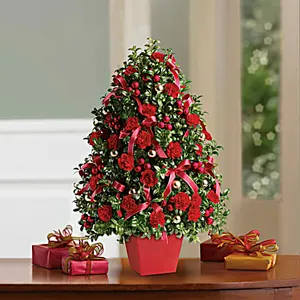 11. Teleflora

Order real (non-artificial) miniature Christmas trees from Teleflora, one of the most trusted floral services providers in the world. Have mini trees and wreaths delivered to loved ones. Add a special touch with boxed chocolates or a stuffed bear.
Access to a huge network of florists around the world and a variety of delivery options
Same-day delivery available (some exceptions apply)
Order from your desktop, tablet or phone
---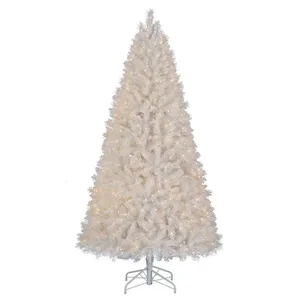 12. Lowe's

A competitive player on the Canadian hardware scene for over a decade, Lowe's sells lots of Christmas trees in different sizes and for different budgets. Don't live near a Lowe's store? Don't worry! Items can be shipped to many locations across Canada.
Free shipping on orders valued at $49 or more
Plenty of items to spruce up your home and prep for the holidays
Choose between at-home delivery or in-store pickup (delivery not available to some places)
---
Which of these retailers offer free delivery?
What type of Christmas tree should I buy?
These days, there are tons of different Christmas trees available on the market. What type of "tree personality" do you have — classic, modern, monochromatic, colourful? Do you want to have the same type of Christmas tree every year? Are you prepared to maintain a real evergreen in your home?
We break down different types of Christmas trees in the table below to help you decide which one is right for you:
Should I get a real or artificial Christmas tree?
Tree type
Pros
Cons
Real

Fresh evergreen smell
Good if you want to move away from fake, mass-produced decor
Doesn't require long-term storage
Typically less expensive than an artificial tree

May leak sap, making it sticky to handle
Needs to be watered regularly
Drops needles, which could be hazardous to pets and young children
Cannot be reused

Artificial (fake)

Can be reused; no need to shop for a new tree every year
Doesn't need to be watered and doesn't leak sap or drop needles
Very customizable
Available at many retailers

Lacks a fresh, evergreen scent
Usually more expensive than a real tree
Can collect dust and develop a musty smell if not stored properly
Usually requires assembly
What type of artificial Christmas tree should I get?
Tree type
Pros
Cons
Green

Good if you prefer classic Christmas decor
Natural colour suits a wide range of indoor spaces
Good base colour for different types of decorations; not stuck to one theme
Widely available in stores

Not very unique
Not good if you prefer modern decor

Non-traditional colour

Good if you're sick and tired of traditional Christmas decor
Allows you to try new, unique ways of decking out for the holidays
Eye-catching

Potentially be more difficult to decorate a non-traditional tree
Often considered a novelty item and subsequently priced higher than green trees
Not as widely available as green trees
Not as universally appealing (if you're decorating a public place or inviting people over for a party)

Wide

Good if you prefer a traditional Christmas tree silhouette
Makes a big visual impact

Takes up a lot of room; may not be suitable for apartments.
Physically harder to assemble than a smaller, narrower tree
Heavier to move

Slim

Fits well into small or tight spaces
Good if you want minimal Christmas decorations
Physically easier to move and decorate

Doesn't have the same visual impact as a wide tree
Not as widely sold as traditional, wide trees
May not be as appealing to children and people who love traditional Christmas decor

Unlit

Can use whatever type of lights you want (solid, blinking, coloured, white, LED etc.)
Easier to replace burnt out lights or entire sections of dead lights than it would be with a pre-lit tree
Less expensive than a pre-lit tree

Have to physically add/remove lights
Have to deal with tangled light strands
Lights strings can easily get detached when people or pets make contact with the tree

Pre-lit

Don't have to deal with tangled light strands
Massive time saver
Less physically demanding
Lights are well-placed as part of the tree's manufacturing process (no awkward decorating here!)

Inconvenient when lights or light sections go dead (although many pre-lit trees are wired so that, if one bulb goes out, the rest of the string will remain unaffected)
Harder to customize the tree

Tall

Lends a grand appearance to any space
Different to the types of Christmas trees most people have
Can permit more fullness

Requires a high ceiling or must be used outdoors
Hard to decorate the top of the tree
More expensive than traditionally-sized trees
Can be hard to move and set up

Short

Fits better in small or tight spaces; good for bedrooms or personal work areas
Less expensive than traditionally-sized trees
Easy to decorate (no straining to reach the top!)

Can easily be moved or toppled by mischievous toddlers or energetic pets!
May be a little underwhelming for Christmas enthusiasts who love being surrounded by holiday decor
Depending on the retailer, you may not have as many options to choose from
What to look for when shopping for a Christmas tree
Shopping for the perfect Christmas tree is about more than simply finding a decent-looking evergreen at the right price. Consider the following points when browsing online or in stores:
For pre-lit trees, read the description to make sure that — if one light goes out — the rest of the lights will stay lit. Make sure you have spare light bulbs on hand to replace any that go dead.
Note the number of tips on the tree. The more tips there are, the fuller the tree will look. This is important if you dread coming home with a tree that looks better in its picture than its does in real life.
Pay attention to the tree's diameter, which reflects the width of the tree at its widest point. This is crucial for determining if a given tree will fit in your space.
For artificial (fake) trees, what type of real-life tree is it modelled after? Most artificial trees are designed to look like real trees, which can vary in needle thickness, colour and spread. For example, fir trees have smooth, hardy branches and somewhat flattened needles. Spruce trees have rough wooden branches, soft needles and cones that are flexible to the touch. The needles on pine trees are attached to branches in clusters and its cones are both strong and rigid.
You might also be interest in...
Header image supplied by Getty Images
More guides on Finder
Ask an Expert
You must be logged in to post a comment.