Finder is committed to editorial independence. While we receive compensation when you click links to partners, they do not influence our content.
Where to bulk buy N95 and FFP3 face masks in March 2023
If you're looking to outfit your staff in respirators, these online retailers can help.
Due to recent events, many stores are experiencing a shortage of certain products. Be aware that many retailers may currently be out of stock, have longer shipping times than usual or be charging above-average prices. Remember that stockpiling items isn't actually necessary right now and that over-buying can leave others vulnerable.
Many health experts agree that N95 masks are the most effective type of face covering for preventing viral particles from entering or exiting the wearer's mouth. According to a recent CNN report, a number of experts claim that widespread use of N95 masks in public could actually end the COVID-19 pandemic.
The World Health Organization (WHO) has been encouraging governments to ask people to wear face masks when out in public. People who are sick or caring for someone who's sick are strongly advised to wear masks. Depending on where you live in Canada, you may actually be required by law to wear a face mask when out in public.
Retail availability of these masks is growing as manufacturers step up production to meet increased demand. We've rounded up a list of online retailers that sell N95 face masks in bulk. We've also listed which ones offer free shipping deals, so you can save while getting the products you need.
---
Where to bulk buy N95 and FFP3 face masks online for delivery in Canada
72hours.ca
Clinical Supplies
Aussie Pharma Direct
---
A leading online retailer of face masks and rapid test kits, PPE Supply offers great prices, same-day order processing and same-day delivery in the Greater Toronto Area.
20% off masks and rapid COVID tests (automatically applied at checkout)
Ships from Canada to locations across Canada and the US
Free shipping on orders of $99+
Adult & children's masks available
Same-day shipping on all orders placed by 4PM EST
Competitive, bulk pricing available
Registered with Health Canada
Go to PPE Supply Canada website
---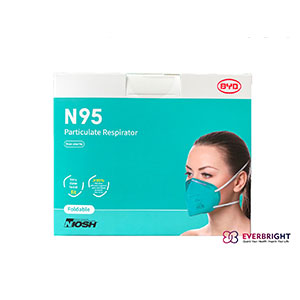 Everbright Global is a Canadian company specialising in PPE products, such as, masks, surgical/isolation gowns and eye and face protection.
Featured in Newswire, Finance Yahoo and APNews

Free delivery on orders over $80

FDA authorized medical use KN95 masks

Extra discount depend on the quantities
---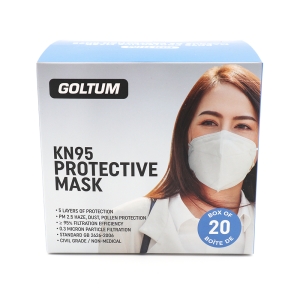 Goltum is a Canadian company based in Montreal that provides high-quality personal protective equipment.
Free shipping on orders over $100
Ships within 24-hours
FDA certified and their factories are on the CDC white list
Go to Goltum's website
---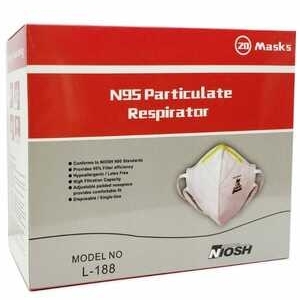 This Canadian retailer has what you need to stay safe, from medical-grade face masks to hand sanitizer and disposable gloves. Also browse a huge catalogue of diet and fitness products, natural health remedies, vitamins and supplements, home items and more.
Stocks lots of products for immunity and medical protection
Get exclusive offers when you sign up for the (free) VIP program
Get a discount on your next purchase when you sign up to receive email newsletters
Free shipping in Canada and the US on orders that reach or exceed a certain amount
Go to Yes Wellness website
---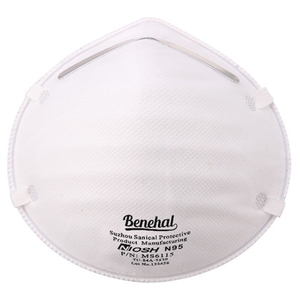 If you want bulk discounts and some of the lowest prices around, don't pass up on this site! Alibaba gives you a direct link to product manufacturers, and by cutting out the middleman, you can avoid retailer inflation.
Cut out retailer inflation by eliminating the middleman

Check out using a secure shopping portal

Enjoy order protection through Trade Assurance
Go to Alibaba
---
A dominant player on the Canadian home and hardware scene, The Home Depot has just about everything you could need for your next DIY project. This includes a range of health and safety products including respirator masks, disposable gloves and cleaning wipes.
Large variety of competitively-priced items

Plenty of time to decide if you want to return unused items (especially if you pay with a Home Depot Consumer Credit Card)

Free shipping on orders that reach or exceed a certain amount

Ship directly to your home or a nearby store

Equipment rentals available
Go to The Home Depot
---
Réno-Dépôt
This Quebec-based home hardware retailer makes it easy to save on home renovations and building projects with great prices on a wide range of building materials, plumbing and electrical supplies, appliances and more.
Subscribe to the newsletter to find out about special offers and get a discount on your next purchase

Financing available for larger purchases

No additional delivery fees plus hassle-free returns for "online exclusive" items
---
AccuMed
AccuMed is a US-based healthcare supplier that sells high-quality medical products including safety masks, first aid kits, blood pressure monitors, pregnancy tests, massagers, infrared thermometers, breathalyzers and more. AccuMed ships to customers in Canada.
All products are screened and tested to ensure quality

Discreet customer service

Discounts for bulk purchases
---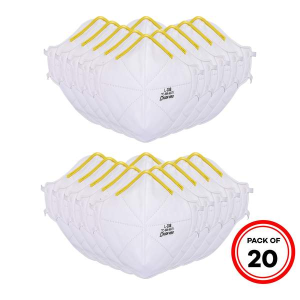 72hours.ca
72hours.ca is a Canadian-based supplier of emergency preparedness and survival products. Stock up on freeze-dried food, water filtration and storage systems, first aid supplies, communication devices, survival shelters and other must-haves for your next outdoor trek. Free shipping is available on purchases over a certain amount.
Free shipping on purchases over a certain amount (can ship to PO boxes)

Get individual quotes for volume discounts

Price matching available

Ships from Canada, so you can avoid customs and currency conversion fees
---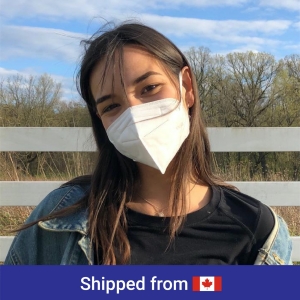 Clinical Supplies (In Stock)
Clinical Supplies provides top quality masks, gloves and hand sanitizers. They offer Canadian-wide delivery on all order from their warehouse which is located in British Columbia.
Verified by Finder
Bulk purchases over 10,000 units
FDA registered KN95 masks
Quick order dispatch (1-3 days)
---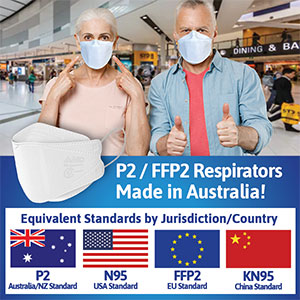 Aussie Pharma Direct
Offers quality Australian-made P2 / FFP2 respirator masks that exceed minimum N95 filtration compliance standards. They are made using cutting-edge nano-technology which means they offer high filtration, are light and comfortable plus 4 protective layers with a 3-panel design that moulds comfortably around the face yet still allows for comfort and breathability that can be worn for up to 24 hours.
Selected by Australian Olympic team as their official mask of choice for Tokyo Olympic Games
Nanofiber filter, filters >99.66% of airborne particulates
Approved by the FDA under the Emergency Use Authorization (EUA) for imported, non-NIOSH approved respirators
International express shipping available to Canada & the U.S.
---
Does your company belong in this list?
---
Which of these retailers offer free delivery?
PPE Supply: Free shipping on all orders over $99
Yes Wellness: Free shipping on orders that reach or exceed a certain amount
Alibaba:

Free shipping is offered on many products

The Home Depot:

Free shipping on orders that reach or exceed a certain amount

Réno-Dépôt: Free delivery promotions occasionally available on specific items
72hours.ca: Free shipping on purchases over a certain amount
---
What are the benefits of bulk buying N95 and FFP3 masks?
If you're buying masks for a group of people (for example, a team of staff in an essential services workplace) who are expected to wear a mask, in the long run, you may want to bulk buy. Buying in bulk is generally much cheaper when you consider the cost per item. It also means you don't have to order masks as frequently and can minimize your shopping trips.
The WHO recommends wearing a face mask when out in public or if you're sick or caring for someone who's sick. (The WHO further states that fabric masks may suffice when out in public if you're not sick and don't have access to higher-quality masks.) Since most industry-standard masks are not re-usable, you may find that you'll go through quite a few.
---
Should I bulk buy N95 or any other face masks?
Not unless you need a large quantity of masks. Unless you're caring for someone who is sick or are sick yourself, you should save the limited supply for those who are in need.
What's the difference between a P2, FFP2, KN95 and N95 face mask?
Depending on your location, different face mask types are more widely used. For example, in the United States and Canada, N95 are common; in Australia and New Zealand you'll see P2 masks more often; in China, KN95 is the standard. Mask manufacturer 3M, which specialises in filtering facepiece respirators (FFR) masks, offers the following explanation of the main differences between each mask type.
| Certification/Class | N95 | FFP2 | KN95 | P2 | Korea 1st Class | DS |
| --- | --- | --- | --- | --- | --- | --- |
| Filter performance | ≥ 95% | ≥ 95% | ≥ 95% | ≥ 94% | ≥ 94% | ≥ 95% |
| Test agent | NaCl | NaCl and paraffin oil | NaCl | NaCl | NaCl and paraffin oil | NaCl |
| Flow rate | 85 L/min | 95 L/min | 85 L/min | 95 L/min | 95 L/min | 85 L/min |
| Total inward leakage (TIL) | N/A | ≤ 8% leakage | ≤ 8% leakage | ≤ 8% leakage | ≤ 8% leakage | Inward Leakage measured and included in User Instructions |
| Inhalation resistance | ≤ 343 Pa | ≤ 70 Pa (at 30L/min)≤ 240 Pa (at 95 L/min)≤ 500 Pa (clogging) | ≤ 350 Pa | ≤ 70 Pa (at 30L/min)≤ 240 Pa (at 95L/min) | ≤ 70 Pa (at 30L/min)≤ 240 Pa (at 95L/min) | ≤ 70 Pa (w/valve)≤ 50 Pa (no valve) |
| Flow rate | 85L/min | Varied – seeabove | 85L/min | Varied – seeabove | Varied – seeabove | 40L/min |
| Exhalation resistance | ≤ 245 Pa | ≤ 300 Pa | ≤ 250 Pa | ≤ 120 Pa | ≤ 300 Pa | ≤ 70 Pa (w/valve) ≤ 50 Pa (no valve) |
| Flow rate | 85L/min | 160L/min | 85L/min | 85L/min | 160L/min | 40L/min |
| Exhalation valve leakage requirement | Leak rate ≤ 30mL/min | N/A | Depressurization to 0 Pa ≥ 20 sec | Leak rate ≤ 30mL/min | Visual inspection after 300L /min for 30 sec | Depressurization to 0 Pa ≥ 15sec |
| Force applied | -245 Pa | N/A | -1180 Pa | -250 Pa | N/A | -1,470 Pa |
| CO2 clearance requirement | N/A | ≤ 1% | ≤ 1% | ≤ 1% | ≤ 1% | ≤ 1% |
Source: 3M
Am I required to use an N95 or KN95 face mask in Canada?
It depends on where you live. Certain cities such as Ottawa, Toronto, Kingston in Ontario have implemented bylaws requiring people to wear face masks when in public. Outside these jurisdictions, businesses and other organizations may still exercise the discretion to require customers and employees to wear face masks. In some regions, wearing a mask is mandatory when riding public transit.
The consequences for failing to follow regional rules usually involve stiff fines ranging from hundreds to thousands of dollars.
It's expected that more cities will consider adopting similar bylaws in the future to prevent the spread of COVID-19, as per the World Health Organization's recommendations. Previously, the WHO had issued a statement advising governments to request that people wear fabric face masks in public.
Take a look at this helpful page on the Government of Canada website to learn more about masks that offer the best protection during COVID-19. You can also learn about when and how to use masks from on the World Health Organization's site.
What's the difference between NIOSH-approved and FDA-cleared face masks?
Differences come down to function and intended use. The National Institute of Occupational Safety and Health (NIOSH) tests and certifies standard respirator masks used in the workplace to prevent dust and other small airborne particles from inhalation. Health Canada officially recognizes the NIOSH certification standard for N95 face masks.
In contrast, the US Food and Drug Administration (FDA) clears as medical devices both standard surgical masks and surgical N95 respirator masks intended for use by healthcare workers.
According to a NIOSH representative to whom Finder reached out, "NIOSH approves respirators in accordance with 42 Code of Federal Regulations Part 84 (42 CFR 84), not to any other standards. Only respirators that meet or exceed all of the requirements established in the 42 CFR 84 standards are acknowledged by NIOSH, and only those that have been NIOSH approved may be marketed as a NIOSH-approved respirator. If a respirator is marked only N95, that does not constitute a NIOSH approval. Currently, N95 is not trademarked. It has been used to indicate a filtering facepiece respirator (FFR) is 95% efficient; however, it should not be used in a context that misleads a user to think an FFR is NIOSH-approved that is not."
| Approval or clearance organization | Mask type | Function |
| --- | --- | --- |
| NIOSH-approved | Standard N95 respirator | Reduces the amount of airborne particles inhaled by the wearer. |
| FDA-cleared | Surgical masks | Reduces the amount of particles expelled by the wearer and offers protection from fluids. |
| NIOSH-approved and FDA-cleared | Surgical N95 respirators | Reduces the amount of airborne particles inhaled and expelled by the wearer, and offers protection from fluids. |
What does an NIOSH-approved mask look like?
Below is an example of what a face mask should look like according to NIOSH approval standards. To verify if a respirator is NIOSH approved, use the NIOSH Certified Equipment List or its list of NIOSH-Approved filtering facepiece respirators.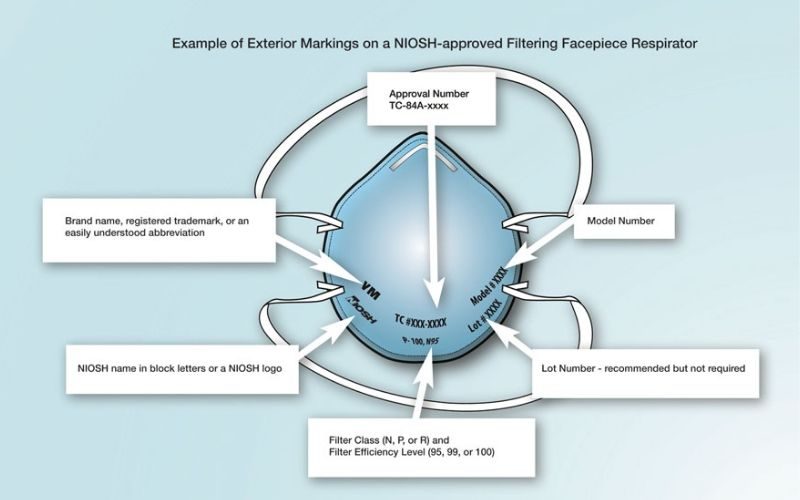 Image source: CDC.gov
If N95 masks are out of stock, can I use a KN95 mask instead?
You should avoid wearing a KN95 mask if you need N95-level protection. KN95 masks are supposed to be similar (though not identical) to N95 masks, however, the Government of Canada has warned that some companies are importing or distributing KN95 masks that don't meet NIOSH quality standards for filtration. NIOSH is the US regulatory organization that tests and certifies N95 masks.
In the United States, the FDA originally left the KN95 off its approved list of protective wear but has since approved KN95 masks that meet certain criteria.
According to the Canadian government, Canadians using KN95 masks outside of a healthcare setting can continue to do so, but healthcare professionals are encouraged to double check the quality of any KN95 masks they're using.
You should also be wary of scammers who try to profit from the COVID-19 pandemic by selling face masks that they falsely claim are medical grade. 3M, one of the world's largest manufacturers of masks, offers a tool to check if a product is genuine.
How long do N95 face masks last?
Generally, a single N95 mask works for around 8 hours before needing to be replaced, as it will become less effective. According to the World Health Organization you should also replace any single-use mask once it gets damp.
If you need to use a mask on more than one occasion, many of the sites listed above carry multi-packs. 3M also manufactures masks with replaceable filters.
How N95 masks are constructed
N95 masks are made of several layers of special non-woven fabric, with a filtration facepiece respirator (FFP) in the middle.
The 2 outer layers are made from melt-blown fabric, which filters out small airborne particles. Melt-blown fabric is made by melting polypropylene and other similar types of plastics and using a machine to draw the material out into fine strands. As these strands cool next to each other, they bond together to form a solid sheet of melt-blown fabric.
Between these 2 layers is a layer of no-melt cotton, which absorbs moisture, and the FFP respirator. The respirator component of masks like the N95, FFP1, FFP2 and FFP3 sets them apart from disposable surgical masks, which do not contain a respirator but still protect the wearer from spreading airborne particles and being exposed to bodily fluids.
How to remove face masks properly
First, wash your hands thoroughly before putting on your mask. When you're ready to take it off, do not touch the front of the mask – it could be contaminated. Instead, remove the mask by pulling the bottom strap over the back of your head, followed by the top strap. Discard the mask immediately, and then wash your hands.
Which type of mask should I bulk buy?
There's a lot of information out there about when and where to wear a mask and what type of mask you need for various situations. Use this quick guide to help you decide which kind of face mask best fits your needs.
| Mask type | Who is it best for? | Description | How long does it last? |
| --- | --- | --- | --- |
| N95 respirators, KN95 face masks | Healthcare workers | Blocks at least 95% of airborne particles when worn properly. Adheres to government testing regulations. | Can be reused in certain situations, but must be discarded after coming into contact with bodily fluids, infected patients and in other circumstances. Read the CDC's full reuse guidelines. |
| Surgical face masks | People who are sick or caring for someone who is sick | Protects wearers from infecting others. Usually made of 3 layers of melt-blown fabric. | Intended to be discarded after every use. |
| Cloth face masks | The general population when in a public space (particularly when it's hard to socially distance from others) | Typically made from cotton fabric with elastic or tie straps. Some designs have a pocket to place a removable filter. | Can be washed and reused for weeks or even months, as long as the material maintains its integrity. |
Frequently asked questions