Finder is committed to editorial independence. While we receive compensation when you click links to partners, they do not influence our content.
Brave Frontier Heroes guide
Brave Frontier Heroes is an epic adventure NFT play to earn game.
Disclaimer: This information should not be interpreted as an endorsement of cryptocurrency or any specific provider, service or offering. It is not a recommendation to trade.
What is Brave Frontier Heroes?
Connoisseurs of Japanese RPGs will already be familiar with the enormously popular Brave Frontier and fans of crypto-powered gaming will know the Ethereum-based My Crypto Heroes.
As the name suggests, Brave Frontier Heroes is a crossover between the two. To be more accurate, it's My Crypto Heroes with the game mechanics and characters, also known as units, of Brave Frontier ported across.
The extra sauce is that you can now own and trade the Brave Frontier units and weapons as digital assets, or even use them in other games, bringing a whole new level of richness to the gameplay.
The game itself is an 8-bit style idle RPG, meaning that the game effectively plays itself, after you place your units in formation for combat. You send your units to battle either a series of monsters or other players of the game.
If successful you are rewarded with experience points (exp) and/or spheres, which are power-ups. They are crucial if you want to progress in the game and gain more units, weapons, shields or spheres.
You can play Brave Frontier Heroes on iOS, Android or via your desktop browser. It's free to play, but to access the exp exchange you'll need a monthly prime membership, which costs either 0.035 ETH via Metamask or $4.99 USD via your credit card.
If it's plot you're into, this game is your chance to explore the world of Grand Gaia and, in the developers' own words, "save it from the evil hordes of the corrupted god Maxwell."
What are NFTs in Brave Frontier Heroes?
An NFT is a unique token on a blockchain used to represent ownership of a digital asset. In the case of Brave Frontier Heroes NFTs are characters and assets. In a gaming context, NFTs are attracting a lot of interest as they could solve the issue of collectability in gaming.
In-game purchases and trading have exploded in recent years, but one problem holding it back is the lack of unique digital assets – if something can be easily duplicated, it inherently loses value.
However, NFTs offer the prospect of truly one-of-a-kind in-game assets that can hold their value or even grow in value over time, or be reliably updated and augmented as gamers hold on to them. Alternatively, and perhaps most excitingly, gamers may wish to trade them in one of the many thriving online marketplaces available.
How does play to earn work within Brave Frontier Heroes?
The spheres you are rewarded with for winning battles come in 2 flavours: replicas and originals.
Replicas only exist within the ecosystem of the game, but originals are collectible NFTs that can be traded via NFT marketplaces like Opensea and Auctonicity.
You can probably guess which comes up more often.
What is ZEL?
ZEL is the in-game currency for Brave Frontier Heroes. ZEL is not a cryptocurrency, so it cannot be bought and sold on any cryptocurrency exchanges. It exists exclusively as an in-game currency to be used to purchase assets and items within Brave Frontier Heroes.
Where can I buy ZEL?
You can buy ZEL in the in-game exchange with Ethereum, or sell assets in the EXP exchange. One ETH is worth 10,000 ZEL.
It's important to remember that once you have ZEL, it cannot be exchanged back into ETH – it is not an ERC-20 token.
The iOS app uses the GO! Wallet, while the Android app uses the Token Pocket Wallet. Players can also access the game with mobile wallet apps such as Trust Wallet, and desktop wallets like MetaMask and Dapper Wallet.
How to play Brave Frontier Heroes
If you're familiar with My Crypto Heroes, the gameplay of Brave Frontier Heroes is very similar.
It gets complicated once we consider all the many variables in play, but here's how it works in very boiled-down form:
Choose your units and send them either on single-player quests or into arena battles with other players.
In the process you earn exp and spheres – replicas or originals.
As your units gain more exp, and get stronger, you can take on harder quests or take on higher-ranking players.
As you accumulate spheres, you can convert them to exp, or sell them to other players for ZEL.
Alternatively, you can buy ZEL with Ethereum – when you create your account, you link it to the cryptocurrency wallet of your choice.
As you grow in exp and rank, you'll receive more original spheres.
You can sell these original spheres outside the game in NFT marketplaces or use them to upgrade your units to become more powerful.
Units
You start the game with a basic selection of units, but you can buy more with ZEL. Each unit is unique, with a bespoke image and stats. Note that you can't trade them externally – but you can trade them with other players on the marketplace.
There are 6 different categories of unit, each with their ceilings on how far you can level them up:
Legendary – Level cap of 100
Epic – Level cap of 90
Rare – Level cap of 80
Uncommon – Level cap of 70
Common – Level cap of 60
Novice – Level cap of 40
Quests
This single-player experience is where you send your units out to battle monsters and in the process gain exp and, hopefully, spheres.
Arena
This is where you can take on your fellow players in one-on-one showdowns.

There are title matches organised by the Brave Frontier Heroes team, and player matches where you can create private or public matches to do battle with your friends or anonymous users.
Assets
It's important to keep track of all the assets you've gathered, especially given the large number of categories that can bewilder novice users.
The assets menu consolidates all this information in an easy-to-digest format.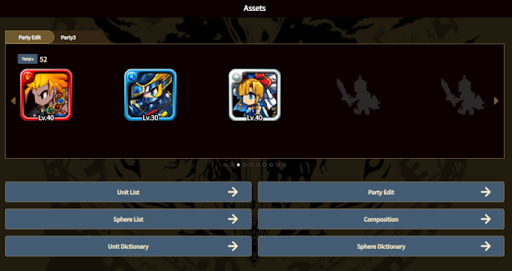 Note the composition tab: This is where you can use the spheres you have accumulated to level up your assets.

Marketplace
This is where you purchase units and exp and is the area probably of most interest if it's the NFT element of Brave Frontier Heroes that interests you, rather than the RPG element.
The marketplace has 4 tabs:
Summon. This is where you can buy new units. Each one has a limited supply and is on sale for a limited period.
Prime. This is the monthly subscription service that grants you the full experience, including discounts on exporting or minting NFTs, increases in the exp you gain from quests, and early access to unit sales.
EXP exchange. This is where you can buy exp for your units, and sell the replica spheres you have accumulated. Both of these transactions are conducted in ZEL.
Trade. This is where players can sell their units and original spheres for ZEL.
Brave Frontier Heroes frequently asked questions
Disclaimer: Cryptocurrencies are speculative, complex and involve significant risks – they are highly volatile and sensitive to secondary activity. Performance is unpredictable and past performance is no guarantee of future performance. Consider your own circumstances, and obtain your own advice, before relying on this information. You should also verify the nature of any product or service (including its legal status and relevant regulatory requirements) and consult the relevant Regulators' websites before making any decision. Finder, or the author, may have holdings in the cryptocurrencies discussed.
More guides on Finder
Ask an Expert
You must be logged in to post a comment.