Blue Mountain: Things to do in all seasons
Looking to escape the big city? Make the most of every season with these top-rated activities at Blue Mountain.
Famous for its hiking trails and acclaimed winter sports, this picturesque little ski town offers a wealth of experiences that you can enjoy all year round.
Whether you're in the mood for an adrenaline-filled getaway or want an easygoing escape from the chaos of the city, Blue Mountain has it all. From ziplining and brewery tours to snowshoeing and sightseeing tours, there's a little something for everyone.
Check out some of our choices of things to do in Blue Mountain. And don't forget to book your tickets early to avoid missing out.
---
Popular Blue Mountain things to do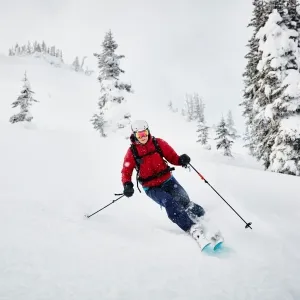 Rent some equipment and hit the slopes
Hit the slopes at Blue Mountain for a world-class ski or snowboard experience.
Explore over 360 acres of terrain on 10+ ski lifts, and travel up the mountain on the all-season gondola.
Not a fan of crowds? Escape to the backcountry on a guided tour or skip the lines and get your equipment delivered with a ski or snowboard package deal.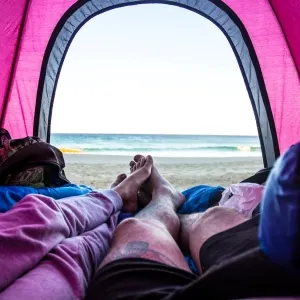 Explore the great outdoors
Need a breath of fresh air? Take a scenic walk along the winding paths of the Pretty River Valley or spend the night camping on the shale beaches of Craigleith.
You can also head to the Old Baldy Conservation Area or Nottawasaga Lookout to check out some of the incredible rock formations in the area.
And if you want to get up close and personal? Book a caving or climbing expedition at Metcalfe Rock.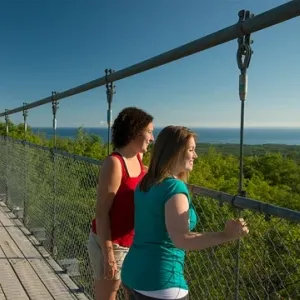 Cross the suspension bridge
Take in 360° views of the Georgian Bay on Ontario's longest suspension bridge.
This gem is nestled at the base of Scenic Caves Road, and is a must-see if you want to experience all that Blue Mountain has to offer.
Bring a picnic lunch to enjoy on the trails surrounding the bridge, and see about taking in a wagon or tractor ride during peak periods.
---
Things to do with families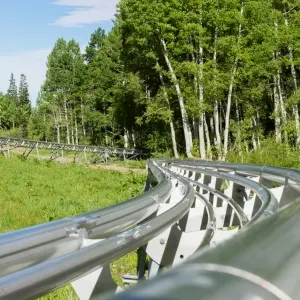 Take a ride on the Ridge Runner Mountain Coaster
Hop on to this gravity-powered alpine coaster to explore pristine forest and mountain terrain.
You can control your own speed to tailor the experience to you and your family's needs, but adventure seekers can expect to reach up to 42km/h.
Lasting around six minutes from start to finish, this is a short ride, but it offers some of the best views that Blue Mountain has to offer. If you stay at Blue Mountain Resort, you can grab a "Play All Day" wrist pass to get big discounts on this and other attractions.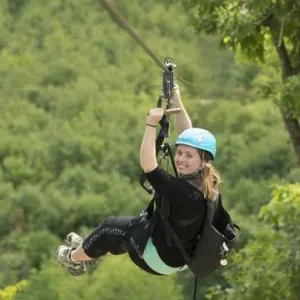 Zipline through mountain valleys
Get your heart racing with a zip line through the Niagara escarpment, complete with incredible views of lush forests and the crystalline waters of Georgian Bay.
Strap on a helmet and take an exhilarating ride down Ontario's longest zipline tracks at speeds up to 70km/h. Grab your discounted tickets to get in on the action today.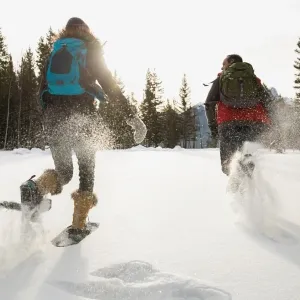 Snowshoe through the forest
Snap on a pair of snowshoes for a picturesque guided tour of Blue Mountain's pristine local trails and forests.
Revel in the beauty of babbling brooks and bird song as you make your way through this untouched wilderness area. And don't forget to grab a couple of Instagram-worthy pics in your quintessential Canadian gear before you call it a day.
---
Things to do for couples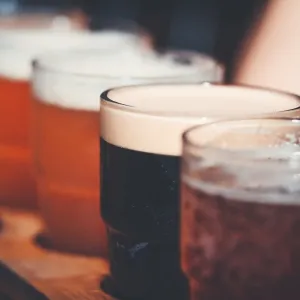 Get sudsy on a brewery tour
Enjoy an in-depth and indulgent introduction to Blue Mountain with a guided tour of hand-picked local breweries.
Get an introduction to the beer making process, try a flight of beer or cider and taste different samples at each location.
You can also check out a local winery like The Roost Wine Company for a more high-brow experience.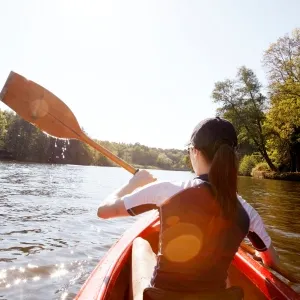 Paddle down world heritage rivers
Grab a paddle and climb aboard a canoe or kayak to explore the Beaver and Nottawasaga Rivers.
Make your way up natural gullies with an experienced guide and keep an eye on the riverbanks to catch sight of some of the area's iconic wildlife.
Take in the natural beauty of Blue Mountain from the water, and remember to bring a picnic to enjoy on the beach.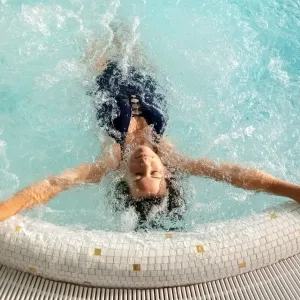 Wind down at Scandinave Spa
Zen out in the rejuvenating baths and saunas of Scandinave Spa. From hot tubs to ice baths to hydrotherapy and massages, this Nordic sanctuary is bound to help you relax.
Grab a herbal tea at the bistro, hang out in a heated hammock, put your feet up by a crackling fire or melt into an essential oil steam bath.
This spa is open all year round, but you should visit in winter or fall for the most invigorating experience.
---
Blue Mountain things to do by season
Spring: Celebrate May long weekend with fireworks at Blue Mountain Village.
Summer: Check out a free concert during Mountain Music Series.
Fall: Swig some beer at the Creemore Springs Oktoberfest.
Winter: View ice sculptures at the Collingwood Frozen In Time Festival.
Deals on things to do in Blue Mountain and Ontario
Ask an Expert
You must be logged in to post a comment.