This article contains links to products or services from one or more of our advertisers or partners. We may receive a commission when you click or make a purchase using our site. Learn more about how we make money.
Aventura credit cards
Sign up for an Aventura credit card to earn flexible rewards towards flights, hotels, merchandise and more.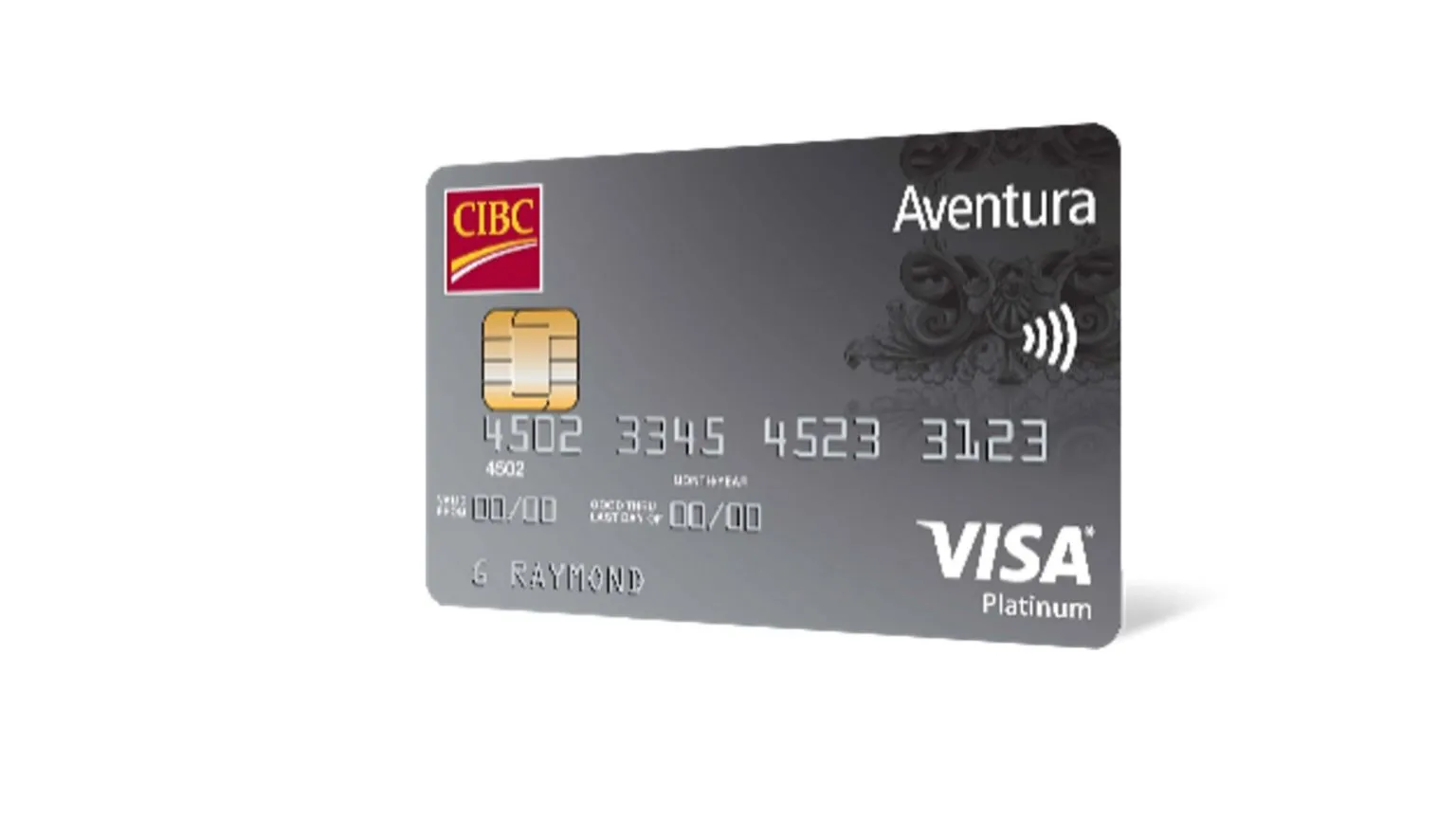 As CIBC's travel rewards loyalty program, Aventura offers a wide suite of basic and premium credit cards to fit every lifestyle. With an Aventura credit card, you can earn flexible points to put towards travel expenses and other purchases.
Learn more about how easy it is to earn and redeem points with Aventura and compare the credit cards on offer to get the best deal.
How do Aventura credit cards work?
Aventura credit cards offer travel rewards tied exclusively to the Canadian Imperial Bank of Commerce (or CIBC for short). There are 13 cards to pick from in total and each one has different features. Some have a high fee and offer more benefits and a higher return on rewards. Others are fee-free and have very few additional perks.
Depending on which card you pick, you'll earn a fixed number of points per dollar. Some cards will give you a straight exchange of one point for every dollar you spend on your card. Others might offer 0.5 points or 1.5 points per dollar. The number of points you can earn depends on what class of card you have, as well as what kinds of purchases you make.
Since Aventura doesn't have partners, it can take more time to earn points for every purchase you make. But the real selling feature of these cards is that they offer flexible redemption on points. These points can be used to pay for flights, hotels, car rentals, merchandise, gift cards and more. There are also no blackout dates or seat restrictions when you travel.
Deciding if an Aventura credit card is the right fit for you
Frequent flyer cards are typically associated with a specific rewards program (like Aeroplan or Air Miles) or a specific bank (like Aventura or Avion). The type that's the best fit for you will depend on what you're looking to get out of the card.
Rewards program card. These cards offer the best bang for your buck when it comes to collecting points. This is because you can pair them with your frequent flyer membership card to earn double the points with program partners. This is in addition to earning points on everyday purchases. You can also typically earn a higher points to dollar ratio on these cards than you might with a bank-specific card (like Aventura).
Bank-specific card. With a card like Aventura, you typically won't earn as many points but you'll get more flexibility with the points you accumulate. You can usually redeem them for many different categories of purchases including travel, merchandise and even charitable donations. You'll also get more flexibility when you book flights, because you won't have as many restrictions on your bookings.
How to compare Aventura credit cards
If you've decided that an Aventura credit card is the best fit for you, you should consider a couple of factors before you pick the specific card that you want.
Return on rewards. Look at how many points you'll earn with each card and weigh that against the cost of the annual fee.
Welcome offers. Most of Aventura's cards come with a welcome offer ranging between 5,000 and 50,000 points. Aim to pick the card that gives you the biggest bonus with the best return on rewards and benefits for the lowest fee.
Benefits. Aventura's fee-free cards come with basic benefits like purchase protection and car rental insurance. Premium cards offer comprehensive travel insurance and travel perks like airport lounge access and priority check-in.
Annual fee. Depending on the card, you could pay anywhere between $39 and $399 per year to maintain your account. Make sure the fee you pay is balanced out by a higher return on rewards or more perks on your card.
Interest rates. Most of Aventura's cards come with an interest rate of 19.99%, but you may be able to get a rate as low as 12.99% for certain business cards.
Other fees. Make sure to read your contract fully and pay attention to fees for services like cash advances, foreign transactions and any other fees. Aim for the card that doesn't charge for the services you use regularly.
How to earn points on your credit card
You can earn Aventura points on your credit card by charging eligible purchases to it. With some cards, you'll earn more points for daily expenses (like gas, groceries and drugstore purchases) and bill payments while other cards offer a flat rate for all purchases.
Almost all of Aventura's cards also give you bonus points when you sign up, with the exception of fee-free and student cards. You'll just need to make sure you read the fine print if you want to cash in on your points, because some of these offers can only be redeemed when you've spent a certain amount of money in a specified time period.
Another easy way to earn points is to give additional cards to your family members so that they can rack up points on their purchases. CIBC also offers frequent promotions to let you earn more points on specific offers. For example, you might be able to earn double the points for shopping at a specific store, or for booking a cruise at a certain time.
How to redeem your Aventura points
When you're ready to redeem your points with Aventura, you can sign into CIBC rewards and browse its online catalogue for flights and other rewards. You can also bid on flights and experiences through CIBC's online auctions. When you decide on what you want, you just have to make your purchase online or over the phone with a CIBC customer service representative.
Flight redemptions are often the best value for redeeming your Aventura points. As an added benefit, you won't have to work around any blackout dates or restrictions. This is a feature that sets Aventura apart from its competitors. If you're not interested in flying, you can also use your points to purchase some of the products listed below.
What other travel rewards can I get?
Travel package. If you have enough points, you may be able to cash them in for an all-inclusive vacation package or cruise.
Hotel accommodation. It's easy to book a place to stay with your points, with options ranging from budget to 4-star hotels.
Car rentals. You can use your points to rent a car at your destination and get to where you need to be faster and easier.
Merchandise. There are hundreds of products available to buy in CIBC's online rewards store, ranging from clothing and jewellery to homewares and electronics.
Gift cards. CIBC has partnered with many stores to provide gift cards that you can redeem online or in person whenever you see fit.
Bill payments. You can use your points to pay down your credit card balance or bills, or to invest in CIBC's suite of financial products.
Charitable donations. If you're feeling extra generous, you can also transfer your points into a cash donation for the charity of your choice.
Bottom line
Aventura offers a wide suite of basic and premium credit cards for you to choose from. Find out how to compare the cards on offer and learn how you can earn and redeem rewards to put towards travel and other purchases.
Frequently asked questions about Aventura credit cards
More guides on Finder