Finder is committed to editorial independence. While we receive compensation when you click links to partners, they do not influence our opinions or reviews. Learn how we make money.
How to buy or start a business overseas
Do your research before you start a new business venture abroad.
Creating a new enterprise out of the gate, acquiring an existing company, finding a buyer for your successful endeavor — it's all part of the adventure of international entrepreneurship. Get started growing, scaling or selling within this dynamic market.
What will I sell?
Maybe you have a business opportunity overseas that you can't pass up, or maybe it's wanderlust that is motivating you to open a new business. Whatever the motivation, you've got to nail down what you plan to sell.
Goods
You could start an e-commerce store, and with dropshipping you'd never have to spend capital upfront to store inventory. Or, you may decide to go bigger and start an import or export business.
Find out how some of the top imports and exports are traded and the forms you need to get started.
Real estate
Buying and selling homes overseas can get complicated. Whether it's for office space, storage, or an investment, familiarize yourself with the market and process before jumping into overseas real estate.
Boats
Depending on your business, you may need a boat to transport your product internationally. A money transfer provider can offer an affordable option for purchasing a boat in another country.
Where will I sell?
Changing political climates, currency values and the global price of goods and services are a few things that can affect your choice for international business. Online stores offer more flexibility about where you can do business, but watch out for taxes and large transfers in other countries. If you buy and sell goods overseas, explore the economic landscape and laws before you decide where to do business.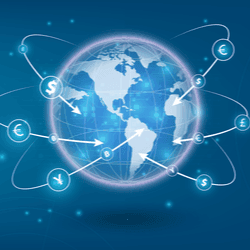 View our country import/export guides:
Online sellers
Planning to sell your product on the Internet? Research how to leverage international business payments to make the most profit.
What should I consider before starting a business overseas?
Starting a business overseas is more than getting your visa and moving your business.
Not all international visas entitle you to start a business abroad. Instead, many come with stipulations limiting business activity of people from other countries. For instance, some visas require you to partner with a local business owner to run at least a portion of your endeavor, while others limit the percentage of the business that can be owned by a foreigner. Others ban people from other countries from starting a business altogether.
Because every country's laws are different, thoroughly review the stipulations of your visa before drawing up that business plan.
Should I consider investing in a franchise?
If you've been bitten by the travel bug and can't wait to become an entrepreneur abroad, franchising is an alternative to starting a new business. Because most franchises offer initial training, marketing assistance and information on a country's business laws and taxes, they can be useful if you're not familiar with the local economy or regulations. Franchises can simplify opening a business abroad.
However, even with a franchise, understand where the franchisor will help and the market saturation for that particular business.
How do I choose a payment service?
After establishing your business, you'll need to work out the logistics of paying your vendors and employees. As an international business owner, consider exchange rates and any fees you'll pay when making overseas payments.
While your local bank may seem like an obvious choice, major US banks simply can't compete with an international money transfer specialist when it comes to strong rates and low fees. Many specialists also offer the convenience of scheduling recurring payments in foreign currencies to settle ongoing invoices.
By comparing the fees, exchange rates and payment options of an independent provider, you can find a partner with the expert guidance to safely manage your international business payments.
Setting up my payments
You have a couple of options to pay for your products. Your vendors may ask for payment through a bank wire transfer — not your cheapest option — or use a money transfer specialist to save on fees and get a strong exchange rate.
With a specialist, you can also set up recurring weekly, monthly or quarterly payments to get the best exchange rates and lowest fees.
Compare international money transfer services to businesses overseas
Disclaimer: Exchange rates change often. Confirm the total cost with the provider before transferring money.
What should I consider if I'm buying a business overseas?
Analyze the specifics of a business you're considering purchasing to ensure you're getting exactly what you pay for. It's the buyer's responsibility to verify the seller's claims, which can be difficult across international borders. Consider hiring a lawyer that's familiar with US finances and the country you're making the purchase.
A lawyer can help you examine the business's financial records to determine its debt. You could be responsible for any debt once you purchase the business.
Assess the market status of the business and determine the reason the business is for sale. While there's nothing wrong with optimism over the potential of a business that's struggled in the past, protect your investment by reviewing its market share and financial standing before committing to a purchase.
A lawyer can help you outline what's involved in the sale during negotiations. This means any furniture, sales racks or special equipment. After all, there's nothing worse than assuming the beautiful restaurant you're buying comes with Victorian-era tables, only to find the dining room completely empty once the deed is in your hand.
Can I use my US business credit card abroad?
If you need to make a series of business purchases abroad, you shouldn't have a problem using your business credit card assuming it's a Visa or Mastercard. American Express cards aren't as widely accepted abroad as the former two networks.
You'll want to make sure you have a travel business credit card with no foreign transaction fees. Otherwise, you might incur a charge of up to 3% on purchases made outside of the United States. This can add up quick, especially if you're using your credit card for large investments.
Can I sell my overseas business with a money transfer?
While it's tempting to seek the help of a local bank to sell a business, using a money transfer specialist could give you a bigger profit.
If you're interested in selling your successful housewares business in Spain that's worth 300,000 euros, you need to repatriate those funds back to the US.
Here's what you'd get with your local bank verses a money transfer specialist when repatriating your money.
| | Local US bank | Money transfer specialist |
| --- | --- | --- |
| Exchange rate | 1 EUR = 1.004 USD | 1 USD = 1.087 USD |
| Transfer fee | $150 | $0 |
| Transfer speed | Up to 7 business days | 2 business days |
| Transfer options | In person, online, by phone | Online |
| Total USD received | $301,200 | $326,100 |
With a money transfer specialist, you'd save $150 on the transfer fee alone and get nearly $25,000 more on the exchange rate. You'll also see your money up to five days faster.
Bottom line
Though it requires considerable time and effort, owning your own business and managing money overseas is an adventure like no other. With research and planning — and the help of a few professionals — you can get the ball rolling toward success.
More guides on Finder