Finder is committed to editorial independence. While we receive compensation when you click links to partners, they do not influence our content.
8 best sites to buy healthy and organic food online
From apples to quinoa, get wholesome food without venturing to specialty markets.
Although its popularity is growing, organic food — meaning free from man-made pesticides, additives, and genetic modification — remains a specialty area. Depending where you live, you may still find that it is hard to find organic products, or that the selection is limited.
But never fear, the internet is here, and today you can get a full range of organic products delivered right to your door.
Top 8 sites to buy healthy and organic food online
Imperfect
3 Bears Organic
Manna Harvest
Kalyx Natural Marketplace
Natural Zing
Direct Eats
SunFood
Imperfect Foods
Fruits and veggies don't have to look perfect to taste great.
Imperfect is an online food provider that ships you fresh food straight from the farm.
Diverts food that couldn't be sold to grocery stores for cosmetic reasons from the landfill.
Pick and choose the exact produce you want.
Cheap and affordable prices.
---
Vitacost
You might know this company for its vitamins and supplements, but it also sells organic food including canned goods, packaged nuts, baby food and more.
Free shipping on orders over $49
Recipes to inspire healthy living
Clearance section
---
3 Bears Organic
Shop this Portland-based company for great organic buys.
Popular brands like Ella's Kitchen, Bob's Red Mill and Clif Bar
Bulk buys
Support small business.
---
Manna Harvest
Buy hundreds of organic dry ingredients from Manna Harvest.
More than 6,000 healthy and organic products
Quality and freshness is guaranteed.
Buy nonfood items like sprouting supplies.
---
Kalyx Natural Marketplace
Organic food — including herbs and supplements — in bulk
Organic kitchenware and gardening supplies
Hair and beauty products
---
Natural Zing
This retailer specializes in raw organic foods.
Premium raw food source
Blog and education sections
Wholesale purchasing available
---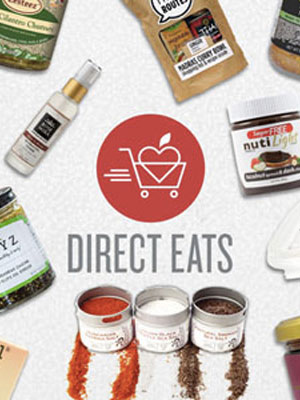 Direct Eats
Formerly known as Abe's Market, this is a great place to shop online for organic foods.
Free shipping
Tons of popular brands and snacks
Huge selection of organic choices
---
Sunfood
This retailer specializes in raw, non-GMO, organic products.
Free shipping on orders over $49
Special foods for kosher, gluten-free and other specialty diets
Organic smoothie blends
---
Where else can I find healthy food online?
Meal kits offer a convenient way to eat healthy — many offer high-quality ingredients.
Latest health coupons and deals