Buy now, pay later apps are on the rise — here's what to know before financing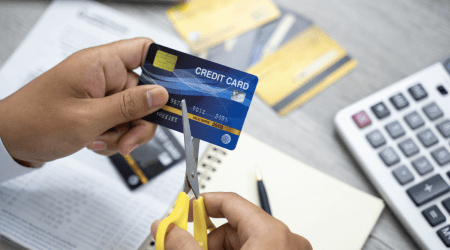 Know what you're getting with services like Afterpay, Klarna and more.
Credit card use took a dive in March, according to the Fed's Consumer Credit Report, while financing services like Afterpay and Klarna continue to become more widely accepted.
What's leading consumers away from plastic and to digital payment plans? In an uncertain economy stemming from the coronavirus crisis, people may be hesitant to face interest and fees or ding their credit by taking on credit card debt. Financing services like Afterpay and Klarna are attractive to many consumers because they require no credit check and don't charge interest. They're particularly marketed toward young consumers who may not have had the chance to build credit yet — most only require applicants be at least 18 and have a debit card.
Some break up payments into smaller installments you pay over time. Others like Klarna give you the option to defer payment for 30 days, at which time you'll pay in full.
Sephora and ModCloth are among the latest retailers that accept Klarna, which has 85 million users. Peloton and Purple Mattress accept Affirm, while Afterpay's growing roster includes millennial and Gen-Z-favorites Revolve and Fenty Beauty.
But while popularity is on the rise, these services aren't risk-free.
What you need to know before using financing apps
Buy now, pay later services do offer payment flexibility — a big draw when you're weighing a large purchase like an appliance. While services like Afterpay and Affirm are interest-free, keep in mind that you're still taking on debt. Most don't perform hard credit inquiries to approve your application, but late or missed payments are reported to credit bureaus and can affect your credit score. In some cases, you'll also pay late fees if you miss or overdraft a payment. Some services, like Affirm, offer higher credit limits than many borrowers could get through a traditional lender. Be mindful of potentially taking on more debt than you can comfortably afford and keep in mind that:
It can be costly if you don't pay your balance in full. Especially with a service like Klarna, expect fees up to $35 if you miss a payment. Afterpay also charges a $10 late fee on payments, plus $7 if still unpaid after a week. And Sezzle charges $10 if your payment doesn't go through. While you can use text and email reminders or automatic payments, the cost can be steep if you do forget to pay or funds are unavailable in your account.
It won't help you build credit. Unlike using a credit card or paying off a traditional loan, paying in installments via a financing service won't improve your credit score over time. You have the potential to harm your score if you miss a payment — but not improve it.
Your purchase could be declined for a variety of reasons. Financing services don't have cut-and-dried explanations as to why some purchases aren't approved. Since they don't take credit scores into account, it can be hard to glean why your purchase did not receive approval.
You may make your first payment up front. In some cases, you may owe your first payment at the time of purchase, depending on the details of your approval. Afterpay also notes your first payment amount must be available at the time of purchase. So users without the funds to pay — even when no payment is due yet —may be denied.
How financing services work
Buy now, pay later services typically partner with retailers to offer financing options at checkout. You'll select the option at checkout and follow the instructions to check out. You should receive an instant decision and details of your repayment plan.
Photo credit: Getty Images