Finder is committed to editorial independence. While we receive compensation when you click links to partners, they do not influence our opinions or reviews. Learn how we make money.
How to buy a car after a natural disaster
Waiting until the market stabilizes can help you avoid high prices and potentially damaged vehicles.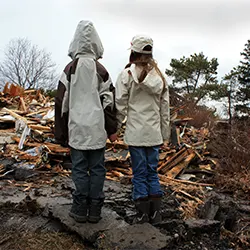 Replacing your car may be the first thing on your mind after a natural disaster. But while it can be a necessity, don't rush into a big purchase before talking to your insurance company and comparing your car loan options first. You might also want to try to wait until the market stabilizes so you're not stuck with sky-high prices or a potentially damaged vehicle.
Step 1: Contact your insurance company.
Filing a claim is the most important step in recouping some of your losses if your car is totaled because of a natural disaster. Provided you have comprehensive coverage, your insurance company will reimburse you for damage caused by floods, fire or other natural events. You'll only be responsible for your deductible.
If you have a car loan, your insurance company will pay your lender first. If there isn't enough to pay off your car loan in full, you may still owe money — which means you'll be responsible for making payments on the remaining balance, even if your car's been totaled.
If you own your car outright or there's money left after your lender's been paid, your insurance company will pay you directly. You can then use these funds as a down payment for a future car. In the meantime, see if your policy offers free rentals so you can still get around while you're shopping for a new car.
Why won't my insurance cover the cost for another car?
There are two times you may not receive the full value of your car:
Your car has depreciated. If your claim check only covers your car's value after depreciation, it may not be enough to buy an equivalent vehicle.
You weren't covered. If you had a basic policy that didn't include coverage for acts of God, your insurance won't reimburse you.
Step 2: Create a budget for your replacement.
Even if you haven't received your settlement yet, you can still start budgeting for your next car. Check on Kelley Blue Book and Edmunds for the value of similar used cars to check the market value of yours. While it won't be exact, it can give you an idea of how much money you'll receive from your insurance company — and if you'll need to start saving for a down payment.
Once you receive your settlement, calculate how much you can afford to borrow with a car loan. This will guide you toward a new or used car in your budget so you can avoid overspending.
Step 3: Research your loan options.
Compare car loans before you visit a dealership to help you save: You can then use your best preapproval offer as a tool during negotiations. Banks, credit unions and online lenders offer financing for new and used cars, typically at lower rates than you'd find at a dealership. And if you apply within the same time frame — typically 14 to 21 days — it will only count as one line on your credit report.
Compare car loans
Step 4: Figure out what car you want to buy.
Start your research online with sites like Cars.com, Kelley Blue Book and Edmunds. They provide handy information about new and used cars in your area, which will make it easier to pinpoint a good deal. Once you know the type of car you're looking for, you can start contacting dealerships. Keep an eye out for special incentives for buyers affected by a natural disaster.
When you find a car you like, give it a thorough inspection to ensure it didn't sustain any damage itself. Natural disasters can bring out the worst in some salespeople, so you don't want to commit to a car that hasn't been properly examined for any safety or mechanical issues first.
Step 5: Try to wait it out until the market stabilizes.
The car market is often skewed after a natural disaster. Used cars are limited, and dealerships often raise prices due to the influx of customers wanting to replace their damaged vehicles.
If you can rent a car in the mean time, it may make the shopping experience easier. You'll have the luxury of waiting until the market stabilizes, and you won't feel pressured to buy a car that might have also been damaged.
Bottom line
Buying a car after a natural disaster can be a minefield of shady salespeople and previously damaged cars. But by doing your research, taking your time and comparing your car loan options, you can rest easy knowing you've done all you can to get a good deal.
Frequently asked questions