Finder is committed to editorial independence. While we receive compensation when you click links to partners, they do not influence our opinions or reviews. Learn how we make money.
BusyKid Visa Prepaid Spend Debit Card review
An inexpensive way to let your child spend their allowance — but parental controls are limited.
BusyKid is a chore app that allows you to pay your child on a weekly basis for the tasks they complete. With the BusyKid Visa Prepaid Spend Debit Card your child can shop in stores or online. The app is free to use for chores and allowance tracking. But if you want to access the spend card, you'll need to upgrade to the premium version, which is only $19.99 a year — equivalent to about $1.67 a month.
$0
Signature transaction fee
$0.50
PIN transaction fee
Details
| | |
| --- | --- |
| Card type | Debit |
| Card network | Visa |
| Annual fee | $19.99 |
| Signature transaction fee | $0 |
| PIN transaction fee | $0.50 |
| Additional Cardholder Fee | $7.99 per year |
Expert review
Review by
rhys.subitch@findercrew.com
---
Rhys Subitch is a writer and editor at Finder who tackles topics across the site. With half a decade of experience researching, editing and writing for a Fortune 500 company, university and several independent publications, Rhys brings readers the most up-to-date and curated info on all things finance.
Expert review
The BusyKid mobile app has features to help teach your child the importance of spending, saving, investing and sharing.
You'll pay $19.99 a year — equivalent to only $1.67 a month — for the family subscription, which comes with one spend card and access to premium app features. If you need more than one card, you'll pay an additional $7.99 a year for each one.
Even with these fees, BusyKid is cheaper than other prepaid cards for kids. The cost breaks down to $1.67 a month for one kid, $2.33 for two kids, $2.99 for three kids, and so on.
But the spend card is missing some control features. Although you have to give approval before your child can transfer money to their spend, share or spend card, you have no control over how they use the money once it's loaded. Because of this, the BusyKid spend card is best for parents who have already established a level of trust with their kid's spending.
If you want more granular control over how and when your child uses funds, you may want to compare other options.
WATCH: Our BusyKid breakdown
Watch our short video review in which we break down how BusyKid works, how much it costs and if it's right for your kids.
How much does BusyKid cost?
BusyKid has a free plan and an upgraded Family subscription for $19.99 a year. The Family plan includes one free card. For any additional cards, you'll pay $7.99 a year on top of the $19.99 subscription fee. Here's how much you'll pay every year for the family plan — depending on how many cards you need.
| Number of cards | Family plan cost |
| --- | --- |
| 1 | $19.99 a year (equivalent to $1.67 a month) |
| 2 | $27.98 a year (equivalent to $2.33 a month) |
| 3 | $35.97 a year (equivalent to $2.99 a month) |
| 4 | $43.96 a year (equivalent to $3.66 a month) |
| 5 | $51.99 a year (equivalent to $4.33 a month) |
How do I get the BusyKid spend card?
To get a BusyKid spend card you'll need to open up an account and subscribe.
Click Go to site.
Click Get the BusyKid app.
Enter your full name, email, ZIP code and create a password. Then select Continue signup.
Type in a PIN and select Create PIN.
Choose whether to fund using your bank account or credit card.
Confirm your personal information and complete the sign-up process.
Eligibility
To open a parent account and order a spend card you'll need to meet four requirements:
At least 18 years old
US citizen or legal resident
US phone number
US bank account or credit card
Required information
You may be asked to provide the following information for the spend card:
Your Date of birth
Your Social Security number
Child's date of birth
What you'll like about the BusyKid card
If you're already using the BusyKid app, adding a prepaid debit card can allow your child you spend their hard-earned money in stores or online. Benefits include:
Competitive fee. You have the option of a free plan that tracks your kid's chores or upgrading to a family plan for $19.99 a year (only $1.67 a month). This cost is lower than most prepaid cards for kids.
Supports chores and allowances. BusyKid recommends chores and an allowance amount based on your kid's age, but you can customize these depending on your needs.
Flexible paydays. Your kid gets paid an automatic allowance based on completed chores each Friday or bi-weekly on the 1st and 15th. Parents can add additional paydays on top of this schedule using the PayDay Anytime feature. You can also award one-time bonuses for when your child goes above and beyond.
Savings match feature. Help your child grow their savings by matching up to 100% of any new money they save each week.
Several ways to spend money. In addition to adding money to their BusyKid spend card, your child can spend their money on stocks or donations to a supported charity.
Control your kids' money movement. You can choose to allow your child to move money between the spend, save and share sections of their BusyKid account. Or, you can lock these categories so they'll need your permission first.
Improved customer service. BusyKid upgraded its customer service platform in 2020 and now has quicker response times than it did before. We called twice during business hours and although no one answered the phone, we left a voicemail and a representative returned our call within a few hours.
What to watch out for
The BusyKid spend card has less robust parental controls and a heavy cost compared to other options.
Cost for additional cards. Expect to pay $7.99 a year for each additional card you need after your first free one. But the fee is still less than the competition.
Limited parental controls for spend card. Other apps allow you to control when and where your child spends money on their prepaid card, but BusyKid requires a bit more trust. Your kid must get your approval before they load funds onto their card, but you have no control over how they spend it once it's there.
High load limits. You can load up to $2,000 on your child's spend card in any 30-day period. But this limit is lower than most cards for kids.
No spending control. Although you can control how your child moves their money between sections, you don't have control over how they use the money in their spend card.
BusyKid reviews and complaints
As of October 2020, BusyKid has a 4.1 rating based on 646 reviews on Trustpilot. Positive reviews boast about how great the app works as a financial teaching tool for their kids. They also highlight the ease of use and great customer service. But most user complaints highlight how difficult it is to add, transfer and load money to the card.
Is BusyKid safe for my child?
BusyKid uses bank-level security to protect your information. Plus, its debit card is issued by Stride Bank, so your funds are insured by the FDIC. The card also has the added security of all Visa cards and gives you the ability to manage and control your child's spending.
Compare BusyKid with other debit cards for kids
How do BusyKid's fees compare to the competition?
If you're looking for a card with a low subscription fee, this card is for you. Besides the low subscription fee, the other fees and limits are pretty average when compared to other prepaid cards for kids. And unlike other cards, you don't have the option of withdrawing money from an ATM.
Fee & limit
Amount
How it compares to other kids' cards
Fee

$0 for the basic version of the app
$19.99 annually for the upgraded version of the app, includes one free spend card
$7.99 annually for additional spend cards

This is one of the lowest subscription fees. Most kids' cards have a monthly subscription fee which will cost you an average of $50 a year. With BusyKid you'll only pay $19.99 a year for a family plan with one free card, plus $7.99 annually for additional cards.
ATM withdrawal
N/A
While you can withdraw money from an ATM with most kids' cards, you can't with BusyKid.
Cash reload fee
N/A
You can only load your card through the website.
Card replacement fee
$7.99
Most prepaid debit cards for kids allow a free replacement card before charging you a fee. This one doesn't.
Maximum card balance
$2,000
This daily balance is lower than what most cards for kids offer.
Debit card transfer limit
$2,000 a day
This transfer limit is average compared to other cards.
Direct deposit limit
2,000 a month
This limit is average to most kids' cards.
ATM withdrawal limit
N/A
You can't withdraw money from an ATM.
Purchase limit
$2,000 on a single transaction
This is limit is average when compared to other prepaid cards.
You can compare other debit cards for kids by using our guide and find the right fit for your family.
Funding options
You can only load funds to the BusyKid card by transferring money to the spend section of your child's account. You can fund your child's account with a connected bank account at no extra cost or a credit card for a 2.9% fee plus 30 cents per transaction. Transferring money from another prepaid card costs $1.
How long will it take to get my child's card?
It takes between seven and 10 business days for the BusyKid card to arrive after you request it. You can activate the card and load funds as soon as it arrives.
I got my BusyKid card. Now what?
Once you receive the card, get started in three ways:
Activate the card. Call the number on the card's sticker to activate it.
Transfer funds. Transfer money to the spend card by signing in to your child's account or completing a card-to-card transfer online or over the phone.
Check your child's balance. You and your child can check the balance of their spend card at any time using the BusyKid app.
How can I contact BusyKid?
You can reach BusyKid in six ways on weekdays from 9 a.m. to 5 p.m. MST:
Call 833-287-9543 for general questions.
Call 866-634-3044 for questions regarding your card.
Fill out the support form found at the bottom of the Contact Us page.
Send a message via Facebook messenger to @BusyKid4Allowance.
Send a direct message via Twitter to @BusyKid16.
Send a direct message via Instagram to @GetBusyKid.
Interview with Gregg Murset – July 2020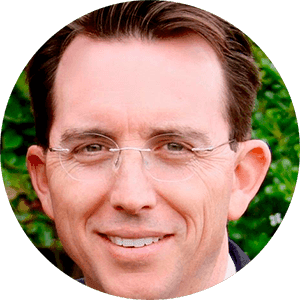 Gregg Murset
Co-Founder/CEO of BusyKid
What inspired BusyKid?
BusyKid came from my own experience as a father of six and a certified financial planner.
I needed a way for my kids to track their chores, manage their allowance and do it all from the mobile devices they were attached to each day. At that time, there wasn't an option like this so we set out to create one. We call BusyKid "your kids first job with direct deposit." They complete chores, earn allowance and then have the option to save, share (donate), spend or invest it. It's the same thing we all do (or should be doing) as adults, but kids need to learn it earlier.
Who is BusyKid for?
The app is designed for kids between the ages of five and 16, but we have many kids younger and older using it. In regard to the physical card, kids are all different, so it's really up to the parent to decide if their child is ready to handle using a card in a store or shopping online. We have some really young kids with cards and they seem to do really well.
BusyKid allocates payments into three categories: Spend, Save, and Share. Can parents adjust the allocation percentage for each section?
Yes, parents can decide how much allowance goes to each area. The only limitation is that the total percentage needs to add up to 100%. It's preset at 50% Save, 40% Spend and 10% Share, but parents can adjust it.
Can parents control how their child spends their money? Is there an approval process?
Parents have complete control of how much is loaded onto a card and moved out of our system for cash, stock and charity. Our app is a teaching tool. We want kids to learn how to move money around and make decisions based on the money they have. They still need parent approval before doing what they want.
Can you explain the difference between the Save and Invest options?
We put investing in the Save area since it's what we consider a portfolio. It doesn't mean that the money in the Save area has to be invested. The money left under Save won't earn interest. But you can earn in stock if you choose to invest it. When investing, a child can pull money from any category — Save, Spend or Share. There is no fee when buying stock through BusyKid. There's just a small fee once the stock is sold.
At which age should kids start to invest?
It depends on when a parent believes their son or daughter is ready to take it on. What we've found is that parents are investing with their children. And in many cases, it's the first investing the parent has done. It's become a family experience.
What's next for BusyKid?
We want kids to start with BusyKid from a young age and use it as long as they want. We have some big plans for our app as we look to add several features for kids who usually would have outgrown our app but are becoming financially independent for the first time.
How does BusyKid work?
BusyKid works with the following devices:
iPhone iOS 9.0 or later. Download the app from the Apple App Store. Requires iOS 9.0 or later. Compatible with iPhone, iPad, and iPod touch.
Android. Download Busykid from the Google Play store.
BusyKid works with iPhone and Android devices through the App store or Google Play.
Frequently asked questions