Finder is committed to editorial independence. While we receive compensation when you click links to partners, they do not influence our opinions or reviews. Learn how we make money.
Compare business loans for trucking companies
Make simple sense of financing your trucking company.
Editor's choice: First Down Funding business loans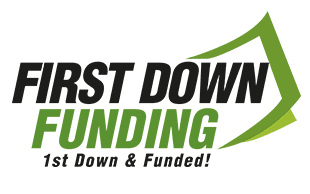 No prepayment penalties
Competitive rates
Works with bad credit and most industries
Check eligibility
Time, unyielding effort and an incredible amount of coordination are necessary to keep a trucking company moving forward. Licensing, insurance, vehicle maintenance, drivers, tolls and new trucks all cost money, and the quality of each impacts the bottom line. Comparing all of your financing options and making the choice that's best for your needs can make or break your profits.
This guide will take you through financing for trucking companies, how to compare lenders, and some great tips to get you through the process.
What business loan options should I consider for my trucking company?
Trucking companies tend to do big freight deliveries and charge customers large amounts at a time. With this type of revenue model, you might have a good portion of your business income tied up in invoices. That's why we've listed two types of accounts receivable financing options as the first to look into.
Invoice factoring. By selling your open invoices at a slight discount, you can receive cash from certain lenders who'll then receive the full amount from your customer when the invoices are fulfilled.
Freight factoring. This is a type of invoice factoring designed specifically for trucking companies. You sell your invoice to the lender in exchange for receiving a percentage of the invoiced amount more quickly.
Equipment loans. As the name indicates, these loans are specifically for equipment. You could use an equipment loan to finance trucks, trailers, repair equipment and more.
General purpose business loans. Use these loans for a wide variety of purposes so long as they're related to business operations. General purpose loans typically come with fixed terms of up to five years.
How do I decide which loan type is best for my business?
Now that you know your options, it's time to figure out how to sort through them. Certain loans will offer a larger amount of funding. An equipment loan may offer a larger amount of financing than invoice factoring, for example. But invoice factoring could be used for a wider array of purchases versus equipment loans that are limited to purchase equipment.
Another factor to consider is loan term. Terms can vary among financing options. Invoice factoring has a finite term, and is paid off as soon as the invoices are paid — usually within a few weeks to months. Equipment and general purpose loans may be paid off over longer periods of time such as five or more years.
Lastly, be sure to consider fees and costs. The interest rate won't be your only cost and might not be the best factor to show the cost difference between loan types with varying repayment terms. Look out for origination, prepayment, late payment and application fees. While you'd be hard-pressed to find a business loan that doesn't charge additional fees, you may have an easier time finding ones with more reasonable penalties than others.
Compare business loans from top providers
What do I need to apply?
Each lender will have its own requirements, and some have more than others. Below you can find a package of the most common documents you'll need to apply for financing:
Current truck title and registration information. You may be required to show proof of your business assets, and titles and registrations for trucks that you already own can be an easily verifiable option.
Proof of business income. Certain lenders will require a minimum monthly revenue, but almost all reputable lenders require proof of income for approval.
Business plan. Detailed and clear business plans can help boost your chances of securing financing for your trucking company. By showing a clear vision, you can sell your potential to pay off the amount you're looking to borrow.
Personal documents. Personal identification documents such as your state-issued ID, Social Security number, and information about your personal finances are likely necessary to complete your application.
How do I increase my chances of approval for a business loan?
While there's no way to guarantee approval, try these four tips to improve your chances of getting your application across the line.
Have adequate revenue history. While a history of success is not a guarantee of future success, it's a valuable indicator to most lenders.
Highlight your business's features, but be truthful about shortcomings. No business is perfect, and it's much better to establish trust with your lender by being honest about your trouble areas.
Your down payment will change with your experience. Your business history may determine how much you're required to put down as a down payment for your loan.
Find a lender that works with the industry. Experts understand the field better, and can better identify a good business history or plan from a lousy one.
Make a haul with these 6 tips to run a successful fleet
Check load boards. Whether you're just starting to find clients or you're looking to fill out a schedule, load boards can help. Load boards are marketplaces where companies can find customers looking to transport freight.
Invest in great equipment and maintain it. Once you get the best truck you can afford, make sure you keep on top of maintenance. Regular maintenance can help cut the cost of potentially expensive repairs by preventing them from ever occurring.
Buckle down on your plan. Don't just use the business plan as a way to get financing. Build your company a roadmap to success and stick to it.
Fuel cards are your friend. It may be worth investing in fuel cards for your drivers or negotiating them into a deal with a factoring finance company. Potential savings of $0.20 per gallon at the pump can add up quick, and getting the fuel cards before the haul can keep your cash flow in the positive.
Bid smart. Make sure to read and reread the proposal before you make your bid. Itemizing all of the potential expenditures and variables can help you avoid undercutting yourself.
Strive for the highest customer satisfaction. Internal and external customers should be left as happy as possible as often as possible. Whether it's a dispatcher contacting a truck or a client contacting your sales rep, make sure your employees are trained on how to deliver the best experience.
Bottom line
Your next cash flow solution or truck could be just around the corner. Take your time and review your finances, your business plan, and your needs before settling with any one lender. Shop around, compare your options and make the decision that's best for your business.
Frequently asked questions