Americans borrowed $17.5 billion to support their small businesses — and that's before interest
We borrowed nearly half that for medical emergencies and weddings combined.
Entrepreneurship is the embodiment of the American dream. The notion of running a small business is as enticing as ever, considering the recent wave of startups that are fiercely influencing numerous industries.
You can start a business almost anywhere in the United States. Achieving success, however, is more difficult.
How Americans borrow money for small businesses
The latest research by finder.com reveals that over the past 12 months, 2.44 million Americans took out loans for business-related expenses. Almost one in ten (8.24%) small business owners borrowed to either kick-start a new project or revitalize an existing enterprise.
US adults borrowed $17.5 billion for business loans in the past year, averaging $7,176 per person. This is a significant amount of money, considering Americans borrowed nearly half as much for medical emergencies ($6.12 billion) and weddings ($3.47 billion) combined over the same period.
On top of the initial amount borrowed, the average business racks up an additional $880 in interest. This rough figure is calculated based on average interest rates and differing loan terms for popular methods of borrowing.
Although almost half (47.10%) of all business-related loans were taken as personal loans, this type of lending isn't necessarily the cheapest option available. The research used a waterfall method of paying down debt to calculate accumulated interest on the $7,176 principal across popular financing methods over distinct average loan periods.
As a result, the study found that payday loan customers (11.8%) were charged the least amount of money, forking out an average $131 in interest. Considering that an average payday loan's terms require repayment in just two weeks, interest rates are astonishingly high and most people wouldn't have the capital necessary to repay the loan that quickly.
Other business financing options include credit cards, used by almost one fifth (17.7%) of American adults; borrowing from family and friends, used by the same number (17.7%) of Americans; and peer-to-peer lending, which just a small proportion (5.9%) of Americans say they've used.
Here's what you can expect to pay with four popular borrowing methods.
| Method | Average interest rate | Average loan term | Interest paid on principal |
| --- | --- | --- | --- |
| Credit card | 18.62% | 13 months | $713.45 |
| Personal loan | 10.57% | 24 months | $750.53 |
| Short-term payday | 400% | 2 weeks | $130.89 |
| Peer-to-peer lending | 18.01% | 38 months | $1,926.76 |
US small business overview
In Silicon Valley, fledgling digital companies clamor together in coworking spaces, some inspired and others incensed by the immense success of such triumphant neighbors as Google, Apple, Facebook and Tesla. Across the country, opportunists set up shop in their local Starbucks, typing up business plans, strategies or lines upon lines of complex code in the hopes of transforming a small idea into a commercial reality.
The US Small Business Administration's 2018 Small Business Profile reports some 30.2 million small businesses across 50 states, accounting for nearly half (47.5%) of all US employees. The report also reveals that as of 2016, the median income for individuals self-employed at their own incorporated businesses was $50,347. For the self-employed at their own unincorporated firms, this figure was less than half at just $23,060.
In the first quarter of 2018, an average of 7.9% of job seekers started their own business, according to outplacement company Challenger, Gray and Christmas' latest quarterly survey. This is the highest quarterly average in four years. In the fourth quarter of 2013, approximately 8.6% of job seekers started a business. Of new businesses started in Q1 2018, the overwhelming majority (88%) were founded by workers aged 40 or older. This may mean that Americans are being a little more cautious in deciding when to begin their entrepreneurial endeavors. It may also indicate that younger generations don't have the capital required to start a business, while older individuals are in a more advantageous position, financially.
Guidant Financial's Small Business Trends 2018 report suggests that a third (34%) of small business owners operate completely independently, employing no other staff, while more than two-fifths (44%) of small businesses employ two to five employees. Despite the limited head count, the report found that these small businesses account for the majority (63%) of the net share of new jobs in the US over the last six years.
What you need to know before borrowing money for your business
Before signing your name to a loan contract, work out how you'll spend the money you borrow and when you'll be able to pay it back. Discover the likelihood that you'll receive the loan you apply for by checking your credit score and annual income. You should also weigh a combination of interest rates and loan terms before selecting the most suitable financing option to set up or rejuvenate your small business.
For media inquiries: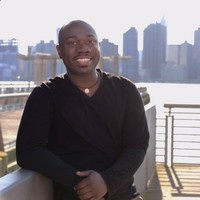 Allan Givens
Public Relations Manager
203-818-2928
allan.givens@finder.com

Nicole Gallina
Communications Coordinator
347-677-4931
nicole.gallina@finder.com