Finder is committed to editorial independence. While we receive compensation when you click links to partners, they do not influence our opinions or reviews. Learn how we make money.
Compare business credit cards with easy approval
Not all credit cards require you to have a perfect credit score to get easily approved.
You can get easy approval on most business credit cards if you have an excellent credit score. The problem comes for those who don't have a credit history or with past credit difficulties and now want to rebuild their score. Most banks will deny such applicants.
Your options for getting easily approved for a business credit card are to get a secured card, a prepaid card or an unsecured card aimed at those with bad credit. These are easier to obtain for a few reasons:
You're putting forward a security deposit for a secured card
You're working with a lower credit limit, reducing the risk for issuers
They may require a large annual fee
They have a lower credit score requirement because of their limitations
Each of these cards comes with its own perks and downsides. If your options are limited, they can help you manage your business finances and potentially build your credit until you can qualify for a better card.
Consider these business credit cards with easy approval
While there's no guarantee you'll qualify for a business credit card, these cards tend to be easier to get than others on the market.
Wells Fargo Business Secured Credit Card
One interesting feature of this card is the inclusion of rewards. You don't see that very often with secured cards since issuers tend to make them pretty bare bones. This can help you earn a little back on your purchases while you slowly build your credit. Wells Fargo reports your activity to all three major credit bureaus and the bank may even upgrade you to an unsecured card after you prove your responsibility.
Businesses with no credit history, or those that want to rebuild their credit, could find the Wells Fargo Business Secured Credit Card worthwhile. You'll have full control over your credit line, given that it's the sum you deposit — from $500 up to $25,000.
Bento for Business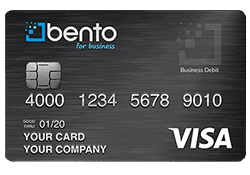 Get this card if: You want a secured business card.
Business owners who don't want to personally guarantee their business credit card or those who don't have a great personal or business credit score could use a prepaid business card like the Bento for Business.
You can apply in less than five minutes without affecting your personal credit as this card doesn't check your score for qualification. You can quickly fund your account via ACH or wire transfer, and have extra peace of mind knowing your funds are secured by the FDIC. This card also comes with spending controls, which can help ensure your employees don't spend beyond your business' means.
Business Edition® Secured® Visa Card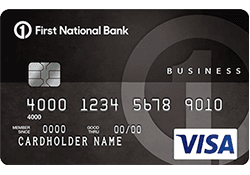 Get this card if: You're looking for a higher limit.
If you can't qualify for an unsecured credit card and you also need a card with a high credit limit, the Business Edition® Secured® Visa Card could be a good choice. You'll earn interest on your security deposit and can get a credit limit of up to $100,000. This card also doesn't require a US citizenship for approval, which can be handy for business owners new to the US.
Capital One® Spark® Classic for Business
Business owners with fair credit might find the Capital One® Spark® Classic for Business useful. You'll earn 1% cash back on all purchases and have the opportunity to build your credit to upgrade to a better card in the future.
This card is also light on the fees, charging no annual fee or foreign transaction fees.
How to find business credit cards with easy approval
There are a fair number of business cards for bad credit that you might find more obtainable than other business cards. Still, here are a few tips to find one you're most likely to qualify for.
Take advantage of your personal credit score. If you have an excellent personal credit score and act as a guarantor for your company's debts, you can get easy approval for most business credit cards.
Get a secured credit card. If your credit score isn't perfect, your best option for easy business card approval is to get a secured business card. Your deposit acts as your credit line, which gives you full control over your purchasing power. Also, most secured cards can help you build your credit and upgrade to an unsecured card down the road.
Get an unsecured card for low-credit borrowers. Capital One offers the Capital One® Spark® Classic for Business to those with less-than-perfect credit. It's an unsecured card that usually comes with a low credit limit, but it's a great step toward building your credit and getting a better card in the future.
Get a prepaid business card. If you don't want to be the personal guarantor for your business or you don't want your card activity to reflect on your personal credit, opt for a prepaid card. You can fund your account via ACH or wire transfers and set category and spending limits. But you won't build your business credit with these cards.
Compare easy approval business cards
Do guaranteed approval business credit cards exist?
No. Just as there aren't guaranteed approval personal cards, you won't find guaranteed approval business credit cards either.
Should I get a secured business card?
Whether you should get a secured business card depends on a few factors, though it chiefly includes the state of your credit score. Check out some more reasons to consider a secured business card that will ultimately differ from business to business.
How do I improve my chances of approval?
To improve your chances of credit card approval, you'll need to start small and work your way up. The biggest factor in your approval will be your credit score. You can start by paying off existing debts and making sure you make your payments on time. For more ways of improving your card approval odds, check out our guide.
Bottom line
The easiest business credit cards to get tend to fall into three categories. Within these categories, you can choose the one that's right for your business by looking at your credit score, if you want to build your business credit and whether you can afford a deposit.
However, if you're still not sure which credit card fits your business, compare your business card options until you find the right one.
Frequently asked questions