Ping
Ping measures the time it takes for a signal to be sent from one computer to another computer and then back. It's not so much about the transmission of data as it is about how long it takes for the two computers to actually get connected. Ping is generally measured in milliseconds, and the lower the ping result, the better the connection. A low ping is essential for online gaming, where you need your button presses and mouse clicks to be registered on the server as quickly as they happen so you aren't at a disadvantage against your competitors.
Jitter
In order to get an accurate Ping result, the speed test will run it multiple times. Jitter records how much variation there is between those results. The lower the number, the more stable your connection is, but if you are seeing larger numbers for the Jitter result, it indicates some big variations in how quickly your computer can connect to the speed-test server. That might not be too bad if you're testing from a mobile device, but if it's consistently high on your computer, the results may indicate bigger issues with your connection.
Download Speed
This measurement records the speed at which your broadband connection can download files to your computer in Mbps. For many people, this is the most important factor of the speed test as it offers an indication of how quickly your connection will download large files. Having a high download speed can impact the quality of your Netflix stream (especially if you want to watch in 4K resolution) or how quickly you can download the latest game to your PlayStation 4 console. When it comes to download speed, the higher the number (in Mbps), the better your connection.
Upload Speed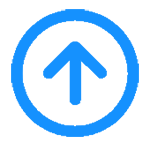 Upload speed uses the same methodology as download speed, except it tracks how quickly your connection to the Internet can send files. Internet connections are asynchronous, which means that download speeds are given preference over upload speeds, making them faster. Upload speeds are especially important for sharing video files, so budding YouTube stars and videographers should consider plans promising high upload speeds. As with download speeds, the higher the number in Mbps, the better the speed.