Boss Revolution money transfer review
Send money to Ghana, Nigeria, Mexico and more with competitive fees and diverse delivery options.
Why should I consider Boss Revolution's money transfers?
Many delivery options. Send money for cash pickup, to banks, for home delivery and to mobile wallets.
Large network. Send money to more than 50 countries from the USA.
Mobile app. Send anytime from anywhere in the US using the Boss Revolution mobile app.
Can send small amounts without identification. You can sign up with just your name, but will need to provide photo ID or your Social Security Number if you want to send higher amounts.
What to be aware of
Low limits. The maximum amount you can send varies by what country you're sending to, but usually isn't more than $2,999.
Doesn't use the mid-market rate. Boss Revolution charges both a fee and a margin on the exchange rate it offers.
High fees for credit card payments. Paying by credit card is more expensive, sometimes 15x as much as other options.
Boss Revolution exchange rates and fees
Boss Revolution charges fees and adds a markup to the mid-market rate, meaning the exchange rate you see on Google is lower than what you'll be offered. Keep both fees and exchange rates in mind, as low fees can be a misleading way to cover up poor exchange rates.
Here is how Boss Revolution charges you for your transfer:
Fees
The main differences in fees are based on your payment method — using a debit card is cheaper than using a credit card, sometimes by a lot. Fees are also based on:
Sending amount
Destination country
Payout method
Exchange rates
In addition to fees, transfers with Boss Revolution will have a markup added to the exchange rate. When we checked on October 7, 2020, the Boss Revolution money transfer rate for popular destinations was:
Boss Revolution exchange rates for Nigeria, Mexico and Ghana
| Destination | Amount sent | Markup | Amount lost to markup |
| --- | --- | --- | --- |
| Nigeria | $1,000 | 0.947% | $9.47 |
| Mexico | $1,000 | 1.322% | $13.22 |
| Ghana | $1,000 | 3.734% | $37.34 |
How long does sending money with Boss Revolution take?
Sending money through Boss Revolution takes anywhere from minutes to a few business days or more. Speeds based on delivery methods are:
Mobile wallet — Instant
Cash pickup — Within minutes
Bank deposit — Anywhere from minutes to a few business days
Home delivery — A few business days or more
What currencies can I send with Boss Revolution?
Boss Revolution can send money to more than 50 countries worldwide, with popular supported currencies including:
DOP Dominican peso
EUR Euro
GHS Ghanaian cedi
GTQ Guatemalan quetzal
KES Kenyan shilling
MXN Mexican peso
NGN Nigerian naira
XOF West African CFA franc
Boss Revolution money transfer reviews
Because Boss Revolution offers many services, including international calling and mobile phone service, its Trustpilot score is for the company as a whole. Overall the company was rated 4.1 out of 5 stars with 716 reviews when we checked on October 8, 2020.
We also checked out the ratings on the app store. Boss Revolution is rated 4.7 out of 5 stars with nearly 40,000 reviews total between Google Play and the App Store.
Boss Revolution money transfers ratings accurate as of October 8, 2020.
| | |
| --- | --- |
| Trustpilot | 4.1 out of 5 stars — based on 716 customer reviews |
| Google Play | 4.7 out of 5 stars — based on 22,345 customer ratings |
| Apple app store | 4.7 out of 5 stars — based on 12,612 customer ratings |
Is sending money with Boss Revolution safe?
Boss Revolution was first established in 2013 and is licensed in all US states that it operates in. Its parent company, IDT Payment Services, was launched in New Jersey and expanded throughout most of the US. IDT Payment Services and Boss Revolution abide by all rules and regulations required to operate as a money transfer provider in the United States.
Payment methods
Boss Revolution accepts credit cards and debit cards as payment methods for online transfers. Unfortunately you cannot pay by bank account or prepaid debit card when sending money online, but in-person locations may accept cash as payment at their discretion.
How do I send a money transfer through Boss Revolution?
To send money through Boss Revolution you'll need to download the Boss Revolution app from the Google Play or Apple app store. You can access your account online or through the mobile app, but to create an account you'll need to download the app first.
To create my account I had to:
Download the app.
Enter my email, then use a link in my email to confirm the account.
Enter my phone number and confirm it by SMS.
Enter my legal name.
Confirm my details.
Provide payment details before sending money.
Once you sign up through the app you can login online, but you can send money through the app if you want. Providing your name is enough to create your account, but sending larger transfers may require providing additional proof of identification like photo ID or your Social Security number.
Boss Revolution money transfer app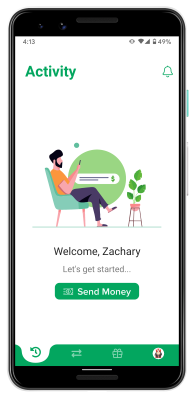 The Boss Revolution app is available on both Google Play and the App Store. The app makes it possible to:
Track your transaction. See where your transfer is and when it will be delivered.
Log in using biometrics. Both face and fingerprint recognition can be used to log in.
Check exchange rates on the go. See current rates offered by Boss Revolution for currencies you want to transfer.
Find promotions. Boss Revolution updates the apps with current promo codes and deals as they go live.
More on the best money transfer apps
How does Boss Revolution compare to other transfer services?
Our table lets you compare the services you can use to send money abroad. Compare services on transfer speeds and fees, then click Go to site when you're ready to send.
Bottom line
Boss Revolution is a great option for people who already use its other products, and worth checking out for people who don't. Although Boss Revolution doesn't offer the strongest rates or the lowest fees, this service still has a good chance of beating out major market players like Western Union for select markets.
Frequently asked questions
How do I contact Boss Revolution customer support?
There are several ways to reach customer support:
Live chat in the Boss Revolution app
Call 716-271-1468
Email at support@bossrevolution.com
How do I cancel a Boss Revolution money transfer?
You will only be able to cancel a transfer that's in transit. To do so, contact customer support and provide them information on the transfer.
How long do refunds take?
Refunds through Boss Revolution typically take between two and five business days.