Finder is committed to editorial independence. While we receive compensation when you click links to partners, they do not influence our content.
Boll & Branch sheets and bedding review
A comfortable sleep without compromising your conscience.
About a week after New York City began shutting down schools and businesses, my husband and I fled our Brooklyn apartment with our 8-year-old for the hills and valleys of Ulster County. It's also where we were serendipitously scheduled to close on a little place we'd saved up for — a place we'd referred to as our "getaway house" when all we had to get away from was alternate street parking and crowded lines at Fairway. And yet here we were, pushing our trusty Honda to the limit with what we imagined we'd need to wait out the coronavirus.
We bought a queen bed, among a few other pieces of furniture, from the sellers. As far as linens, however, I couldn't bring more than a towel each for us three, two pillows and one sheet set.
Our three boxes from Boll & Branch could not have arrived at a better time.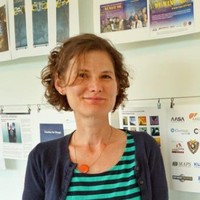 Boll & Branch sent me a duvet, pillows and sheet set for free so that I could try them out. My family and I slept on all three for a week before I wrote this review, and you can rest assured you're getting my honest, unbiased opinion.
Unpacking the goods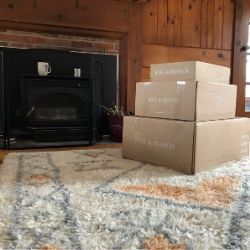 Boll & Branch sent us its Classic Hemmed Sheet Set in pewter, two down pillows and a down duvet insert. Each of the three items arrived in their own tasteful B&B boxes, the sheets alone nestled in a bag and box-within-a-box worthy of the Container Store, tied closed with a shiny ribbon. The duvet cover was zippered within a cloth-and-plastic storage bag. My kid has since claimed both bags and the box as new toys.
I followed the washing instructions tucked into the sheets — cold water, fluff before drying — and they came out wrinkled but soft and buttery. I wrestled everything onto our bed and couldn't wait for our first sleep upon them.
Initial thoughts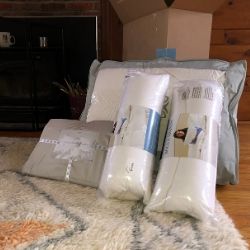 Pushing the pillows into their cases, the medium/firm level had just enough give without too much sink, encased in a crisp cotton case. We were gifted a down pillow years ago, and the difference in quality was apparent: our old pillow felt it.
The queen sheet set is a fitted sheet, top sheet and two pillow cases made of organic cotton. The fitted sheet includes tags in the seam to help you orient the head and feet from the sides — a thoughtful addition for people like me who rank "changing the bed" dead bottom on the list of favorite chores. And the top sheet is long, which is something you might not think about as a plus. Cocooners in the crowd will appreciate how tightly you can tuck these sheets under the mattress without losing nestling inches up top. But note that they are pretty wrinkly, if a smooth sheet is your thing.
A week of restful sleep
My husband and I have differing preferences for bedding. I like a cool, crisp sheet — like that of percale. Boll & Branch describes its signature fabric as "super-soft and drapey," which I'd thought would align with the silkier sheen my husband would've picked on his own. After a week of sleep, however, the sheets ended up a nice compromise. Though not as stiff as the sheet I typically like, they weren't as slippery or heavy as Brooklinen's Luxe Sateen sheets. It's a nice, cool everyday sheet set, however much they don't smooth out when stretched across your mattress.
Any crispness I found lacking in the sheets was made up for in spades by the sturdy duvet insert. Each shift of our two bodies — and my kid's body later in the night — gave up that comforting ASMR-inducing rustling and snap I love. If you like a quieter sleep, you might need to look for a different duvet. And while it's warm enough on its own for spring's chilly nights, I can see needing another layer to get through a cold winter.
My husband had a lot to say about the pillows, which too were crisp, even within their cases. He alternates between sleeping on his back and on his side. For him, the pillows offer a good density for that kind of shifting. Unlike our other down pillow, the feathers within Boll & Branch's didn't end up packing flat by morning. They slept as full and airy after hours of sleep as when we'd initially hit the hay.
After seven days, I wasn't ready to return to our usual bedding. And so I went through the work of stripping the bed, washing the set and dressing it all back up to get back to the kind of rest we'd grown to rely on over the past week. I may never go back to our old pillows.
on Boll & Branch's secure site
Boll & Branch's business practices
The origin story of Boll & Branch may sound familiar: a couple struggling to purchase bedding decides to make their own. Today, the company is committed to providing a better life for the people who make its products. Goods are manufactured in India, Portugal and even the US by working adults who earn living wages, helping Boll & Branch to become the first linen manufacturer certified by Fair Trade USA.
It's also committed to 100% organic cotton, which requires less water and energy to produce than traditional cotton. Even the feathers in its down pillows and duvets are sourced from ethically-minded farms in the US. And it offers down alternatives for those leading a vegan life or sacked with allergies. You can learn more about its business practices in its five-year impact report released in March 2020.
Pros and cons
Pros
Pillows maintain their fluff and shape, even after a night's sleep.
Standard sheets are crisp yet soft — and long enough for tucking in at both ends.
Company commitment to organic cotton, fair trade and human rights.
Cons
Down pillows start at $150, sheet sets at $160 and down duvets at $400 — pricier than your local bedding retailer though on par with other digital disruptors.
Palette may be too neutral for those who like a fun stripe or pattern.
You may need to iron the sheets if wrinkles are an issue for you.
Bottom line
I don't know when our house-lightened budget can support more bedding from Boll & Branch. But when I'm next able to indulge my wish list, I'll try the percale sheets to see how they compare to my favorite Brooklinen set. I had so few complaints after a week of sleep that, if it came down to finding something to kvetch about, I've got only this: B&B's color palette is limited to a handful of tasteful solids and a lot of white, which invites too much anxiety for this mom. I like fun stripes and patterns.
Otherwise, falling into our luxuriously comfortable bed each night offered a welcome respite from the chaos we're all experiencing in varying degrees right now.
on Boll & Branch's secure site
More guides on Finder