Finder is committed to editorial independence. While we receive compensation when you click links to partners, they do not influence our content.
Compare financing options for a BMW
Find the best car loan for your new Beemer.
BMW is synonymous with refined luxury and high-performance vehicles, offering everything from sporty coupes to rugged SUVs. If you're looking to buy a car from the brand that promotes itself as the ultimate driving machine and need help covering the full purchase price, consider the wide range of finance plans available.
How can I finance my new BMW?
Financing is all about finding a reputable dealer and a good interest rate on your loan.
Dealership financing. BMW Financial Services offers traditional loans and loans with balloon payments that keep the monthly cost low that you can get directly through your dealer.
Take out an auto loan. Borrow from another lender to get a loan that uses your new car as collateral for more competitive rates and terms.
Find an unsecured loan. Unsecured loans are similar to auto loans, but you won't have to use your car as collateral and you can use the funds to cover other things, such as costs of registration and add-ons.
Use your credit card. Putting your purchase amount on one or more credit cards allows you to earn plenty of reward points, but the high interest rate may it more expensive than other options.
Compare a selection of car loan options
Should I buy or lease my BMW?
Before you decide on financing, consider whether you want to buy your vehicle or lease it. Each have their benefits, so use this list as a guideline before you make your final decision.
Benefits of buying
Own your car outright. The most obvious benefit of buying your BMW is owning it outright. You won't have to worry about mileage or renewing contracts. And when you're ready for a new car, BMWs are known for retaining their value.
Customize your perfect vehicle. Your luxury car doesn't have to be something you can just drive off the lot. By buying your BMW, you can customize nearly every feature to build your dream ride.
Low APR. BMW offers an APR of around 3.89% to qualified applicants. Use your great credit score to your advantage by investing in a car that can take you anywhere.
Benefits of leasing
Purchase additional miles at any time. Close to running out of miles on your contract? No worries. BMW allows you to buy extra miles and apply them to your current ride.
Drive the newest model every few years. Are you the type of person who wants to be constantly in style? Leasing your BMW allows you to switch to the newest features every two to four years.
Low monthly payments. Leasing a vehicle from BMW lowers your payments. You could be driving a luxury car for half the monthly cost of buying it outright.
Watch out for that balloon payment
Leasing a car or taking out a loan with a balloon might come with low monthly payments. But it could cost you more than you'd planned if you can't afford that one-time payment at the end. In that case, you might have to refinance your car loan — which means more interest payments.
Check out our article on how balloon payments work to properly weigh the risks and benefits.
What will a new BMW cost me?
BMW is a luxury car brand, and its prices reflect that. You can expect to pay over $30,000 for its most base models, and the more high-end options may cost you $80,000 or more. And if you choose to customize your car, the amount you pay may well exceed the base MSRP.
Choose the type vehicle
The Series
2 Series
Starting MSRP: $35,300
Build: Coupe
3 Series
Starting MSRP: $40,250
Build: Sedan
4 Series
Starting MSRP: $44,950
Build: Coupe and Gran Coupe
5 series
Starting MSRP: $53,400
Build: Sedan
6 Series Gran Turismo
Starting MSRP: $70,300
Build: Gran Turismo
7 Series
Starting MSRP: $86,450
Build: Sedan
8 Series
Starting MSRP: $111,900
Build: Coupe and Gran Coupe
The X Series
X1
Starting MSRP: $34,950
Build: Crossover
X2
Starting MSRP: $36,400
Build: Crossover
X3
Starting MSRP: $41,000
Build:Crossover
X4
Starting MSRP: $50,450
Build: SAV
X5
Starting MSRP: $60,700
Build: SUV
X6
Starting MSRP: $63,550
Build: SAV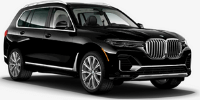 X7
Starting MSRP: $73,900
Build: SUV
The Z Series
Z4
Starting MSRP: $49,700
Build: Roadster
The i Series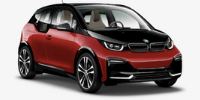 i3
Starting MSRP: $44,450
Build: Sedan
i8
Starting MSRP: $147,500
Build: Coupe and Roadster
How to compare your financing options for a BMW
Whether you decide to buy or lease a BMW, familiarize yourself with each option. Dealer financing may be convenient, be sure you're getting a deal you can afford. If you opt for a balloon repayment plan to keep your monthly costs low, keep in mind that the final payment will be much larger and include all of the remaining principal and interest due on your loan.
When comparing your financing options, remember that the price advertised on a vehicle usually doesn't reflect the total cost you'll end up paying. Factor in a range of other expenses into your calculations, including:
Dealer delivery costs (if applicable)
Vehicle registration fees
Increased insurance premiums
Interest on your auto loan
State and local taxes
Finally, make sure you've compared all your financing options before you walk into a car dealership. This will ensure that you know how much you can afford and allow you to negotiate with confidence.
What you'll need to apply
Every loan has its own terms, but in order to qualify for most financing you'll likely have to have excellent credit with a long and positive history. Lenders may want to confirm your employment and your spouse's employment. This includes where you work, how long you've been working and your gross annual income.
This information helps your lender determine your capacity to repay the loan, but even if you hit all the marks for a specific lender, you may not be approved. Try to find offers from multiple lenders before visiting a dealer so you know you have backups in case one loan falls through.
Costs of maintaining a BMW
Like other luxury cars, BMWs are quite expensive to maintain. This is because many of the parts have to be specially imported from Germany and the mechanics who work on the cars must be certified to complete the repairs.
After the three-year dealership warranty is up, expect to pay high prices for the work you need completed, even things as simple as oil changes and basic checkups can add up.
You should also expect for your car insurance premiums to increase after buying a BMW.
Bottom line
Before you settle on a loan, compare the features of the loans that are offered by different lenders. The loan term, interest rate and fees all play a role in how much you'll end up paying, but be on the lookout for additional features that may impact your ability to pay.
Create a list of your available loan options and make special note of the APR. This is the final amount of the loan that includes both interest and fees, and it's often a good indication of how much your BMW purchase will end up costing.
If you want to hit the road in a BMW, there are many finance options available to help you buy your next vehicle. Just make sure that you carefully compare them before deciding on the right one for your financial needs.
Frequently asked questions
Pictures: Shutterstock and BMW official page