Finder is committed to editorial independence. While we receive compensation when you click links to partners, they do not influence our content.
Compare the best Bluetooth and wireless speakers
Stream high-res audio at home, outdoors or on the go.
Bluetooth speakers a portable, convenient solution for listening to music, podcasts and other audio from your phone or another device. But the right speaker for you depends on your budget — and where you plan to take in the tunes.
Top Bluetooth speakers
Name
Avg. price
(USD)
Max. battery life
Max. wireless range
Purchase
Polk BOOM Bluetooth Swimmer

$44.99
8 hours
Buy now
JBL Go 2

$32.99
5 hours
Buy now
Anker Soundcore Flare

$99.99
12 hours
66 ft
Buy now
JBL Clip 2

$57.99
8 hours
Buy now
Philips ShoqBox SB300

$39.00
8 hours
66 ft
Buy now
Creative Metallix

$63.95
24 hours
33 ft
Buy now
Ultimate Ears Wonderboom

$88.99
10 hours
100 ft
Buy now
Logitech X300

$138.97
6 hours
30 ft
Buy now
JBL Flip 4

$99.00
12 hours
Buy now
Ultimate Ears Boom 2

$69.99
15 hours
100 ft
Buy now
Name
Avg. price
(USD)
Max. battery life
Max. wireless range
Purchase
JBL Charge 3

$99.00
20 hours
30 ft
Buy now
Bose SoundLink Mini II

$149.99
7 hours
30 ft"
Buy now
Fugoo Style-S

$169.99
15 hours
30 ft
Buy now
Creative iRoar

$179.28
20 hours
Buy now
Denon Envaya (DSB-250BT)

$228.48
13 hours
100 ft
Buy now
Marshall Kilburn

$299.00
20 hours
Buy now
Data obtained February 2019. Prices are subject to change and should be used only as a general guide.
How do Bluetooth speakers work?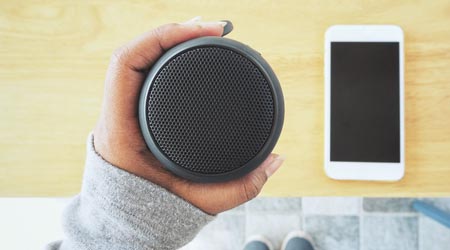 These speakers use Bluetooth technology to link to your TV, computer, phone or another audio source, unlike traditional speakers that require a cable.
Bluetooth transmits radio waves across short distances to all types of wireless devices, like keyboards, mice and digital cameras. You can send and receive signals over this Bluetooth connection to download photos from your camera, connect your phone to a hands-free headset or listen to music with Bluetooth speakers.
Bluetooth speakers are designed to be portable. Without a cable, you can connect your speaker to any Bluetooth-capable device no matter where you are. Some Bluetooth speakers are designed specifically for the outdoors.
What's the difference between Bluetooth and Wi-Fi?
The main difference lies in how they work. Bluetooth speakers connect directly to an audio source, whereas Wi-Fi speakers connect to a Wi-Fi network, which in turn connects to an audio source. Wi-Fi allows multiple speakers to operate on the same network and broadcast the same audio. Because they're typically installed in a house, they often aren't as portable as Bluetooth speakers.
Why should I consider Bluetooth speakers?
Bluetooth speakers are a convenient way to listen to high-quality audio. Use them at the beach, while camping, when traveling overseas or at home.
These speakers have all but taken over the role of traditional portable stereos. You need only a Bluetooth-capable device to connect to your speakers. And today, just about any device that plays digital music is now Bluetooth capable.
Pros and cons of Bluetooth speakers
Pros
Portable
Convenient
Inexpensive
Durable
Cons
Smaller models can sacrifice sound quality
Connectivity issues are possible
Few surround-sound options
Limited battery life
How to compare Bluetooth speakers
The best speakers for you comes down to how you want to use them. If you want a speaker you can take to the beach, look for a waterproof model. If you want to stream music on vacation, look for a portable speaker you can fit in your carry-on.
No matter what, look for a speaker with the longest battery life and highest-quality sound within your budget.
Quick Stats
| Price range | Weight | Volume capability | Maximum battery life | Wireless range |
| --- | --- | --- | --- | --- |
| $30 to $700+ | 0.5 to 15 lbs. | 85 to 110+ dB | 5 to 26+ hours | 30 to 100 feet |
Cost. Affordable Bluetooth speakers can cost as little as $30, while high-end speakers could set you back $700 or more. After you've determined your budget, consider size, sound quality, battery and durability.
Size and weight. Most Bluetooth speakers are easily carried in a bag. But opting for a smaller, ultra-portable speaker can sometimes mean sacrificing sound quality, especially when the volume is turned up.
Volume. Larger speakers often produce clearer audio at higher volumes, while smaller speakers can sound strained at their highest volumes. Look for a speaker with a volume capacity of at least 85 decibels.
Battery. When it comes to portability, long battery life is key. If charging won't be easy where you're going, look for a speaker with a long battery life.
Durability. If you want to take your speaker anywhere, choose one that's durable. Many speakers are splash-resistant or dust-resistant, and some are completely waterproof.
Other features to look for
Speakerphone. Some speakers include built-in microphones so that you can use the speaker as a hands-free device.
USB charging. Speakers with larger batteries offer the ability to charge other devices with a USB cable. So if your phone's battery is running low from playing music all day, you can plug it into the speaker and use the extra battery to charge your phone.
Near field communication. NFC connects two Bluetooth devices when they're within a few centimeters of each other. If you have an NFC-compatible device, consider buying a speaker with the same feature for added convenience.
Cable input. Bluetooth devices are designed to be wireless, but some models include an audio cable port. The port is helpful if you want to connect your speaker to a device that's not Bluetooth capable, such as a desktop PC, or if the Bluetooth connection malfunctions.
Surround sound. Some Bluetooth speakers allow you to connect additional speakers to create surround sound. However, if you're primarily buying speakers for surround sound at home, consider using more powerful Wi-Fi multiroom speakers.
Bottom line
You'll find many Bluetooth speakers on the market, but choosing the best for comes down to four questions:
What is my budget?
Where do I plan to use my speaker — and how portable and durable does it need to be?
Do I need the ability to connect with other speakers or charge my phone?
How important is audio quality?
After narrowing down your needs and comparing your options, you'll be ready to take in your tunes untethered.
How did we choose our products?
To gather our list of the best Bluetooth speakers, we considered the overall features, price, battery life and wireless range. We also researched models online.
Check out the latest audio deals and coupons
Frequently asked questions
Are Bluetooth speakers waterproof?
Many models are. You'll want to determine whether your Bluetooth speakers are water-resistant or waterproof.
Water-resistance generally means that it can handle getting splashed or dripped on, while waterproof means it can be submerged under water without damage. Check the specifications for your model before getting your speaker wet.
Why is it called Bluetooth?
The trademarked brand name comes from Harald "Bluetooth" Gormsson, a 10th-century king of Denmark known for uniting Scandinavia — like Bluetooth technology wirelessly "unites" two devices.
What are the best brands of Bluetooth speakers?
The best brand and model of speaker for you depends on your needs, budget and personal preferences.
Popular Bluetooth speaker brands include:
More guides on Finder