Finder is committed to editorial independence. While we receive compensation when you click links to partners, they do not influence our content.
Bliss promo codes
Best deal: 20% off your first order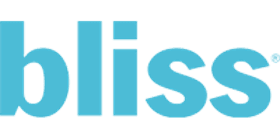 This brand looks like Glossier's tomboy sister. With cute blue packaging, jelly cleansers and affordable prices, Bliss is a skincare brand to watch.
What can I buy at Bliss?
Bliss sells cruelty-free skincare products for the body and face. All products are free of parabens, phthalates, sodium laureth sulfate and sodium lauryl sulfate, so you can shop with confidence knowing they're safe for your skin and your health.
The selection of cleansers and moisturizers at Bliss are designed to meet your unique needs. Choose from a foaming cleanser, a cream-to-water hydrator, a traditional moisturizer, a jelly cleanser and more. You'll even find a cleansing ball: pop it to get the lychee-infused cleanser out, and then gently pat it dry each day. Who knew washing your face could be so fun?
A wide selection of masks at Bliss focuses on jar masks over sheets. But the brand is a true standout for its products designed for use all over your body. Many skincare lines focus only on the face, but you'll enjoy a variety of scrubs, cleansers and moisturizers designed specifically for everywhere else.
Because let's face it: You have more skin elsewhere, and it needs love too.
How do I use my coupon code?
Shipping, delivery and payments
Can I get free delivery?
All Bliss orders of $25 or more ship for free, typically arriving in 5 to 10 business days.
Shipping costs
To receive your items faster, upgrade to second-day shipping for $12 or next-day shipping for $18. Some items may not be eligible for expedited shipping.
How can I track my order?
You'll receive tracking information for your Bliss order in a shipping confirmation email.
Haven't received your delivery yet? Track your order on the Bliss website to see the progress of your package.
If you have trouble with your tracking information, speak to customer service at 1-888-243-8825.
Payment options
Pay for your Bliss order on its secure website with Visa, MasterCard, Discover or American Express. The site also accepts Bliss Gift Cards, which you can also use at any Bliss spa nationwide.
What is Bliss's return policy?
If you're not satisfied with your product, return the unused portion directly to Bliss within 30 days for a full refund. You can also return unused products within 60 days for store credit only.
Unfortunately, Bliss does not pay return shipping costs.
Once you've boxed up your return, mail it to:
Returns Department
Bliss Direct, Inc.
300 Nixon Lane
Edison, NJ 08837
When's the next sale?
Sign up for the Bliss list to stay on top of periodic sales and promotions. These emails allow you to find out first about flash sales, so that products don't sell out before you can get to them. The brand typically offers sales around big holidays like Christmas and Black Friday, as well as randomly throughout the year.
To earn free items through the company's customer rewards program, join Bliss Blue Rewards.
Although Bliss doesn't have a dedicated clearance section, it occasionally discounts overstock or discontinued products online.
While you're here, don't forget to sign up for our finder.com deals newsletter. We'll send you a cultivated list of the week's best deals that can help you save on your favorite beauty brands.
What sets this brand apart?
Although skincare brands are a dime a dozen, Bliss is special because of its commitment to excluding parabens and other toxins from its products. We also love its strong focus on your whole body, rather than just your face.
Little customer service perks — like free shipping with a low minimum spend of $25 — make it easy to shop, as does a rewards program that lets you earn free items. Bliss also promises its customers free samples and surprises — two things almost everybody loves.
If you're looking for a brand whose products and customer service are head and shoulders above the crowd, Bliss might be your answer.
What do people really say about this brand?
Some customers complain about trouble reaching Bliss customer service by phone. But most are satisfied with Bliss products, planning to purchase them again in the future.
Devotees swear that Bliss products have changed their skin for the better, clearing, softening and smoothing their face.
Meanwhile, unhappy customers complain about canceled orders due to a single out-of-stock item and shipments taking a few days or more to simply leave the warehouse. If timing is important to you, ordering in advance can save you worry about your package.
What is Bliss's history?
Bliss is an American skincare brand that's been around since 1996. It was founded by Canadian, Marcia Kilgore, who was inspired to find a solution for her acne-prone skin after studying at Columbia University. The company is committed to creating cruelty-free products and avoiding the use of parabens, phthalates, SLS and SLES.
Traditionally a luxury brand, Bliss is sold at Nordstrom, Bloomingdale's, Saks Fifth Avenue, Neiman Marcus and other high-end retailers. It's recently appeared on the shelves at Target, and it's offered in spas across the nation as well.
How can I contact customer service?
Reach Bliss customer service through a secure online form found on the BlissWorld site. Though Bliss doesn't advertise a phone option, you can also call 1-888-243-8825 for assistance.
Many customers say that reaching Bliss by phone is difficult, so we recommend the online form, if you're not in a hurry.
If you do choose to call customer service, have your order number and information on hand so that you're prepared to talk to a representative that picks up.
What about social media?
You can follow Bliss on Instagram, Facebook, Twitter and YouTube. Its Instagram is cute and trendy, attracting nearly 70K followers. On Facebook, the brand is liked by over 80K users and frequently interacts with its customers.
The Bliss YouTube channel is still a work in progress: It has more than a thousand followers, though it hasn't yet posted content. Not great news for beauty lovers.
Why should I shop at Bliss?
Pros
Free shipping. All Bliss orders of $25 or more ship for free.
Free samples. Every order includes a free little something.
Available at Target. Your favorite errand just got better.
Cruelty-free products. Not to mention no parabens or phthalates.
Cons
Returns aren't free. You'll have to pay for your own return shipping on any items you don't love.
Spotty support. Customers say that help is hard to come by.
Bottom line
For ladies who dig trying new skincare products, Bliss is a brand to watch. It offers fun, unique products that can improve your skincare routine. That products aren't tested on animals is a bonus.
A low $25 order kicks in free shipping — impressive, given many brands ask you to spend $50 to $100 before they'll pick up delivery. And because the brand has expanded its presence into Targets across the nation, you can go get a feel for its products before you place an order online.
Frequently asked questions
Images: BlissWorld.com
More guides on Finder