Bitcoin remains steady at $48,990 as Bitcoin stocks tumble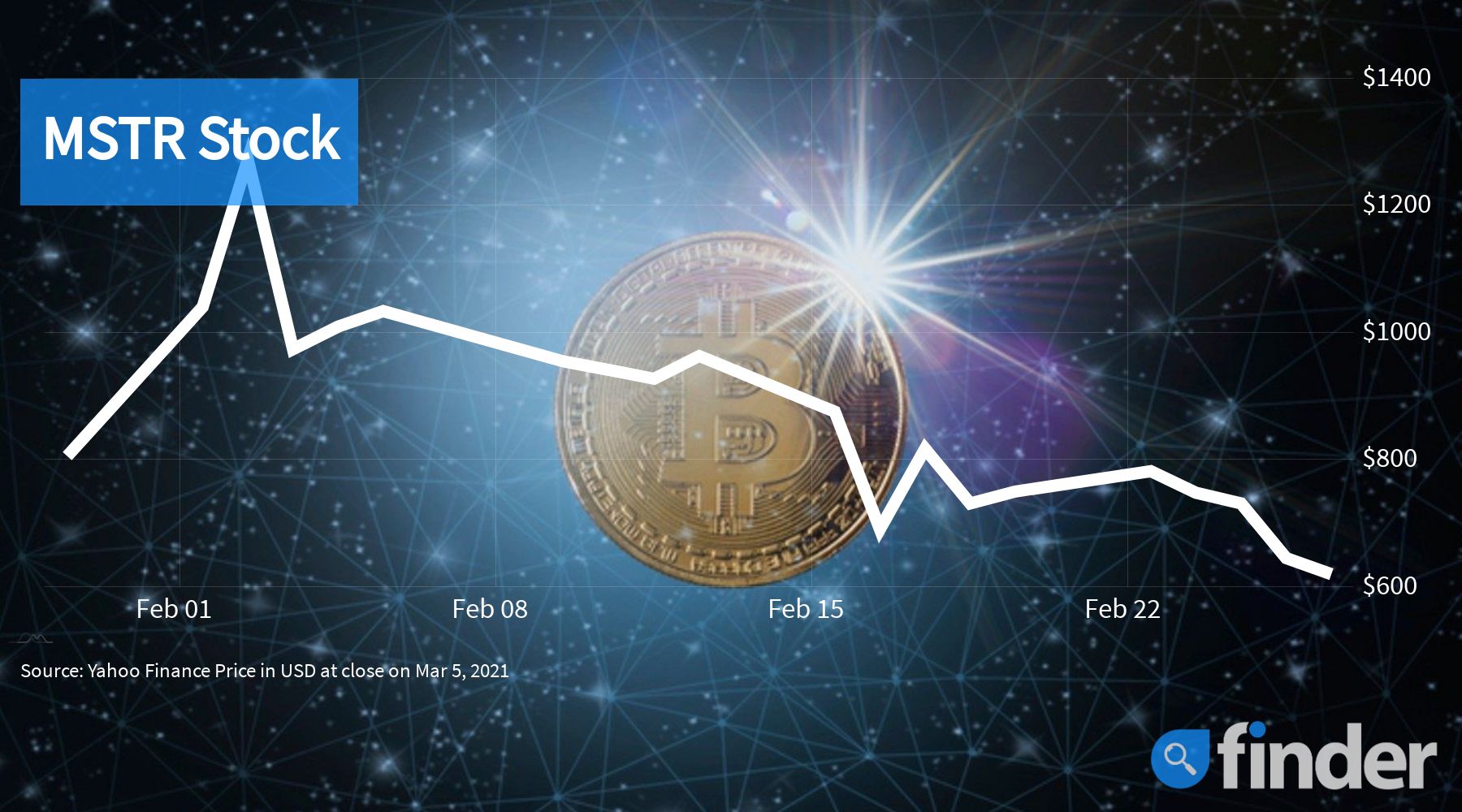 Key takeaways
Goldman Sachs says there is "huge momentum" in the digital assets market
Man who predicted Tesla to hit $1,000 says Tesla should sell Bitcoin
Bitcoin related stocks enter period of heavy sell offs as markets become risk averse
Bitcoin is trading at $48,990 at the time of writing, which is a 0.1% increase in the last 24 hours. Despite the slight change in price from 24 hours ago Bitcoin has experienced characteristically strong volatility With a low of $47,331 recorded less than 10 hours ago..
Following on from that low the price of Bitcoin has increased steadily reaching a peak only an hour ago of $49,257. As the Bitcoin price has increased over 4% since its daily low and seems primed to seek out resistance levels at $50,000.
Moving out to the last fortnight Bitcoin has traded in a neat range of around $9,000 implying moderate signs of price stability over the last eight days at least. Since a 23 February 2021 price of $52,500 the price has only ventured below $43,500 on one occasion briefly.
Although that range is relatively stable for Bitcoin, that price range represents a 17% vector of volatility.
Goldman Sachs sees "huge momentum" in digital assets market
Its rise comes amid ongoing rising institutional demand for digital assets. Matthew McDermott, Head of Digital Assets at investment bank Goldman Sachs, detailed in a podcast an overview of how Goldman Sachs sees the market for digital assets and the firm's role in response to client demands in future.
McDermott cited a clientele feedback survey across Goldman's institutional client base of around 300 responses. Among the respondents 40% currently have exposure to cryptocurrency products whether that is "the physical" Bitcoin spot price, Bitcoin related stocks, digital assets derivatives or any of the growing base of digital assets products.
A further "61% of clients" expect their digital asset holdings to increase within the next year. In addition to that, the demand from clientele is broad with institutions as well as private wealth management clients voicing interest in exposure to digital assets.
McDermott said that there is "huge momentum in the market" when asked what is different about the most recent Bitcoin bull run compared to the 2017 bull run. He concluded saying that the institutional demand for digital assets exposure is the "key difference" this time around.
Microstrategy remains bullish on BTC despite 50% discount in 25 days
Despite Microstrategy (NASDAQ:MSTR) stock prices halving in value from highs of $1,281 less than a month ago from 9 February CEO Michael Saylor has announced a further Bitcoin purchase. This time only $10 million worth adding to the estimated $4.3 billion stock of existing Bitcoin holdings.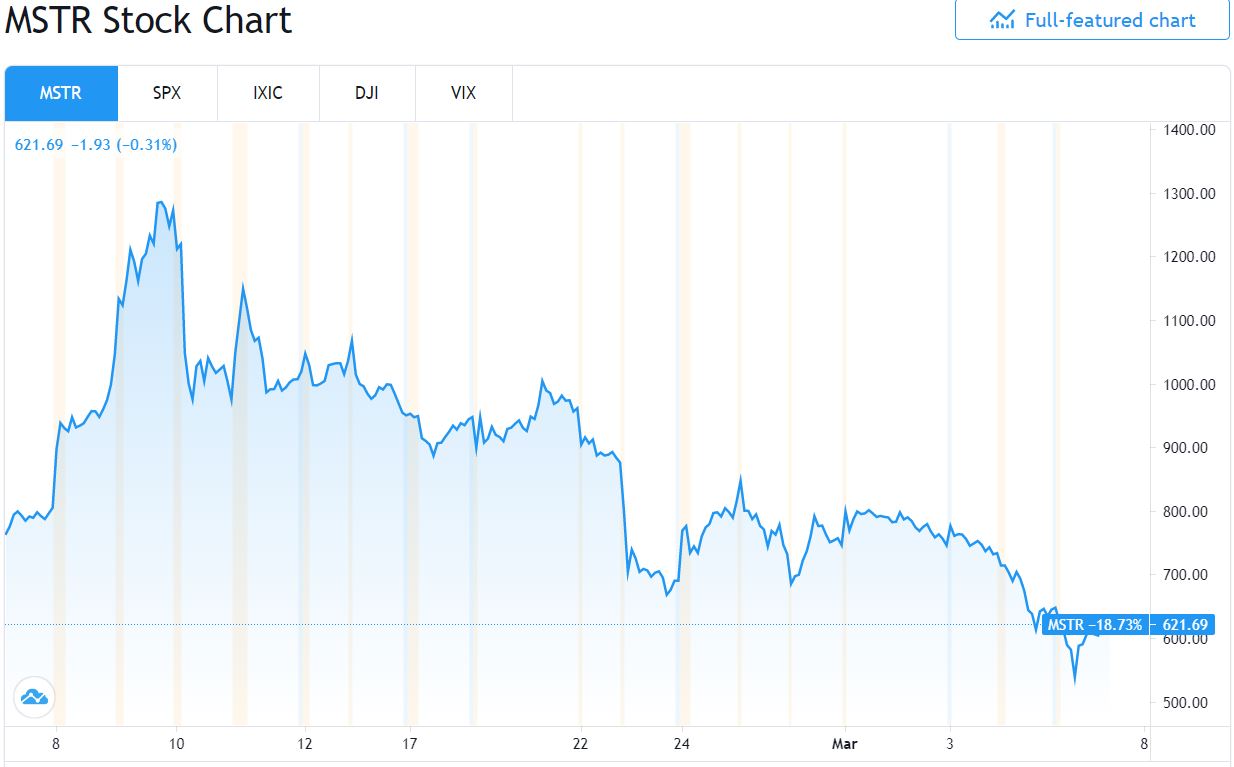 In addition to Microstrategy, the price of Tesla (NASDAQ:TSLA) stock has also met with decline in recent weeks. Tesla's stock price has dropped by more than 32% since disclosing in regulatory filings lodged in early February that the tech firm had completed a $1.5 billion bitcoin acquisition.
That has prompted calls for Tesla to dump the recently acquired Bitcoin. Gary Black, well known for calling Tesla to reach $1,000 before a 5 for 1 share redistribution and also accurately predicting Tesla's entry to the S&P 500 suggested on Twitter that Tesla sell their Bitcoin in favour of a stock buyback.
Heavily correlated Bticoin stocks have seen big sell offs. In tandem with Microstrategy's sell off, Bitcoin miners Riot Blockchain (NASDAQ:RIOT) and Bit Digital (NASDAQ:BTBT) have both seen their stock values halve from recent highs. Though they remain over 1,000% above prices only six months ago.
Broader contraction of riskier assets
This sell off comes amid a record for monthly Bitcoin mining revenue in February, the shortest month of the year. Mining revenues have enjoyed virtually uninterrupted growth on revenues since June of 2020. With February recording $1.36 billion in Bitcoin mining revenue, $110 million more than the previous record set in December 2017.
The much acclaimed Bitcoin exchange traded fund (ETF) recently released in Canada is also trading at a discount from its float on the Toronto Stock Exchange (TSX:BTCC). The ETF is trading nearly 11% lower than its 19 February high of $10.55.
However, Mike Novogratz's Galaxy holdings (TSX:GLXY) has bucked the trend. Largely maintaining the highs which have been spurred on by the rising spot price of Bitcoin over the last six months. Markets may find GLXY to be overpriced in the short term. GLXY has climbed 480% over half a year from around $3 to $17.41, a full 18% short of recent price highs.
The stock sell offs don't seem to have much to do with the price of Bitcoin which has now spent 80 days above the previous all-time high reached in 2017. What may be more likely is that financial managers are becoming more risk averse. This may be due in part to the economic policies of the Biden administration which are still to be made public in their entirety and their ascent through the Senate confirmed. And this is shown with rising bond yields in recent weeks.
Image: Finder