Bitcoin drops below $35k as Russia invades Ukraine, bounces back. Are more declines ahead?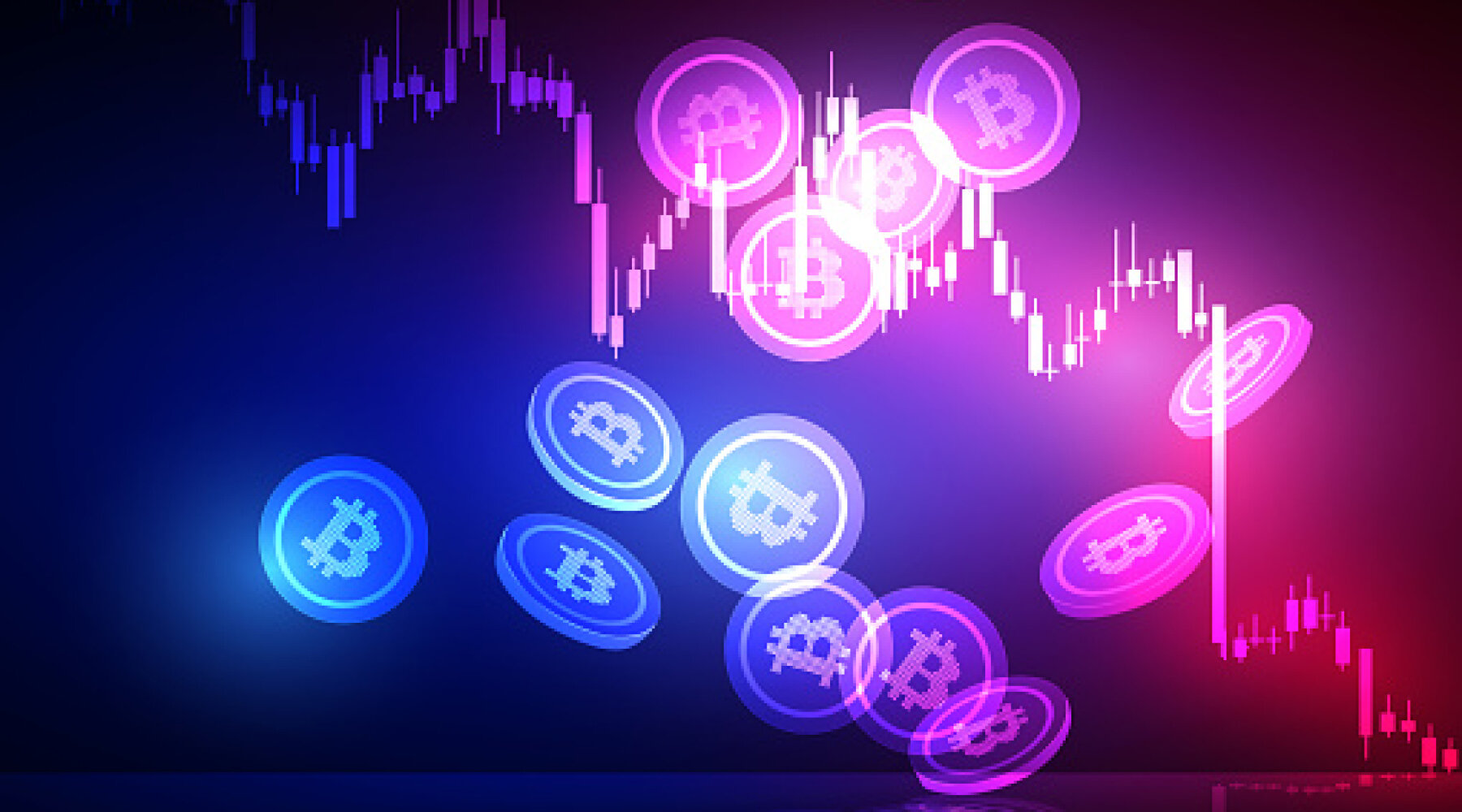 Bitcoin fell 8% within hours after the news, altcoins followed.
Bitcoin dropped below $35,000 on Thursday, hours after Russia launched missile attacks and deployed ground forces within Ukrainian borders.
The $35,000 mark is a strong support level for Bitcoin, and it did bounce back above that mark. But it may not hold for long.
Global markets suffer
Stocks in Asia and Europe opened lower after the news, with Russia closing their stock exchanges until further notice. The Russian ruble also saw a massive drop, hitting all-time lows against the US dollar.
Oil prices continue to climb, though, with West Texas Intermediate (WTI) crude inching closer to $100. High oil prices could lead to higher inflation, which is what worries most investors. High inflation could pave the way for a stronger response by the Federal Reserve by raising interest rates and tightening monetary policy. This makes borrowing money to invest in riskier assets — including cryptocurrencies — more expensive, which could limit Bitcoin demand.
Bitcoin pulled back to support levels
Bitcoin continued its drop from mid-February and briefly dropped below $35,000. This is a strong support level where Bitcoin investors consider a bargain and usually buy. But the current situation in Ukraine may be the catalyst that pushes the price past this level and toward $30,000.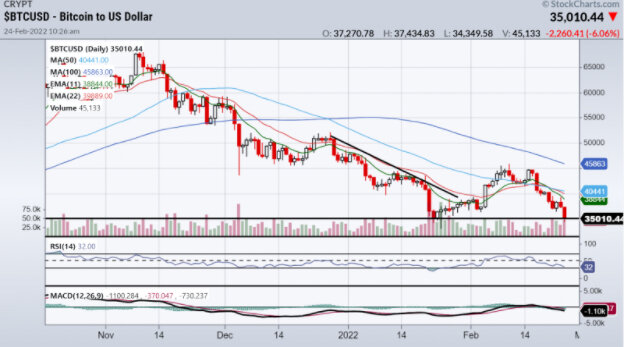 Source: Stockcharts.com
Bitcoin futures saw $111 million in liquidations, followed by Ether futures at $96 million within 12 hours after the Russian invasion, according to Coinglass. This number is likely to grow and potentially push Bitcoin and altcoins lower.
Liquidations happen when traders have insufficient funds to fund a margin call or fail to provide additional collateral to keep their positions open. This mostly happens in margin and futures trading.
Altcoins follow
Altcoins still follow Bitcoin's lead. Ethereum (ETH) is down 11% in the past 24 hours and Binance Coin (BNB) is down 10%. Cardano (ADA) is down 18%, which is among the worst performers of the top ten popular cryptocurrencies.
Finder experts bullish long-term on Bitcoin
Finder asked 33 fintech specialists in January to offer price predictions for Bitcoin by year's end. Most of them believe Bitcoin will make new all-time highs at the end of 2022 regardless of the price noise in the meantime. If they're right, this could present a solid opportunity to buy at a discount.
Kliment Dukovski owns Bitcoin, Ether, Cardano and Binance Coin as of the publishing date.
Information on this page is for educational purposes only. Finder is not an advisor or brokerage service, and we don't recommend investors to trade specific stocks or other investments.
Finder is not a client of any featured partner. We may be paid a fee for referring prospective clients to a partner, though it is not a recommendation to invest in any one partner.