Bitcoin dipped below $40,000, then bounced. What's next?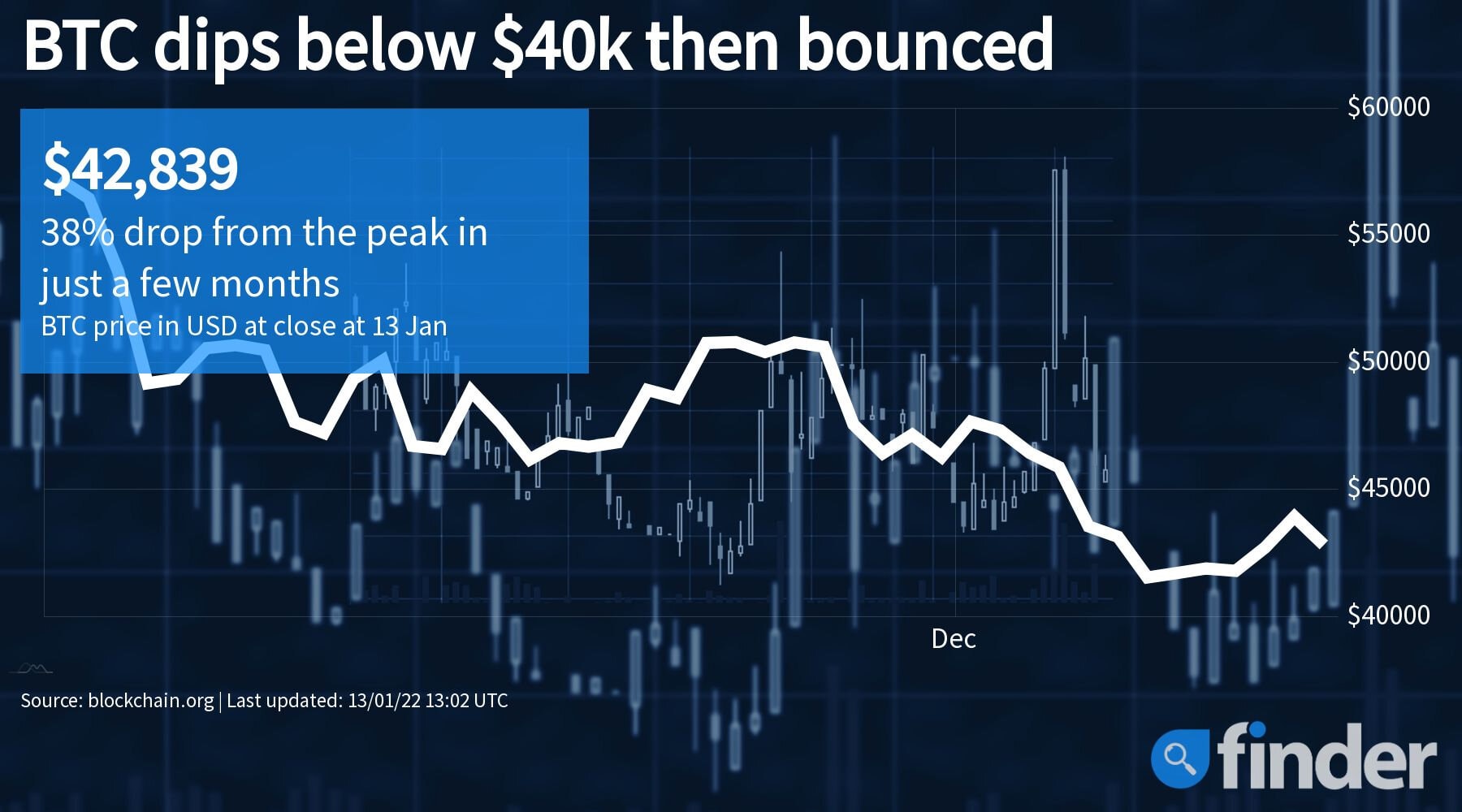 Bitcoin's price bounced off a strong support zone, but a break could send it tumbling again.
Bitcoin has entered a bear market since it reached all-time highs above $68,000 back in November. In December and early January, the price was stuck in a range between $45,000 and $51,000. On Monday, it fell slightly below $40,000 but quickly recovered.
All this volatility makes for a 38% drop from the peak in just a few months.
There are multiple reasons Bitcoin is down, including profit-taking, Federal Reserve actions to curb inflation and the shutdown of the Internet in Kazakhstan for a few days. Kazakhstan is responsible for roughly 15% of Bitcoin mining, the computer-driven creation of new Bitcoin.
How low might Bitcoin go?
In technical terms, $40,000 acts as a strong support zone, meaning it could prevent the price from dropping further because it's a point where buyers are drawn in. Indeed, the price has risen since that mark was crossed.
A previous support of $45,000 now acts as a resistance zone, meaning the exact opposite — it makes it harder for the price to push higher due to selling at that point.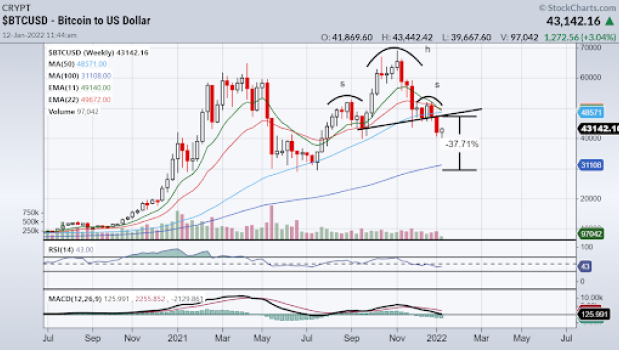 Image source: Stockcharts.com
Bitcoin's weekly chart shows a classic head and shoulders pattern, and the price has already pushed through the $45,000 support zone. That suggests a drop.
If the pattern fulfills itself and then breaks below $40,000, Bitcoin could fall as low as $30,000, the next major support zone. What's more, the current price now trades below the 50-moving average Bitcoin price, which is another bearish signal.
How high might Bitcoin move?
For the price to move higher, Bitcoin must first break the $45,000 level. The next resistance zone is at $50,000. Multiple moving averages and resistance zones converge at this price, which means a strong catalyst would be required for Bitcoin to break above that in the short term.
Kliment Dukovski owns Bitcoin as of the publishing date.
Information on this page is for educational purposes only. Finder is not an advisor or brokerage service, and we don't recommend investors to trade specific stocks or other investments.
Finder is not a client of any featured partner. We may be paid a fee for referring prospective clients to a partner, though it is not a recommendation to invest in any one partner.