Bitcoin breaks through resistance to top $47,000; are more gains ahead?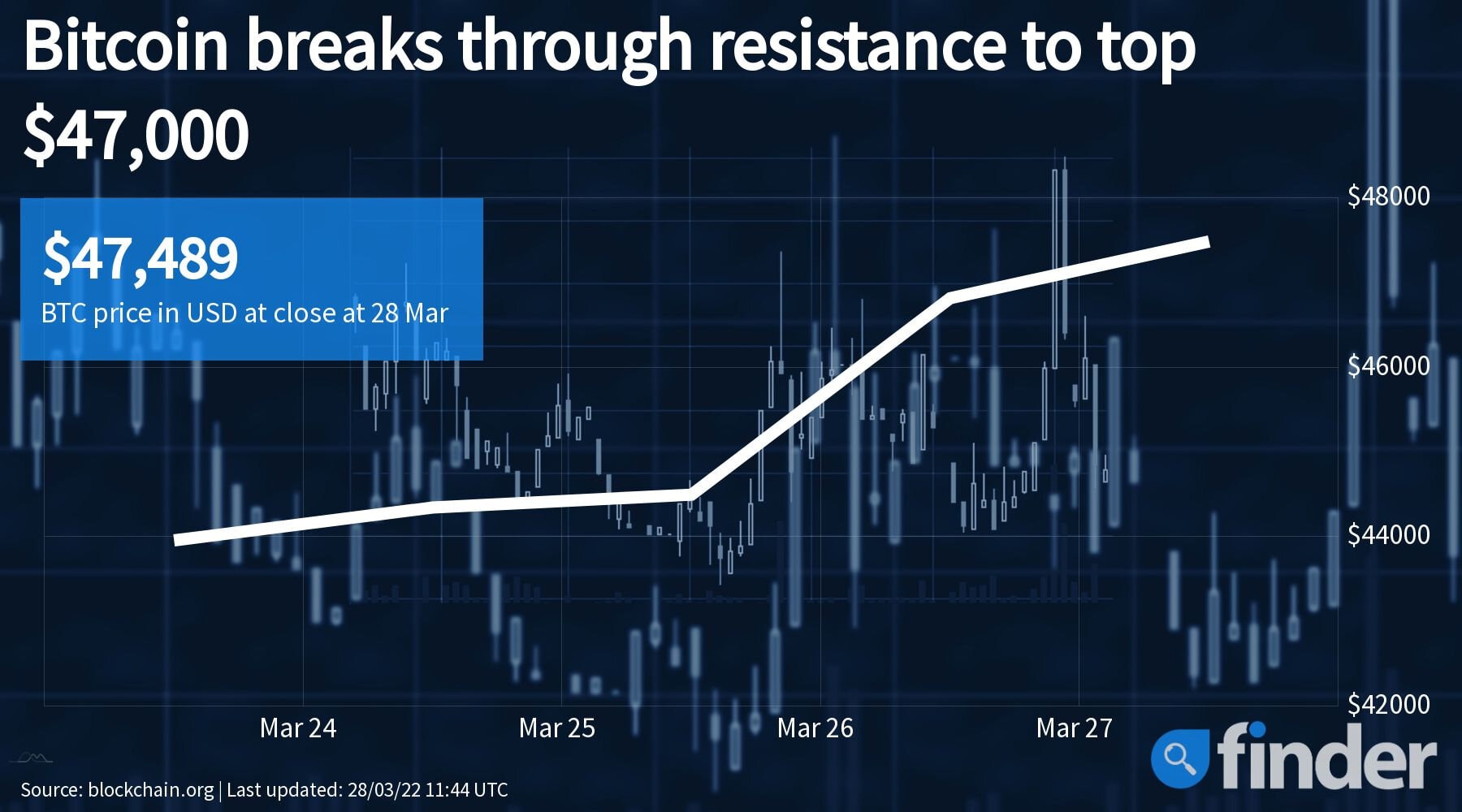 Disclaimer: This page is not financial advice or an endorsement of digital assets, providers or services. Digital assets are volatile and risky, and past performance is no guarantee of future results. Potential regulations or policies can affect their availability and services provided. Talk with a financial professional before making a decision. Finder or the author may own cryptocurrency discussed on this page.
The way toward $50,000 is open with the potential of reaching November's high of $68,000 in the coming months.
Bitcoin has been stuck in a trading range of $35,000 and $45,000 since January this year. On Sunday, Bitcoin's daily close above $45,000 was the first since it entered the range.
As of this writing on Monday, it trades at around $47,500, nearly the same price point where it started this year, wiping out losses from the past three months.
Is Bitcoin finally out of the woods?
Bitcoin's price charts show more gains ahead
Within the past three months, Bitcoin's price has formed an ascending triangle pattern. The way it works is there is a horizontal resistance line at the top — the price where more people sell Bitcoin than buy — and a sloping lower support line that makes higher lows as time goes by.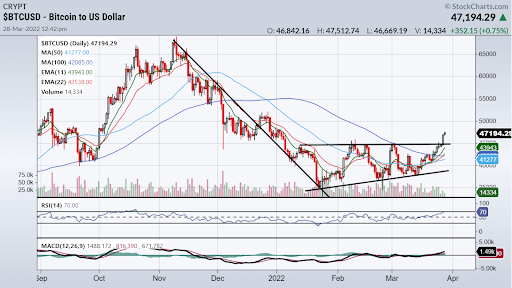 Source: StockCharts.com
Ascending triangles are bullish patterns, meaning chances are that the price will break out higher. This is exactly what we saw on Sunday, and now the price stands at $47,500.
Two scenarios
Despite being a bullish pattern, ascending triangles can have two scenarios that can unwind after the day of the breakout.
The price continues higher. The price target of an ascending triangle breakout is often the space between the two most distant price points in the triangle — in this case, $10,000 ($45,000 – $35,000). If the pattern is confirmed, we can expect Bitcoin to move to $55,000. But before that, it will have to push past $50,000, which is another strong resistance level.
The price returns within the range. It's not uncommon for an ascending triangle pattern to fail after a breakout. In this case, the price could pull back within the previous range until another catalyst pushes the price in either direction. In most cases, failure happens within the first few trading sessions after the break to the upside. Note that returning to $45,000 without moving lower doesn't mean the pattern has failed.
Why is Bitcoin moving higher?
There could be many reasons for this, but one main reason could be Do Kwon's pledge to acquire $10 billion worth of Bitcoin to serve as a reserve for TerraUSD (UST) stablecoin. Do Kwon is the founder and CEO of Terraform Labs, the company behind the Terra (LUNA) network and the UST stablecoin.
$UST with $10B+ in $BTC reserves will open a new monetary era of the Bitcoin standard.

P2P electronic cash that is easier to spend and more attractive to hold #btc

— Do Kwon 🌕 (@stablekwon) March 14, 2022
Also worth noting that most major cryptos are on the rise with it, Ethereum (ETH) is up 6% in the past 24 hours.
Finder's panel of experts is bullish on Bitcoin
Finder asked 33 fintech specialists in January to offer price predictions for Bitcoin by year's end.
Most of them believe Bitcoin will reach all-time highs at the end of 2022. The recent break of the $45,000 price level may be the first step toward all-time highs.
Learn more about Finder's Bitcoin prediction in our article.
Kliment Dukovski owns Bitcoin and Luna as of the publishing date.