Finder is committed to editorial independence. While we receive compensation when you click links to partners, they do not influence our content.
The 6 best washing machines of 2020
Is it time for a laundry room upgrade?
A washing machine is one modern convenience that would be hard to live without. If yours is on its last leg or is no longer efficient or large enough to meet your family's needs, it may be time to start shopping around for a newer model.
Our favorites
Best washing machines for 2020
Washing machines are designed differently for different lifestyles. Size, brand and settings are all important factors to consider before choosing the best fit for you.
Best washing machine overall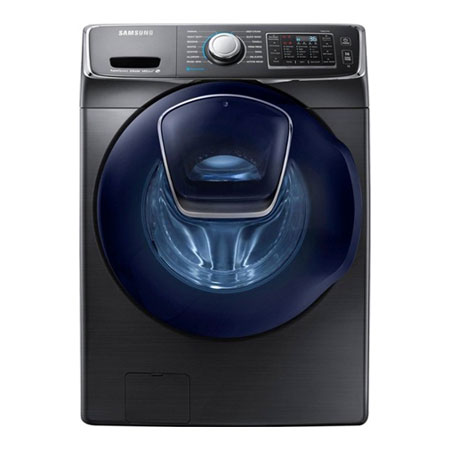 Samsung – 4.5 Cu. Ft. 14-Cycle Addwash High-Efficiency
This front-loading, fingerprint-resistant smart washer offers lots of bells and whistles for the price. One of its most notable features is its Addwash access door that allows you to add items as large as a bathroom towel once the cycle has already started without interrupting the cycle. Choose from 14 wash cycles, five spin speeds and five temperature settings to clean your clothes as quickly and efficiently as possible.
Shop now at Best Buy
---
Best washing machine under $1,000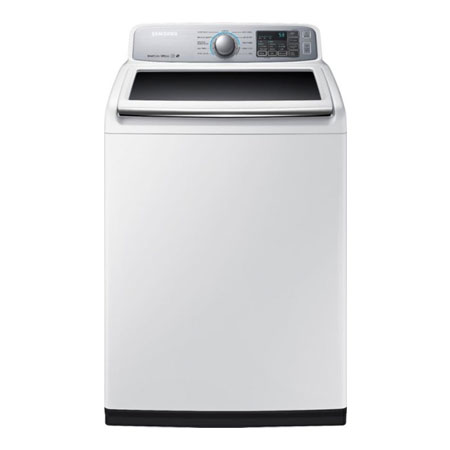 Samsung 5.0 cu. ft. High-Efficiency Top Load Washer
This model boasts a roomy 5.0 cubic foot capacity, perfect for larger loads. It also features vibration reduction technology to cut down on the noise, plus 11 preset wash cycles and a diamond drum design that's gentle on your clothes.
Shop now at Best Buy
---
Best washing machine for large families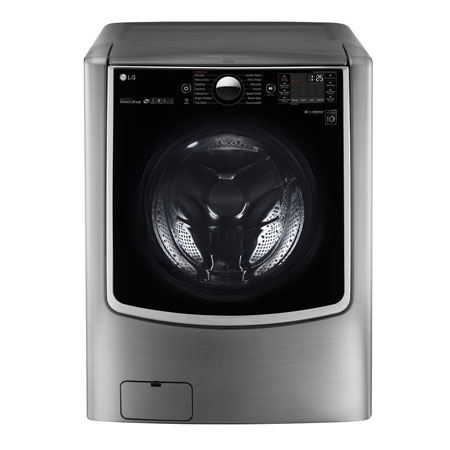 LG 5.2 cu. ft. High-Efficiency Smart Front Load
This mega-sized front loading washer is perfect for big families with lots of laundry. TurboWash technology saves you a whopping 30 minutes per load, plus you can fit a king-sized comforter and more in a single wash. This model comes equipped with steam and sanitizing options, Speed Cycle for quick loads and a Super Clean cycle for the toughest of stains.
Shop now at Home Depot
---
Best stackable washing machine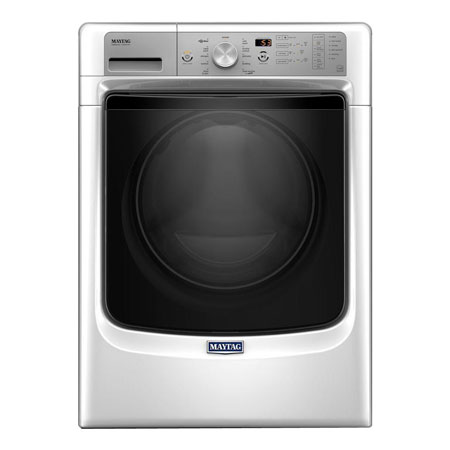 Maytag 4.5 cu. ft. High-Efficiency Stackable White Front Load
This top-rated stackable washer is compact, yet offers an impressive 4.5 cubic foot capacity. It comes equipped with a steam cycle, an allergen cycle to remove up to 95% of allergens from your fabrics, and a sanitize cycle that gets rid of 99.9% of bacteria.
Shop now at Home Depot
---
Best high-end washing machine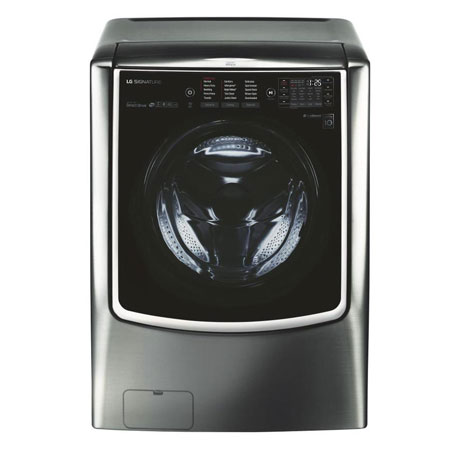 LG Signature TWINWash 5.8-cu ft High Efficiency Front Load
If you're looking for a top-of-the-line washer with all the bells and whistles, this LG model is worth a look. With a massive 5.8 cubic foot capacity, high-pressure TurboWash technology and SmarThinQ compatibility, it takes the hassle out of laundry day. It's also TWINWash compatible, so you can add an LG SideKick pedestal washer to your front-load washer and tackle two loads at the same time.
Price: $1,999Where to buy: Lowe's
Shop now at Home Depot
---
Data obtained December 2020. Prices are subject to change and should be used only as a general guide.
How to decide which washing machine to buy
The right washing machine for you will depend on your individual situation and personal preferences. Ask yourself these questions to help you narrow down your search:
How often do I do laundry?
How many people are in my household?
How much do I want to spend?
Which features are the most important to me?
Do I want a top- or front-loading machine?
Bottom line
Your washer is an essential part of you home, so put a little thought and research into your next purchase to make sure your new appliance is everything you'd hoped it would be.
How to compare washing machines
There are two options to choose from when buying a washing machine: front-loaders and top-loaders. The obvious difference between the two is where you load and unload your clothes, but they also differ in how they wash.
While top-loaders move clothes around using an agitator or impeller, front-loading washing machines use a spinning drum to create a tumbling motion. As a result, front-loaders take up less floor space, are more energy- and water-efficient, and provide improved washing performance.
The downsides are that they cost more up front, have longer wash cycles and you often can't add items to the wash in the middle of a cycle.
Can't decide whether you need a front-loading washing machine or a top-loading washing machine? Check out our comparison of the two below:
Pros
Cons
Front-loader

More energy efficient
Uses less water
Gentler on clothing
Takes up less floor space
Doesn't need as much detergent

More expensive
Many machines won't allow you to add an item to the wash mid-cycle
Heavier
Makes more noise than a top-loader

Top-loader

Cheaper
Quieter
Lighter
Has shorter wash cycles
Can add items mid-cycle

Not as energy or water efficient
Not as gentle on clothing
Takes up more floor space
Requires more detergent
Once you've figured out your budget and must-haves, compare a few models that meet your criteria to help you choose the right fit for you and your family.
How did we choose these products?
We performed our own independent research for our list of the best washing machines, considering factors such as price, capacity, energy efficiency and extra features. We also took into consideration third-party product reviews.
More guides on Finder