Finder is committed to editorial independence. While we receive compensation when you click links to partners, they do not influence our content.
The 6 best toaster ovens of 2020
Cut down your time in the kitchen with this versatile appliance.
Cut down your time in the kitchen with this versatile appliance.
Toaster ovens are essentially mini versions of larger conventional ovens — but these handy countertop appliances can cook food faster and use less energy. If you're thinking about adding one to your kitchen, this guide can help you compare some of the leading models and find the best fit for your culinary needs.
We compared dozens of toaster ovens from all the major kitchen appliance brands, including Cuisinart, Ninja, Breville, Hamilton, Black and Decker, Oster and AmazonBasics, to come up with a list of the very best toaster ovens for every budget, lifestyle and cooking preference.
A washing machine is one modern convenience that would be hard to live without. If yours is on its last leg or is no longer efficient or large enough to meet your family's needs, it may be time to start shopping around for a newer model.
Our favorites
Best toaster ovens for 2020
We did the research and rounded up the best toaster ovens you can get right now, complete with pricing and exactly where to buy.
Best for serious cooks: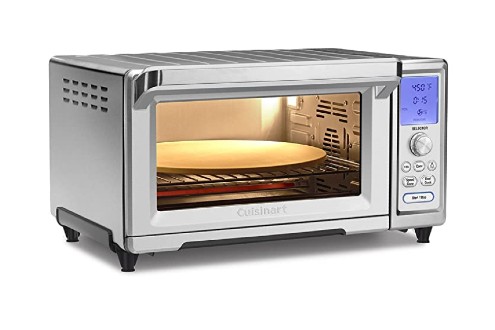 Cuisinart Chef's Convection Toaster Oven
This toaster oven can help with many of the same tasks that your oven normally would. You can bake cakes, crisp veggies and even roast a chicken in 45 minutes flat. It's big enough for a 9×13 pan, which means you can stick in a casserole, bars or other yummy baked goods without breaking a sweat.
This is the toaster oven that Alton Brown uses, according to The Kitchn.
Shop now in Amazon
---
Best for tight budgets:
Black + Decker Extra Wide Convection Countertop Oven
Just because you have a tight budget doesn't mean you've got to sacrifice size. This one still fits a 12-inch pizza, and it comes with a baking sheet so you can whip up cookies, chicken strips and much more.
73% of Amazon reviewers gave this basic, budget toaster oven 5 out of 5 stars.
Shop now in Amazon
---
Best for small kitchens:
Hamilton Beach Easy Reach with Roll-Top Door
Whether you prefer mini pizzas or are simply short on counter space, we love that this four-slice toaster is just about 16 inches wide and only nine inches tall. The rolling door means you can easily retrieve your food without worrying about burning your hands, and there are two rack positions to play with. Perfect for solo cooks and couples.
Shop now in Amazon
---
Best hybrid: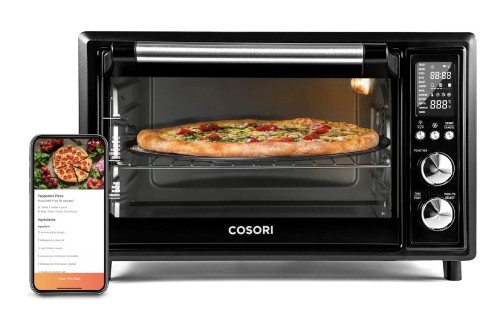 Cosori 12-in-1 Air Fryer Toaster Oven Combo
This is the Inspector Gadget of toaster ovens, with 12 functions to keep you busy in the kitchen. It even connects to your smartphone, so you can adjust the temperature, control the fan, issue voice commands and more. It's big, too, ideal for holidays and family get-togethers that call for 13-inch pizzas, entire chickens and air-fried french fries.
Shop now in Amazon
---
Best for aesthetics: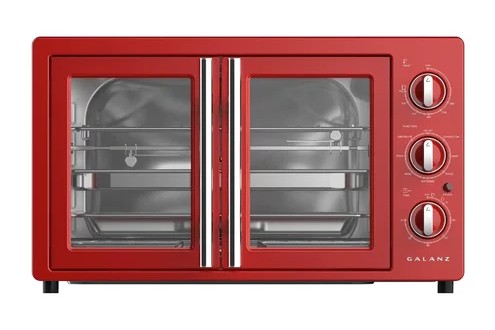 Galanz Retro French Door Toaster Oven
This hot rod toaster oven will look fab in kitchens that have lots of personality and pops of color. It can fit six slices of bread, doubles as an air fryer and has interior lights so you can check on your food without messing up the temp.
If you want to ramp up the retro vibes, check out this one by Nostalgia.
Shop now in Wayfair
---
Best for dorm rooms: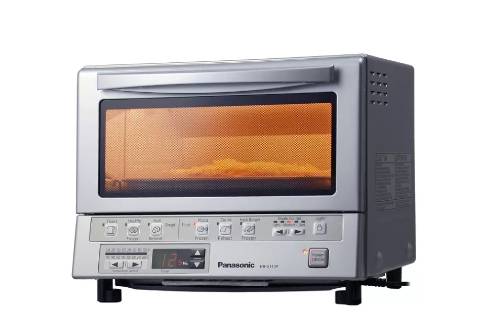 Panasonic FlashXpress
Before you buy a toaster oven for your dorm room, check to see if your school has wattage restrictions. If you can swing it, though, these can be revolutionary for dorm rooms, as you can cook pretty much anything. This one from Panasonic is smaller than one cubic foot and can cook pizzas, waffles, chicken fingers and pretty much anything else you can think of.
Bonus: It has a setting specifically for crisping up frozen hash browns.
Shop now in Target
---
What can you cook in a toaster oven?
Toaster ovens can cook a surprisingly wide range of foods, depending on the type you choose. Some of the foods that you can cook in a toaster oven are:
Toast
Grilled cheese
Quesadillas
Pizza
Baked potatoes
Eggs
Chicken
Salmon
Bacon
Hot dogs
Roasted vegetables
Cookies and other baked goods
How to compare toaster ovens
Think about your own cooking needs, eating habits and the quantity of food you regularly prepare. Then take some other aspects into consideration, such as:
Size.
Price.
Cooking functions. What do you need the toaster oven to do?

Toast
Bake
Broil
Roast
Warm
Defrost
Reheat

Temperature settings range.
Extra features. These can include the bells and whistles, like a defrost setting, automatic shut-off, interior lights and adjustable rack positions. Generally, the more features, the more expensive the oven.
Bottom line
The best toaster oven for you depends on the size of your kitchen, the foods you like to cook and your overall budget. Also consider whether you want one that'll last for years — like a typical oven — or if you just need something cheap and easy to last until your situation changes.
How did we choose these products?
We performed independent online research to create our list of the best toaster ovens, comparing the type, size, price, cooking functions and extra features. We also took into account reviews from unbiased third parties and our own personal experiences. Finally, we compared our top picks to those touted by chefs and kitchen pros to make sure each toaster oven on this list is worth the dough.
Frequently asked questions
How many amps does a toaster oven use?
The average toaster oven is rated for 1,500 watts, which would use 12.5 amps. This can vary from model to model.
What's the difference between a conventional oven and a toaster oven?
Convection toaster ovens can cook many of the same foods as a conventional freestanding oven, but they're much smaller. Therefore, you can only cook a small amount of food in toaster ovens. But they use much less energy than a full-sized oven.
What's the difference between a toaster oven and a microwave?
Toaster ovens use infrared energy to heat food from the outside in, which is why you can toast, crisp, roast and bake with them. Microwaves use electromagnetic energy to heat foods, but cannot perform other functions like toasting and baking. Microwaves generally heat food faster than toaster ovens.
More guides on Finder