Finder is committed to editorial independence. While we receive compensation when you click links to partners, they do not influence our content.
The best TV shows you can stream on Peacock
There's a new kid on the streaming block – and it comes with plenty of binge-worthy content.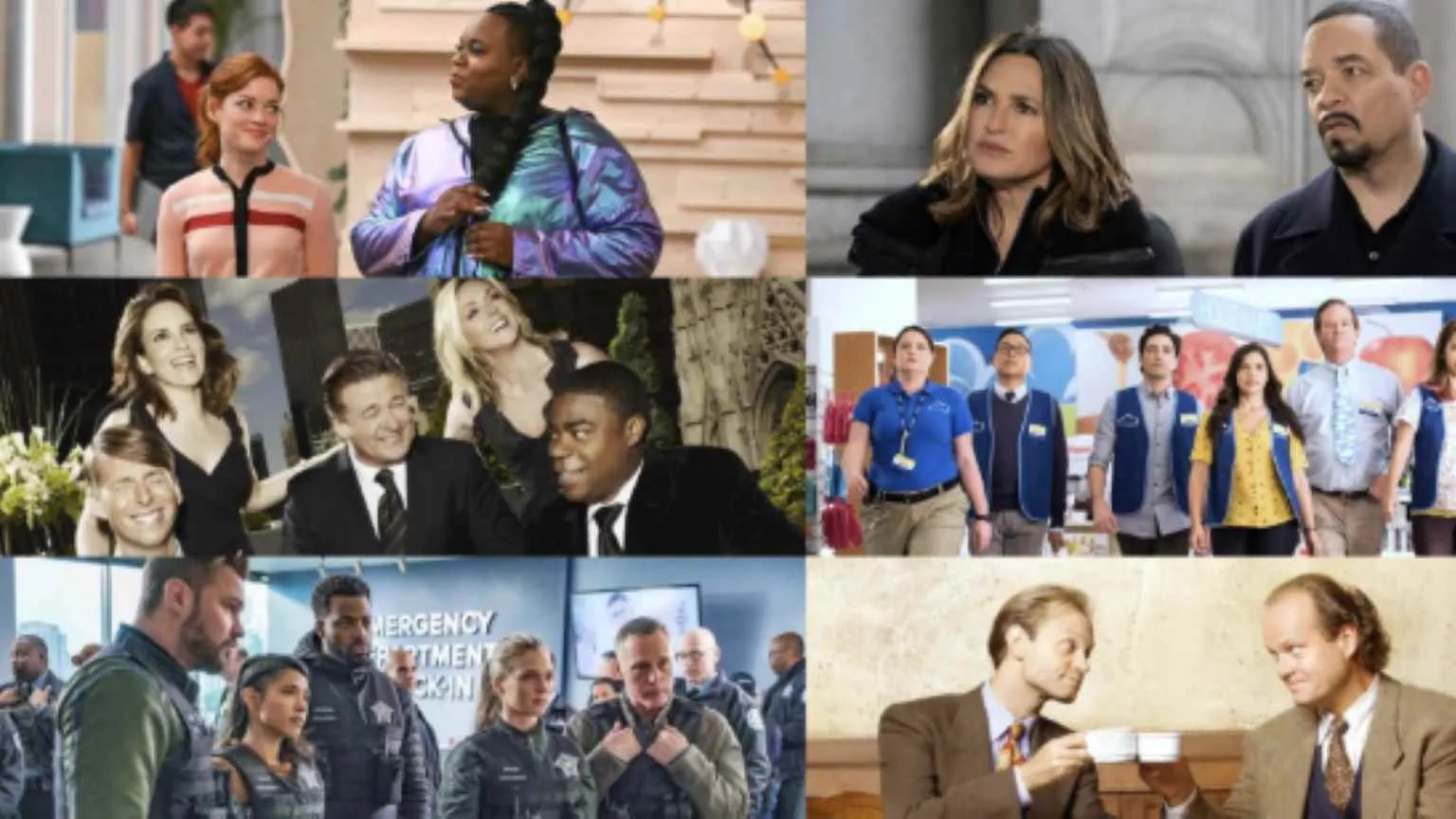 NBCUniversal has officially joined the streaming wars with the nationwide launch of new streaming platform Peacock. The service comes with a wide library of content that includes original series, NBC favorites and hundreds of movies that will keep you busy for hours on end.
Peacock offers a free, ad-supported plan that gives subscribers access to a limited amount of content – about half of the platform's library. If that's not enough, there are two premium plans available, which come with full access to the entire Peacock library. There's Premium (with ads), which is priced at $4.99/month, and Premium Plus (without ads) for $9.99/month. If you go for a Premium plan, you can also enjoy a 7-day free trial.
But what to watch first? The Office might not make it to Peacock until January 2021, but there's enough to keep you glued to the screen in the meantime. We've put together a list of the best TV shows currently on the platform to give you a head start. Otherwise you can see our guide for the full list of shows on Peacock.

Brave New World
Year: 2020
Cast: Alden Ehrenreich, Jessica Brown Findlay, Harry Lloyd, Demi Moore
Based on Aldous Huxley's classic novel of the same name, Brave New World is set in a dystopian future where society has achieved peace and stability through the prohibition of monogamy, privacy, money, family and history itself. But when a savage makes his way into this new world, he threatens to disrupt its seeming harmony.
A sci-fi drama that's stunning to look at, Brave New World is a modern adaptation with a great cast and enough flair to make waves even in the crowded era of Peak TV. Add it to your watchlist immediately.

Parks and Recreation
Year: 2009
Cast: Amy Poehler, Rashida Jones, Nick Offerman, Aubrey Plaza, Aziz Ansari, Chris Pratt
A beloved cult comedy, Parks and Recreation follows the antics of a group of government employees at the Parks Department in an Indiana town. They're led by the energetic Leslie Knope, who fights to get things done even when the odds are not particularly in her favor.
Parks and Recreation overcomes some growing pains in its freshman season and proceeds to evolve into a warm and optimistic series powered by a fantastic ensemble cast. It makes for the ultimate comfort binge.

30 Rock
Year: 2006
Cast: Tina Fey, Alec Baldwin, Tracy Morgan, Jane Krakowski
Are you one of those people that believe that Tina Fey can do no wrong? Join the club! Case in point: this hilarious series revolving around Liz Lemon, the head writer of a sketch comedy show. She struggles to keep the show going as she deals with an arrogant new boss and a crazy new star. Add some personal problems into the mix and you've got yourself a winner.
The jokes are sharp, the acting top-notch, the pop culture satire delicious. 30 Rock remains a clever and wacky comedy. If you haven't seen it yet, there's no time like the present to catch up.

Law & Order: Special Victims Unit
Year: 1999
Cast: Mariska Hargitay, Christopher Meloni, Ice-T, Dann Florek
At this point in time, Law and Order: SVU is a TV staple that needs little introduction, but we'll attempt one anyway. The series centres on Olivia Benson, who is part of a specially trained squad of detectives in the N.Y.P.D. that investigate sexually related crimes.
Hard-hitting and emotional, the series shows no signs of slowing down after more than 20 seasons. Law and Order: SVU continues to tackle subjects ripped from the headlines, while also allowing us to see what's going on in the personal lives of these hard-working detectives. All in all, it's TV's longest-running primetime drama for a reason.

Yellowstone
Year: 2018
Cast: Kevin Costner, Luke Grimes, Kelly Reilly, Wes Bentley, Cole Hauser, Kelsey Asbille
Kevin Costner stars in this well-crafted western drama as the patriarch of the Dutton family, who own the largest contiguous ranch in the United States. But as land developers, an Indian reservation and America's first national park all threaten the ranch's future, the family finds itself under constant attack.
With beautiful backdrops and powerful storylines, Yellowstone is like a breath of fresh air for viewers looking to immerse themselves in a new series. Absorbing and addictive, this one will do the trick.

Saturday Night Live
Year: 1975
Cast: Don Pardo, Lenny Pickett, Darrell Hammond
An iconic late-night comedy show, Saturday Night Live features short skits, parodies of television commercials, a live guest band and a new pop-cultural guest host each week.
Whether you're looking to revisit the show's early seasons or catch up with more recent episodes, Peacock has your back. A fertile breeding ground for future stars, this comedy show rarely disappoints.

Parenthood
Year: 2010
Cast: Peter Krause, Lauren Graham, Dax Shepard, Monica Potter, Craig T. Nelson
Meet the multigenerational Braverman family – all loving folks who struggle with work, marriage and the ups and downs of life. As they experience both tragedy and joy over the course of the series, they give the audience plenty to laugh and cry about.
And cry you will, as Parenthood has a special knack for coming across as painfully relatable. An exemplary family drama, the series never shies away from pushing the characters in exciting new directions, to viewers' delight.

House
Year: 2014
Cast: Hugh Laurie, Omar Epps, Robert Sean Leonard, Lisa Edelstein
The show that turned Hugh Laurie into a worldwide star, House centers on a brilliant diagnostician more interested in solving puzzles than holding his patients' hands. His antisocial tendencies make him repeatedly flout hospital rules and clash with fellow doctors, but one thing's for sure – he always gets his diagnosis.
If you like your medical dramas with a healthy dose of sarcasm, House should be right up your alley. Trust us on this. Or don't. After all, everybody lies.

Friday Night Lights
Year: 2006
Cast: Kyle Chandler, Connie Britton, Zach Gilford, Minka Kelly, Aimee Teegarden
Welcome to Dillon, Texas, where winning the state football championship is prized above all else. That's the premise behind Friday Night Lights, a critically-acclaimed yet slightly underrated drama that follows coach Eric Taylor, his family and the players on his team.
Friday Night Lights offers a glimpse into small-town life and the social issues that accompany it, while also delivering heartfelt stories about family, community and football. You'll be hooked from episode one.

Intelligence
Year: 2020
Cast: David Schwimmer, Nick Mohammed, Jane Stanness
A British import, Intelligence revolves around an arrogant NSA agent who joins the UK's Government Communications Headquarters. He then proceeds to enlist the help of a junior computer analyst in a power grab that threatens to disrupt the team's ability to combat cyber-terrorism effectively.
Intelligence is hilarious and well-cast, with David Schwimmer in top form. Stream it when you need a healthy dose of harmless fun in your life.

The Capture
Year: 2019
Cast: Holliday Grainger, Callum Turner, Laura Haddock
The Capture is a revelatory mystery thriller about excessive surveillance, fake news, privacy and other timely subjects. The story follows a British soldier convicted of committing murder in Afghanistan.
His conviction is overturned due to problems with the video evidence, but he soon finds himself in more trouble when a detective is set to get to the bottom of his mysterious past. Did someone say conspiracy? Gripping and perfectly plotted, The Capture will keep you on the edge of your seat.

Downton Abbey
Year: 2010
Cast: Hugh Bonneville, Phyllis Logan, Elizabeth McGovern, Michelle Dockery
Downton Abbey chronicles the lives of the British aristocratic Crawley family and their servants in the early 20th century. It all starts when the Titanic sinks, leaving Robert Crawley in danger of losing the family estate after his heirs die. Enter Matthew, the next heir in line, who resists the aristocratic way of life. The rest, as they say, is history.
A soapy period drama with lavish costumes and delicious romantic intrigue, Downton Abbey excels at witty dialogue. The outstanding cast is a strong selling point as well.

Suits
Year: 2011
Cast: Gabriel Macht, Patrick J. Adams, Meghan Markle, Sarah Rafferty, Gina Torres
A fun legal drama, Suits revolves around Mike Ross, a talented college dropout who is hired as an associate by Harvey Specter, one of New York's top lawyers. Together, the two tackle intriguing cases while struggling to keep Mike's (lack of) qualifications under wraps.
The show is sleek, sexy and smart. If that's not enough, the cast has wonderful chemistry and the dialogue is as sharp as they come. There's little chance you'll get bored while watching this one.

The King of Queens
Year: 1998
Cast: Kevin James, Leah Remini, Jerry Stiller
Doug, a deliveryman, and his wife Carrie, a secretary at a law firm, lead a simple working-class life. That's until Arthur, Carrie's goofy father, moves in with them, leading to all sorts of shenanigans.
A classic sitcom, The King of Queens tackles stories firmly rooted in the everyday world, which makes it an easy and highly enjoyable binge – even if you've already seen it once or twice before.

Battlestar Galactica
Year: 2004
Cast: Edward James Olmos, Mary McDonnell, Jamie Bamber
A beloved sci-fi hit, Battlestar Galactica follows a group of humans aboard a spaceship that are forced to abandon their planet. As a result, they go searching for their true home, Earth, the fabled 13th colony.
The show is a combination of political intrigue and adventure, which gives it an irresistible appeal, especially if you're a genre fan. The unexpected twists will keep you watching until the small hours of the night.

Ray Donovan
Year: 2013
Cast: Liev Schreiber, Eddie Marsan, Dash Mihok, Jon Voight
Ray Donovan is what's popularly known as a fixer. He works as a mediator for a law firm that handles celebrities and wealthy clients. But while he's skilled at dealing with other people's problems, things get more complicated when he tries to keep his own family in check.
Boasting some transfixing performances, Ray Donovan is a stylish drama that grows more compelling with each season. Tune in if you're a fan of dysfunctional families and enjoy rooting for flawed characters that continually manage to surprise.

The Carol Burnett Show
Year: 1967
Cast: Carol Burnett, Vicki Lawrence, Harvey Korman
Watch host Carol Burnett and her team of renowned comedians dazzle with hilarious skits and impeccable comic timing. An iconic variety/sketch comedy series, The Carol Burnett Show ran until 1978.
Even today, you'll still crack up at the wacky antics of Burnett, Tim Conway and company. The show has a timeless appeal due to its abundance of catchy music, great acting and larger-than-life guest stars.

Cheers
---
Year: 1982
Cast: Ted Danson, Rhea Perlman, John Ratzenberger, George Wendt
Cheers is where everybody knows your name. Follow a group of people from different paths of life that all meet at the same bar in Boston and share their various experiences. The watering hole is owned by Sam Malone, a womanizing ex-Boston Red Sox pitcher with endless charm.
Largely regarded as one of the best sitcoms ever made, Cheers will put a smile on your face whether you tune in for nostalgia purposes or check it out for the first time. The cast is the stuff of dreams.

Chicago P.D.
---
Year: 2014
Cast: Jason Beghe, Jesse Lee Soffer, Patrick John Flueger, Marina Squerciati
An absorbing procedural, Chicago P.D. revolves around Detective Sergeant Hank Voight and his elite Intelligence Unit at the Chicago Police Department. Together, they combat atrocious offences and bring criminals to justice, while also dealing with issues of a more personal nature.
A spin-off of Chicago Fire and the second series set in Dick Wolf's Chicago franchise, P.D. has a solid cast and relies on interesting character storylines to keep viewers coming back for more. If you're a fan of crime procedurals, it's definitely worth a stream.

Frasier
Year: 1993
Cast: Kelsey Grammer, Jane Leeves, David Hyde Pierce, Peri Gilpin
This funny Cheers spin-off more than stands on its own, following Dr Frasier Crane as he moves to Seattle to start fresh and work as a radio psychiatrist. While he has no trouble relaying his wit and wisdom to others, Frasier often struggles with his own problems involving his family, friends and co-workers.
Thanks to some excellent writing and a wonderful cast, Frasier stands as a clever and hilarious sitcom even by today's standards. It's like chicken soup for the soul.

Psych
Year: 2006
Cast: James Roday, Dulé Hill, Timothy Omundson, Maggie Lawson
Psych revolves around a novice sleuth with amazing deduction skills who is hired by the police after he cons them into thinking he has psychic powers. With the assistance of his reluctant best friend, he takes on a series of complicated cases – and has plenty of fun in the process.
A light procedural that will make you laugh out loud, Psych features one of the best TV friendships of all time and plenty of mysteries that will keep you guessing. Make sure you don't miss out.

Monk
Year: 2002
Cast: Tony Shalhoub, Jason Gray-Stanford, Ted Levine, Traylor Howard
After the unsolved murder of his wife, detective Adrian Monk develops obsessive-compulsive disorder, which comes with a fear of germs and contamination. His condition costs him his job, but he continues to solve cases with the help of his assistant and former boss.
Another light procedural with a likeable main character, Monk boasts an amazing performance from Tony Shalhoub. It's also family-friendly, so you can watch it with the kids as well, since there's not a lot of violence or gore involved.

Superstore
Year: 2015
Cast: America Ferrera, Ben Feldman, Lauren Ash, Colton Dunn
Ever wondered what goes on behind the scenes at a supersized megastore? Now's your chance to find out. Superstore centers on a group of employees at such a store who endure the day-to-day grind of rabid bargain hunters, riot-causing sales and nap-worthy training sessions.
Engaging and well-cast, this workplace comedy knocks it out of the park thanks to clever jokes and compelling character arcs. You'll be rooting for these oddballs in no time.

Zoey's Extraordinary Playlist
Year: 2020
Cast: Jane Levy, Skylar Astin, Alex Newell, John Clarence Stewart
A touching dramedy, Zoey's Extraordinary Playlist is the kind of series that sneaks up on you, even if musicals aren't really your thing.
After an unusual incident, computer coder Zoey Clarke magically begins to hear people's innermost wants and desires through popular songs. This leads to some awkward, yet heartwarming situations.
The series is always charming, sometimes silly and often incredibly moving. It's the ultimate musical treat.

The Affair
Year: 2014
Cast: Dominic West, Ruth Wilson, Maura Tierney, Joshua Jackson
The Affair is a high-concept show that takes a while to get used to – but once you do, there's a good chance you'll be hooked for the long haul. The series centers on a struggling novelist and a waitress who strike up an extramarital relationship that will forever change the course of their lives.
An exploration of truth and desire, The Affair aims to show us events from multiple perspectives, which makes it particularly intriguing. It's the kind of series that will give you plenty to think about.

Two and a Half Men
Year: 2003
Cast: Jon Cryer, Ashton Kutcher, Angus T. Jones, Charlie Sheen
This popular sitcom centers on a hedonistic jingle writer, whose free-wheeling life comes to an abrupt halt when his brother and 10-year-old nephew move into his beach-front house. Shenanigans ensue, especially as the two brothers have the tendency to clash on a regular basis.
Although some of the jokes haven't aged too well and the behind-the-scenes drama was plentiful, Two and a Half Men still makes for enjoyable viewing. It's especially effective when you're after something mind-numbing that will make you laugh out loud.

Alfred Hitchcock Presents
Year: 1955
Cast: Alfred Hitchcock
Alfred Hitchcock Presents ran from 1955 and 1965 and was essentially a series of short stories often containing elements of horror, comedy and mystery – all coming from one of cinema's most celebrated directors.
Surprising and macabre, these stories vary in subject, but most involve people of different backgrounds committing some sort of crime. If you're a Hitchcock fan, you need to give this a stream ASAP.

Everybody Hates Chris
Year: 2005
Cast: Terry Crews, Tichina Arnold, Tequan Richmond, Imani Hakim
Created by comedian Chris Rock and inspired by his own childhood experiences, Everybody Hates Chris follows a young African-American teen who attempts to survive with his dysfunctional family and his all-white school in the 1980s.
The sitcom benefits from Rock's humorous narration and provides insight into his real life by addressing issues relating to adolescence, race and class.
While a lot of Chris's experiences are played for laughs, the show touches on several important themes, which makes it just as relevant today as it was when it first hit the small screen.

Murder, She Wrote
Year: 1984
Cast: Angela Lansbury, William Windom, Ron Masak
A delightful throwback for mystery enthusiasts, Murder, She Wrote may not be prestige television by today's standards, but it sure is fun.
The series follows professional writer and amateur detective Jessica Fletcher, who uses her intellect and persistence to get to the bottom of every crime she stumbles upon.
Murder, She Wrote makes for an easy and relaxing watch, brimming with lovable characters and exciting whodunits. Even better, it will help you exercise your own sleuthing skills.

New Amsterdam
Year: 2018
Cast: Ryan Eggold, Janet Montgomery, Freema Agyeman, Jocko Sims
An engaging medical drama, New Amsterdam centers on Dr Max Goodwin, the charming new medical director of America's oldest public hospital. Unlike his predecessors, he isn't afraid to tear down bureaucracy in order to provide exceptional care. With the help of a devoted staff, he might just be able to pull it off.
Ryan Eggold is endlessly charming in the main role, leading a talented cast with great chemistry. The medical cases are well-written and there's plenty of personal drama among the doctors to keep viewers coming back for more. As far as medical series go, this one is not to miss.
More guides on Finder