Finder is committed to editorial independence. While we receive compensation when you click links to partners, they do not influence our opinions or reviews. Learn how we make money.
8 best online divorce services of 2020
Find a do-it-yourself divorce preparation platform that fits your unique situation — without hiring a lawyer.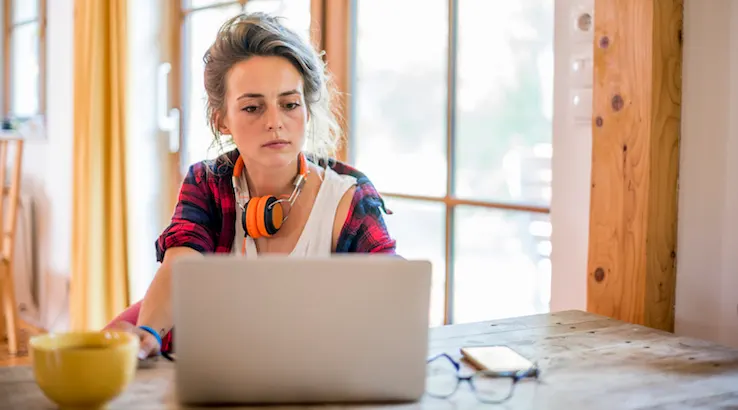 Not all online divorce sites are created equal or deliver on their promises. And your divorce service shouldn't make an already stressful situation harder. When compiling this list, we looked at cost, services available, court approval guarantees, access to legal advice and customer reviews to find the best online divorce services for a variety of situations and priorities.
Best online divorce services
Best overall: LegalZoom
LegalZoom is a veteran in the legal industry, boasting that it's helped over 4 million customers. Its $499 divorce package is state-specific and includes your settlement agreement and a parenting plan that lays out your custody and visitation arrangements.
You'll fill out a questionnaire on its intuitive platform, and a member of the LegalZoom divorce team will review your divorce forms within two business days. Once a staff member OKs your documents, you can print them and file them with the courts.
Pros
Support staff is available seven days a week by phone, live chat or email
100% satisfaction guaranteed — or will provide a refund or credit
Guarantees your documents will be accepted by your local court
Prepaid legal plans to speak to an attorney
25% hourly discount if you hire an attorney from LegalZoom's network of lawyers
Cons
On the more expensive side for online divorce services — and doesn't include court filing fees
Doesn't offer the option to file forms with the courthouse for you
Not available in Tennessee
Costs $20 to have LegalZoom mail your completed forms
Best for parents: 3 Step Divorce
3 Step Divorce populates all the forms that you'll need to file for divorce for a flat fee of $299. You'll answer a series of questions written in everyday, plain language at your own pace and it will generate your legal documents based on your responses.
You'll also get extra perks like a child support worksheet to help estimate payments, plus a custody management tool to manage visitation schedules and keep track of child support payments.
Pros
Print your completed forms immediately or have them mailed to you for free
Monthly installment plan options
Clear step-by-step filing instructions that also inform you about any extra state requirements, such as mandatory parenting classes
100% court approval guarantee or a full refund
Child support worksheet and custody management tool available
Cons
Doesn't offer the option to file forms with the courthouse for you
Requires immediate payment when you sign up
No legal advice or representation available
Best for legal advice: Rocket Lawyer
Rocket Lawyer offers a monthly subscription of $39.99 that includes all legal documents and access to legal advice. Similar to other online divorce providers, you'll answer a series of questions, and the platform will populate the relevant areas of the form to skip the legal jargon. If you use its service for less than three months, it'll still be less expensive than DivorceWriter — the cheapest flat-rate online divorce service.
For nonmembers, you'll pay $39.99 for legal documents à la carte, which doesn't include any legal assistance. But this can quickly add up, since each state requires several different legal documents to be filed — for example, New Jersey has nine forms and New York has over 10.
Pros
Submit legal questions on its website, and a lawyer will respond within one business day
Free 30-minute consultation with an on-call lawyer
Lawyers available to review your legal documents
Save 40% off a Rocket Lawyer attorney's hourly rate or 10% off their flat fee
Find legal forms for any type of divorce — not only uncontested divorces
Download your completed forms instantly
Cons
Doesn't offer the option to file forms with the courthouse for you
No legal representation
No complete divorce package — you'll need to find all the necessary forms you need to file yourself
No step-by-step filing instructions
Subscription-based — you'll need to remember to cancel the membership when you're done
Best for fast turnaround: Wevorce
Wevorce has a network of professionals, including trained facilitators and arbitrators, to help make your divorce as smooth as possible. And since a private judge finalizes your divorce, it helps keep things private. For couples without children, it'll cost about $3,500. But if you have kids, you should expect to pay closer to $6,000.
Its platform offers hundreds of coaching videos, ebooks and asset and debt worksheets. You'll also get a free half-hour consultation with a private judge that can offer some advice on your situation.
In many states, your divorce is complete in as little as 30 days. And if you run into any issues, mediators, arbitrators and support teams are ready to help.
Pros
Free consultation and a seven-day free trial
Finalize your divorce in as soon as 30 days
Skip the court hearing and meet with a certified private judge who'll issue your divorce
Divorce documents prepared and filed for you
Unlimited legal and financial guidance
Trained facilitators and arbitrators available to help you come up with a marital settlement agreement
Cons
One of the most expensive online divorce services that we've found — though it includes court filing fees
More expensive if you have children
Customer reviews complain that communication was less than stellar
Best for divorcing across two states: MyDivorcePapers
MyDivorcePapers is a divorce form preparation service that neatly packages all the forms you'll need to file for divorce for a flat fee of $139. You'll also get assigned a dedicated case manager who will help you every step of the way, including access to their direct email address and phone line.
MyDivorcePapers' website has a comprehensive overview of the divorce laws in each state. And its blog also helps keep you well informed about any changes to your state's laws. But most importantly, its up-to-date state-specific legal forms make it the best option if you're divorcing across state lines.
Pros
Competitive pricing
100% court approval guarantee or a full refund
Dedicated case manager
Documents verified by legal staff
Download your completed forms instantly or have them shipped to you
Cons
Doesn't offer the option to file forms with the courthouse for you
Customers report long hold times to get in touch with customer service
Continued service beyond 30 days costs $24.84 per month
Some users complain that their divorce papers were rejected
Best for low fees: DivorceWriter
DivorceWriter is a do-it-yourself service that helps you prepare your own legal documents for $137, whether or not you have children. It currently stands as the cheapest online divorce option we've seen so far, and it'll refund the difference if you find a better price elsewhere.
With DivorceWriter, you'll answer a few questions in your online interview, print out your forms, sign and file them. It'll give you state-specific instructions on how to file your documents to make everything official.
Pros
Lowest price guaranteed, or it'll refund you the difference
Unlimited revisions for two years
100% court approval guarantee or a full refund
Documents are available for download immediately
Cons
Doesn't offer the option to file forms with the courthouse for you
Not available in Missouri
No legal assistance available
Customer support is only available weekdays from 8 a.m. to 4 p.m. PT by phone or email
Best for simplicity: It's Over Easy
It's Over Easy is a newer company founded by Hollywood's go-to celebrity divorce attorney, Laura Wasser. While it's not the cheapest option on the market, its premium plan helps you handle everything from calculating child support to serving your spouse and filing your forms for you.
Its most basic plan rings in at $750 and includes only the forms you need to file for divorce. You'll have to upgrade to its $950 plan if you want It's Over Easy to serve the divorce papers to your former partner. Or step up to the $2,500 white-glove service to have your documents filed for you and skip the trip to the courthouse.
Pros
Guarantees court will accept paperwork — claims a 95% court approval rate
Free trial that lets you preview divorce papers
Handle settlement agreement negotiations on its platform
Option to serve your spouse and file the forms with the courthouse available in select counties
Cons
Pricier do-it-yourself divorce service
No refunds once you've begun using the service
Can take up to two business days to have documents ready to download
Best for stellar customer service: CompleteCase
CompleteCase helps you skip the lawyers with its innovative patent-pending software for $299. Its legal forms are designed and written by lawyers themselves, and it diligently keeps its documents up to date.
Many users praise its helpful customer service team in reviews on the Better Business Bureau and TrustPilot. Several customers comment that its staff is patient and kind throughout the entire process.
Pros
Court acceptance guaranteed or your money back if you file within 30 days of receiving your forms
Make unlimited minor edits to your legal documents for first 30 days at no cost
Detailed state-specific filing instructions
Responsive and understanding customer service
Download your completed forms within two days
Cons
Doesn't offer the option to file forms with the courthouse for you
No customer support on the weekends
Continued service beyond 30 days costs $24.99 per month
Documents aren't reviewed by a lawyer
Costs $20 to have CompleteCase mail your completed forms
How to choose the best online divorce service for you
Online divorce services are an attractive option in lieu of expensive attorney fees. Here's what to look for when finding the best one for your specific situation:
Your budget. Online divorce services start around $150 and can shoot up to $6,000 or more. To find a service that's in your budget, consider whether it covers filing fees for you — or if that's an extra expense you'll need to factor into your budget.
Serving your spouse. If the anxiety of serving your spouse divorce papers keeps you up at night, you might want to prioritize finding a service that will arrange to serve the papers for you.
Filing your papers. Want to avoid stepping one foot inside a courthouse? Look for a divorce service that can file the paperwork for you.
Court acceptance rate. Courts may reject do-it-yourself legal forms if they aren't up to date or filled out correctly. Read customer reviews to see if other users had a difficult time getting their legal forms accepted by the courts. And opt for a servicer that offers a 100% court acceptance guarantee or your money back.
Access to legal guidance. If you and your spouse have children or a significant amount of assets, you might want to prioritize finding an online service that offers access to lawyers, mediators and arbitrators.
When should I consider hiring a lawyer instead?
In some cases, an online divorce service isn't going to cut it. You might need to hire a lawyer if you have one of the following situations:
Going through a contested divorce. An online divorce service only applies to uncontested divorces. If you and your spouse don't agree, you may need to get lawyers involved.
Have minor children. Child custody is a complicated topic that some online divorce services may not be able to handle — especially if you and your spouse can't agree on custody or child support arrangements.
Have complicated assets or debts. If you own real estate, have retirement plans and have a complex financial situation, you may need an attorney to offer legal advice and accurately divvy everything up.
Need one-on-one support. If you need a dedicated advocate to walk you step by step through the process and answer any questions you have along the way, you might want to hire a lawyer.
Bottom line
An online divorce service can save you money on attorney fees and potentially speed up the divorce process from the comfort of your home. And it can also help you avoid a lengthy, public court hearing.
Learn more about how it all works with our guide to online divorce services.
Compare even more online divorce services