Finder is committed to editorial independence. While we receive compensation when you click links to partners, they do not influence our content.
The best musicals you can stream online
When it comes to feel-good movies, nothing beats a solid musical.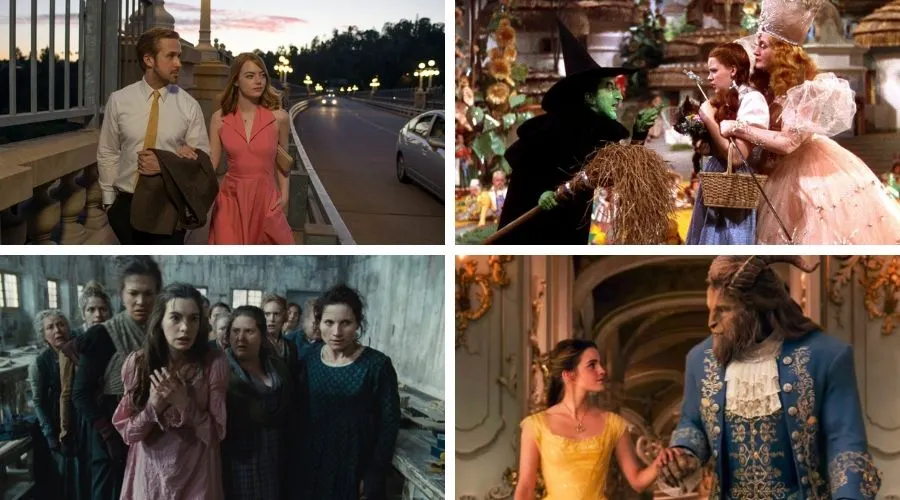 There's something comforting about seeing characters break into song at the most unexpected times. Add in the dance numbers, the fantastical elements and the charming sing-a-longs associated with musicals and it's easy to understand why the genre has such a broad appeal. The best musicals feature songs that become expressions of pure character emotion. As a result, the tunes end up being just as iconic as the movies themselves.
Here are the best musicals available to stream as of January 2020.

1. La La Land (2016)
---
La La Land centers on two dreamers living in Los Angeles, Sebastian and Mia. He is a jazz musician, she is an aspiring actress. Both are struggling to make ends meet. They fall in love and work well together, but life gets in the way. They'll soon find their relationship tested as they start to see their biggest aspirations come true.
Bittersweet, colorful and full of heart, La La Land benefits from two powerhouse performances courtesy of Ryan Gosling and Emma Stone. A modern-day classic, the movie seamlessly goes from joyful to heartbreaking, ensuring that viewers will experience a whole range of emotions as they follow Mia and Sebastian's compelling love story. Memorable songs include City of Stars and Audition (The Fools Who Dream).
You can rent La La Land on Amazon or Youtube.
Cast:
Ryan Gosling as Sebastian
Emma Stone as Mia
Stream it on Amazon Prime

2. Grease (1978)
---
One of the most successful movie musicals of all time, Grease stars John Travolta and Olivia Newton-John as 1950s teens Danny and Sandy. The two fall in love over the summer, but by autumn their relationship is tested as they return to the cliquey world of high school. They split, reconcile, then split again, all amid dances and drag races. Will they end up together? You'll have to tune in to find out.
Look, there's no way around it, Grease is a cheesy flick, boasting silly dance numbers and a predictable plot, as you can probably gather from the synopsis. But it's so joyful and energetic that you can't help but forgive its flaws. Plus, the movie never takes itself too seriously and the visuals are marvelous. If you're down, it will instantly make you feel better. Iconic tunes include Summer Nights and You're the One That I Want.
Stream it on Netflix.
Cast:
John Travolta as Danny
Olivia Newton-John as Sandy
Stockard Channing as Rizzo
Jeff Conaway as Kenickie

3. West Side Story (1961)
---
This romantic musical is one of the best Shakespeare adaptations to ever grace our screens. West Side Story centers on a turf war between rival teenage gangs in Manhattan, focusing on two lovers eager to cross battle lines. It's the modern update on Romeo and Juliet you didn't know you needed, complete with catchy songs and captivating dance numbers.
If you need an extra incentive to tune in, the movie won 10 Academy Awards, including Best Picture. As expected, West Side Story dazzles with a wonderful score, with standouts including I Feel Pretty, America and Something's Coming.
Rent it on Amazon Prime or YouTube.
Cast:
Natalie Wood as Maria
Richard Beymer as Tony
Russ Tamblyn as Riff
Rita Moreno as Anita
Stream it on Amazon Prime

4. The Wizard of Oz (1939)
---
The Wizard of Oz is a classic in every sense of the word, just as enchanting today as it was upon its initial release back in 1939. When a tornado rips through Kansas, Dorothy and her dog Toto end up in Oz, a magical land where they meet a Scarecrow, a Tin Man and a Cowardly Lion. Together, they follow the Yellow Brick Road to meet the Wizard and hopefully, see all their biggest wishes come true.
It's hard to pick only a few tunes to highlight from this one, but we'll go with Somewhere Over the Rainbow and We're Off to See the Wizard.
Rent it on Amazon Prime or YouTube.
Cast:
Judy Garland as Dorothy
Ray Bolger as The Scarecrow
Bert Lahr as The Cowardly Lion
Jack Haley as The Tin Man
Stream it on Amazon Prime
5. Cabaret (1972)
---
"Willkommen! And bienvenue! Welcome! I'm cabaret, au cabaret, to cabaret!" The 1972 musical drama starring Liza Minnelli takes place in Berlin in the '30s. Cabaret singer Sally Bowles meets British academic Brian Roberts and the two develop a fun-loving friendship, but the arrival of a wealthy playboy threatens their stability. The complicated, yet appealing love triangle will play out against the rise of the Nazi Party.
Due to the historical context, Cabaret becomes a silent cry for despair, perfectly capturing the anxiety of the pre-WWII era. The movie excels when it comes to nuanced performances, stylish costumes, brilliant choreography and entertaining tunes. Highlights include Willkommen, Cabaret and Maybe This Time.
Rent it on Amazon Prime or YouTube.
Cast:
Liza Minnelli as Sally
Michael York as Brian
Helmut Griem as Maximilian von Heune
Stream it on Amazon Prime

6. Hairspray (2007)
---
Energetic and highly entertaining, Hairspray is a musical rom-com about Tracy, a dance-loving teen who joins a local TV show and becomes an overnight celebrity. She uses her new status to rally against racial segregation and hopefully, finally win the affections of her crush.
Hairspray is a big-budget and star-studded production, starring Nikki Blonsky, John Travolta, Michelle Pfeiffer, Christopher Walken, Amanda Bynes, Queen Latifah, James Marsden, Zac Efron, Brittany Snow, Elijah Kelley and Allison Janney. The movie is sweet and campy, infecting viewers with joy from the very first scene. You'll be compelled to sing along to tunes like You Can't Stop the Beat and I Can Hear the Bells.
Rent it on Amazon Prime or YouTube.
Cast:
Nikki Blonsky as Tracy Turnblad
John Travolta as Edna Turnblad
Michelle Pfeiffer as Velma Von Tussle
Zac Efron as Link Larkin
Stream it on Amazon Prime

7. Mamma Mia! (2008)
---
Mamma Mia! focuses on Sophie, a young bride who invites three men from her mother's past to her wedding hoping to finally figure out who her father is. Meanwhile, her mother Donna isn't particularly delighted to see her former flames, especially since she hasn't talked to any of them since a memorable summer long ago. Starring Meryl Streep, Amanda Seyfried, Pierce Brosnan, Colin Firth, Stellan Skarsgård, Julie Walters and Christine Baranski.
Mamma Mia! may not be a masterpiece, but it's sweet, fun and inventive. Plus, despite the wacky premise, the movie packs quite the emotional punch, mainly thanks to the great performances by the three possible fathers. As for the soundtrack, it features all of ABBA's biggest hits, from I Have a Dream to Dancing Queen to Money, Money, Money.
Rent it on Amazon Prime or YouTube.
Cast:
Amanda Seyfried as Sophie
Meryl Streep as Donna
Colin Firth as Harry
Pierce Brosnan as Sam
Stream it on Amazon Prime

8. The Rocky Horror Picture Show (1975)
---
A cult favorite, The Rocky Horror Picture Show follows Brad and Janet, two sweethearts who discover an eerie mansion during a storm. They come face to face with their host, a transvestite scientist who claims to be from another planet, as well as with a plethora of fascinating characters, including a creepy butler and a loud biker. Things escalate when the scientist presents his latest creation, with Brad and Janet soon starting to fear for their lives.
Cheerful and fun, The Rocky Horror Picture Show is a celebration of uniqueness. Littered with colorful and charming characters, the movie is daring and mesmerizing, with some raucous musical numbers to keep things as entertaining as possible. If you're not familiar with Time Warp or Sweet Transvestite, you really need to give this one a stream.
The Rocky Horror Picture Show is available to rent on Amazon Prime or YouTube.
Cast:
Tim Curry as Dr. Frank N. Furter
Susan Sarandon as Janet Weiss
Barry Bostwick as Brad Majors
Stream it on Amazon Prime

9. Chicago (2002)
---
Chicago follows nightclub sensation Velma, who murders her husband and gets one of Chicago's best lawyers to defend her. There's one problem, when another woman winds up in prison, the lawyer takes on her case as well, pitting the two against each other in a fight for fame. After all, there's no such thing as bad publicity, especially if it might keep them from the gallows. The movie stars Catherine Zeta-Jones, Richard Gere and Renée Zellweger.
Winner of six Academy Awards, Chicago is pure spectacle, boasting lavish costumes, a serious dose of wit and plenty of humor. As for the musical numbers, who can resist gems like Razzle Dazzle or Funny Honey?
You can rent Chicago on both Amazon Prime Video and YouTube.
Cast:
Catherine Zeta-Jones as Velma Kelly
Renée Zellweger as Roxie Hart
Richard Gere as Billy Flynn
Stream it on Amazon Prime

10. Beauty and the Beast (2017)
---
Emma Watson and Dan Stevens star in this charming live-action remake of the classic Disney love story aiming to prove once and for all that beauty lies within. An arrogant prince is cursed to live as a beast until he finds someone willing to love him despite his terrifying appearance. Enter Belle, a fierce and beautiful girl who Beast takes prisoner. With a little help from Beast's enchanted servants, Belle begins to discover the sensitive soul that lies within her captor and soon finds that she's falling for the fearsome creature.
A faithful, magical retelling, the movie is a pleasure to watch. No one can stay gloomy while singing along to Gaston, Be Our Guest or Beauty and the Beast.
You can stream the flick on Disney+.
Cast:
Emma Watson as Belle
Dan Stevens as Beast
Luke Evans as Gaston
Stream it on Disney+

11. Les Misérables (2012)
---
Taking place in 19th-century France, Les Misérables follows Jean Valjean, an ex-prisoner who has been hunted for decades by a ruthless policeman because he broke parole. When Valjean agrees to care for a factory worker's young daughter, both their lives change forever. It's a tale of unrequited love, broken dreams and survival – one that never gets old.
Victor Hugo's epic tale is beautifully brought to the screen, with the cast including Hugh Jackman, Russell Crowe, Anne Hathaway and Amanda Seyfried. As for the tunes, you might already be familiar with I Dreamed a Dream or Do You Hear the People Sing?
Rent it on Amazon Prime or YouTube.
Cast:
Hugh Jackman as Jean Valjean
Russell Crowe as Javert
Anne Hathaway as Fantine
Stream it on Amazon Prime

12. Sweeney Todd: The Demon Barber of Fleet Street (2007)
---
This 2007 musical stars Johnny Depp as a man who was unjustly sent to prison and vows to get revenge upon his release. He becomes Sweeney Todd, the Demon Barber of Fleet Street, taking various liberties with his razor on unlucky customers. He is helped by Mrs. Lovett, who has a knack for creating diabolical meat pies.
Bloody and unsettling, this Tim Burton movie looks devilishly good, perfectly blending stunning visuals with emotional pathos. It may be an acquired taste, but this musical slasher will stay with you for a long time, especially after you listen to The Worst Pies in London or Johanna.
You can stream Sweeney Todd: the Demon Barber of Fleet Street on Vudu.
Cast:
Johnny Depp as Sweeney Todd
Helena Bonham Carter as Mrs Lovett
Alan Rickman as Judge Turpin

13. Fiddler on the Roof (1971)
---
This classic musical, released in 1971, depicts life among the Jewish community of a pre-revolutionary Russian village. Fiddler on the Roof centers on a father determined to find suitable husbands for his five daughters. To make sure he will be successful, he enlists the help of a traditional matchmaker and also carries on lengthy conversations with God.
Sentimental and romantic, Fiddler on the Roof is a joyous celebration of life, featuring strong performances from the entire cast and some endearing musical numbers. Highlights include Do You Love Me? and If I Were a Rich Man.
Rent it on Amazon Prime or YouTube.
Cast:
Chaim Topol as Tevye
Norma Crane as Golde
Leonard Frey as Motel
Stream it on Amazon Prime

14. Guys and Dolls (1955)
---
This 1955 masterpiece stars Frank Sinatra, Marlon Brando, Jean Simmons and Vivian Blaine. In New York, a gambler is challenged to take a cold female missionary to Havana. However, he ends up falling for her, but will she reciprocate his feelings when she realizes the entire trip was a ploy?
Guys and Dolls is the perfect blend of salty and sweet, ensuring a great time for both musical fanatics and newbies. That's mainly thanks to Brando's endless charisma and Sinatra's flawless voice. As for the songs, you might already be familiar with Luck Be a Lady.
The movie is available to digitally purchase on YouTube and the Google Play Store.
Cast:
Marlon Brando as Sky Masterson
Frank Sinatra as Nathan Detroit
Jean Simmons as Sarah Brown
Vivian Blaine as Miss Adelaide
Bottom line
Musicals will never go out of style, and there are plenty of flicks to watch — and rewatch. You can digitally download your favorites so they're always ready or stream available titles on services like Amazon Prime and Netflix. Compare streaming services to learn more about what your options are.
More guides on Finder