Finder is committed to editorial independence. While we receive compensation when you click links to partners, they do not influence our content.
The 15 best movies available on Hulu April 2021
Sometimes finding a movie to watch takes longer than actually watching it. We're here to fix that.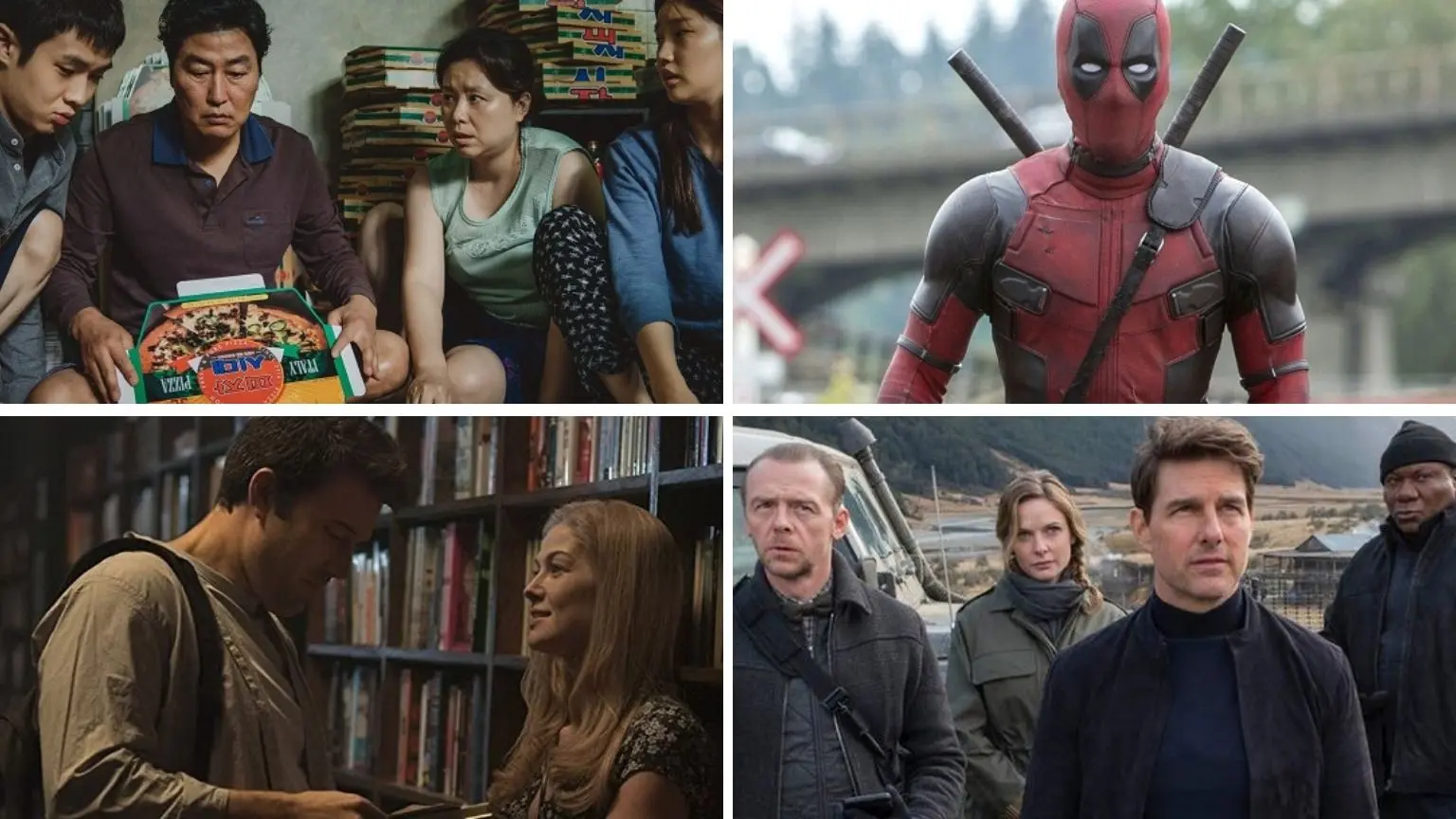 While Hulu is a prime destination for TV enthusiasts, its movie library isn't too shabby either. There are hundreds of titles to choose from across all genres. But with so much content right at your fingertips, it can be difficult to decide what to watch next.
That's where we come in …
After carefully scouring their collection of movies, we've landed on 15 titles that we can almost guarantee will satisfy even the most finicky viewer. Whether you're craving an inventive horror, a fast-paced action flick or a heartfelt drama, you'll find something below to catch your eye.
Oh, and they're all available with a basic subscription, no premium add-ons required. Without further ado, here are 15 of the best movies on Hulu.

Parasite
Year of release: 2019
Cast: Kang-ho Song, Lee Sun-kyun, Yeo-jeong Cho
We're kicking off this list by assuming you've been living under a rock for the past couple years but hey, Parasite deserves all the love it can get.
Winner of Best Picture at the 2020 Oscars, this South Korean black comedy follows a family of four who struggle to escape poverty. They eventually scheme their way into working for a wealthy family, with surprising results.
Parasite is a ravishing movie about class and greed, with top-notch acting and an engaging plot. If for some reason you haven't seen it yet, there's no time like the present to catch up.
Try Hulu free for 30-days
Stream live and on-demand shows without a cable subscription.

Palm Springs
Year of release: 2020
Cast: Andy Samberg, Cristin Milioti, J.K. Simmons
If you're a fan of romantic comedies, you've probably noticed that they often follow the same formula. That's not the case with Palm Springs, a fresh movie about two wedding guests who get stuck in a time loop.
Samberg and Milioti have great chemistry, which makes their banter delicious. There's not a dull moment watching these two grow increasingly fed up with having to live the same day over and over again. Fun!

Run
Year of release: 2020
Cast: Sarah Paulson, Kiera Allen
An intense and clever thriller, Run follows a mother and daughter with a very close bond. So close that Diane has been raising Chloe — who uses a wheelchair — in isolation for all her life, controlling her every move.
Now a teenager, Chloe begins to suspect that her mother might hide some dark secrets, to the point where she fears for her safety. *Spoiler alert: You'll be glued to the screen from the very first scene.

Deadpool
Year of release: 2016
Cast: Ryan Reynolds, Morena Baccarin, Karan Soni
A different kind of origin story, Deadpool is about a former Special Forces operative who, after being experimented on, is left with newfound abilities and … let's just say an unappealing face. As a result, he adopts the alter ego Deadpool and sets out to get revenge on the man who ruined his life.
Extremely violent and with a twisted sense of humor, Deadpool is a hoot. If you're into superhero movies, you can't miss this one. But make sure you have a strong stomach first.
Love, Simon
Year of release: 2018
Cast: Nick Robinson, Jennifer Garner, Josh Duhamel, Katherine Langford
In the mood for a touching and sweet coming-of-age movie? Look no further than Love, Simon, a heartwarming tale about accepting who you really are.
The plot follows Simon, a high school student who hasn't yet told his loved ones that he's gay. When someone threatens to expose his secret, Simon embarks on a life-changing journey that will help him better understand himself — and maybe finally discover the identity of the anonymous classmate he's been chatting with online.

The Princess Bride
Year of release: 1987
Cast: Cary Elwes, Mandy Patinkin, Robin Wright, Chris Sarandon
A beloved cult classic, The Princess Bride is an entertaining fairytale that successfully stands the test of time. The story is about a poor farmhand who, accompanied by friends he makes along the way, has to rescue his true love from an odious prince.
Sharp and charming, the movie has an excellent cast (Mandy Patinkin!) and is fun for viewers of all ages. Stream it when you're having a particularly rough day.

Sorry to Bother You
Year of release: 2018
Cast: LaKeith Stanfield, Tessa Thompson, Jermaine Fowler
Sorry to Bother You centers on a telemarketer who discovers an alluring method to achieve professional success. However, once he gives into his greed, he slowly starts to drift away from his loved ones.
Don't be fooled by the simple premise — this movie is ambitious and wacky, with great performances throughout. It's also the kind of movie you'll want to talk about immediately after the end credits roll, so convince a couple of friends to join your watch party.

Portrait of a Lady on Fire
Year of release: 2019
Cast: Noémie Merlant, Adèle Haenel, Luàna Bajrami
A nuanced and enchanting period piece, Portrait of a Lady on Fire is set in 1700s France and follows a countess who finds herself drawn to the female artist employed to paint her wedding portrait. Luckily, the attraction is mutual.
Portrait of a Lady on Fire is pure art as it simmers with passion, gorgeous scenery and memorable acting. It's the kind of movie we'll still talk about 100 years from now. We strongly recommend you tune in sooner rather than later.

Booksmart
Year of release: 2019
Cast: Kaitlyn Dever, Beanie Feldstein, Jessica Williams, Jason Sudeikis
Booksmart revolves around two best friends who realize they've been missing out during high school. They focused on their studies and didn't really get to experience all the extra-curricular joys of being young and carefree. Consequently, they decide to make up for lost time over the course of a crazy night before graduation.
The movie is raunchy, honest and hysterical. You'll laugh, cringe and cry as you follow the girls' wild adventures. That's always a plus in our book.

Gone Girl
Year of release: 2014
Cast: Ben Affleck, Rosamund Pike, Neil Patrick Harris, Tyler Perry
A brilliant psychological thriller, Gone Girl is directed by David Fincher and based on the popular book of the same name by Gillian Flynn.
After his wife's mysterious disappearance, a man goes from victim to prime suspect in a heartbeat when the media begins to dig deeper into their relationship. Turns out, not everything is always what it seems.
The movie is wild and twisty, with a dazzling performance from Rosamund Pike. Buckle up for a memorable ride.

Mission Impossible: Fallout
Year of release: 2018
Cast: Tom Cruise, Henry Cavill, Ving Rhames, Simon Pegg, Rebecca Ferguson
We don't tend to have very high expectations from the sixth movie in a series. Maybe that's why it's so refreshing that Mission Impossible: Fallout not only meets the high bar raised by its predecessors, it's also arguably the best movie in the franchise.
The plot revolves around Ethan Hunt and his team, who join forces with a CIA assassin to prevent an epic disaster. Friendly advice: Watch it on the biggest screen you have. It's worth it.

The Assistant
Year of release: 2019
Cast: Julia Garner, Matthew Macfadyen, Makenzie Leigh, Kristine Froseth
In The Assistant, Julia Garner plays Jane, a recent college graduate who works as a junior assistant to an entertainment mogul. But as viewers follow her on her daily routine, it becomes clear that abuse affects every aspect of her workday, to the point where she decides to take a stand.
This is a quiet yet important movie — one that you'll be thinking about for a long time. The fact that Garner offers a powerhouse performance doesn't hurt one bit.

If Beale Street Could Talk
Year of release: 2018
Cast: KiKi Layne, Stephan James, Regina King, Teyonah Parris
A wonderful adaptation of James Baldwin's 1974 novel of the same name, If Beale Street Could Talk centers on a young pregnant woman whose lover has been wrongly accused of a crime. With the support of her family, she struggles to clear his name before the baby comes.
The movie is stunning, with marvelous cinematography and an engrossing script. It's also heart-breaking but hey — the best movies usually are.

The Cabin in the Woods
Year of release: 2011
Cast: Kristen Connolly, Chris Hemsworth, Anna Hutchison, Fran Kranz, Jesse Williams
This may look like your average slasher flick but trust us, it's so much more. The Cabin in the Woods kicks off as five college friends head to a remote cabin for a vacation. Once there, they fall victim to all sorts of horrors, not knowing that there is something much bigger at play.
The movie has a solid ensemble cast and a tight script, with inventive twists and unexpected comedy. It will leave you confused and scratching your head, in the best way possible.

Shoplifters
Year of release: 2018
Cast: Lily Franky, Sakura Andô, Kirin Kiki
Shoplifters is all about a dysfunctional family of crooks who live in Tokyo. Once they take in a neglected child, secrets are exposed that threaten to disrupt their below-the-radar existence.
This is a spectacular movie that grows on you with each frame — a story of family and love with a dash of crime mixed in for good measure. If you need a bonus reason to hit Play, Shoplifters won the Palme d'Or at Cannes back in 2018.
More guides on Finder