Finder is committed to editorial independence. While we receive compensation when you click links to partners, they do not influence our content.
Compare the best microwave ovens
Streamline your meal-prep process.
Ah, the humble microwave — an unbeatable kitchen staple for the time-poor, and the lifeline of students everywhere. But how do you go about picking the right one for you?
Based on our own research, as well as customer reviews and ratings, we've compiled a list of the best microwave oven picks to help you find your perfect model.
Best microwave by category
Microwaves come in a range of sizes, colors, prices and capacities to suit different lifestyles. They can also vary from plain and simple models to the more technological types, which come with a number of handy settingwhas. We've explored the best options to suit a variety of needs.
Best all-rounder – Breville the Quick Touch Microwave Oven
Breville is among the most trusted brands when it comes to kitchen appliances. If you're in the market to purchase a microwave, you'll want something reliable that's going to last, which is why we've picked this product as our best all-rounder. The Breville Quick Touch Microwave Oven is easy to use and comes in a range of colors. Grab it in the popping cranberry shade for a splash of color in your culinary corner, or stick with tried-and-true stainless steel.
At a glance:
Average price: $300
Capacity: 1.2 cubic feet
Wattage: 1100
Buy now at Best Buy
---
Best for families – LG 1350W Countertop Microwave
For those cooking and reheating meals for the whole family, the larger the capacity size of the microwave, the better. This model is rated highly by customers online. Featuring an antibacterial coating to make cleaning simple as well as a stable turntable to prevent items from spilling, this is a top family friendly pick.
At a glance:
Average price: $240
Capacity: 2 cubic feet
Wattage: 1200
Buy now at Best Buy
---
Best on a budget – Insignia 0.7 Cu. Ft. Compact Microwave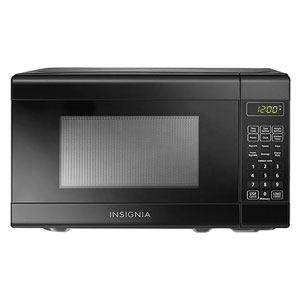 Microwaves don't have to cost a fortune, and for those who just want a simple appliance, there's no need to break the bank. Featuring a 0.97-cubic-foot capacity, 900 watts of power, one-touch buttons and a sleek, stainless steel design, this model caters to all your basic needs. For a price tag as low as $59.99, you'll have more cash to update the rest of your kitchen.
At a glance:
Average price: $65
Capacity: 0.7 cubic feet
Wattage: 700
Buy on Amazon
---
Best for small spaces – LG Smart Inverter Microwave
When you're a little short on space in the kitchen, the biggest consideration when buying a microwave is whether or not it will fit. Luckily, smaller microwaves do exist. This model is the perfect little product for your cozy kitchenette.
At a glance:
Average price: $160
Capacity: 0.9 cubic feet
Wattage: 1040
Buy at Target
---
Best countertop – Panasonic Stainless Steel Microwave
Countertop models are the most common microwave choice. They're usually on the cheaper side and are incredibly simple to install. This model comes highly recommended and boasts a stylish aesthetic with increased cooking space. The unit has an innovative flatbed design, foregoing the usual turntable to give you up to 31% more cooking space. As an added bonus, the flatbed design is much easier to clean, which is why it's currently one of the most popular designs on the market.
At a glance:
Average price: $180
Capacity: 2.2 cubic feet
Wattage: 1250
Buy at Home Depot
---
Best convection microwave – Sharp R1874T Over-the-Range Convection Microwave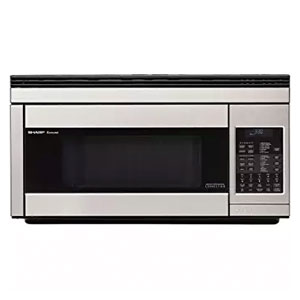 Similar to an oven, a convection microwave not only directly heats the food, but also heats the surrounding space, cooking your food faster. Featuring a built-in exhaust system, hood light and powerful fan, we'd recommend this model for those wanting to branch out from the traditional microwave.
At a glance:
Average price: $560
Capacity: 1.1 cubic feet
Wattage: 850
Buy on Amazon
---
Data obtained January 2020. Prices are subject to change and should be used only as a general guide.
Compare financing options
We pulled together four of the top financing options available from our partners.
What should you look for in a microwave?
Consumers are spoiled for choice when it comes to microwave ovens, so the best buy for you will depend on your individual needs.
Consult this checklist of features before you hit the shops to make sure your purchase is right for you.
Power. Microwave power is measured in watts. Most microwaves range from about 700 to 1,200 watts. Generally speaking, the higher the wattage, the more evenly your food will cook.
Size. This one comes down to your kitchen and your cooking needs. Traditional microwaves sit on top of your counter, but if your kitchen is lacking in extra space you might want to look for a smaller model or one that fits over your range.
Capacity. A microwave's internal capacity is measured in cubic feet and usually ranges from 1.4 to 1.8. But there are smaller and larger models to suit your cooking style.
Convection cooking and grilling — combination microwaves. Some microwaves combine a fan oven and grill with microwave power. These can be useful for people low on space and time who want one great appliance for all their cooking. However, these are larger and more expensive than your run-of-the-mill microwave.
Preset programs. Look for a microwave that has a number of preset programs to take the guesswork out of cooking and reheating your favorite foods.
Automatic cooking and defrosting. Automatic modes let you enter the food weight and allow the microwave to work out how long is needed to cook or defrost the food safely.
Child lock. This safety option is a no-brainer if you have small children at home.
Sensor cooking. Higher-end microwaves have a sensor that automatically measures heat and humidity inside the oven. This will automatically adjust the heat level depending on the information like food type and weight you entered to cook the food perfectly.
Inverter technology. Traditional microwaves use short bursts of power to cook food. Inverter technology uses a consistent power level to cook food more evenly, which improves texture and flavor.
Chaos defrost. This feature uses random bursts of high-intensity energy to speed up defrosting.
Removable racks. Removable racks allow you to cook different meals or snacks all at once. Convection microwaves and larger models may come with them.
Oven lining. When you shop for a microwave oven, check out the lining. Traditional microwave ovens have smooth, shiny insides that can be safely and easily wiped clean with a damp cloth. Combination ovens should be lined with catalytic or pyrolytic liners. These liners are excellent at absorbing grease and just need to be run through a self-cleaning program about once a month.
---
Where to buy microwaves
Bottom line
Microwave ovens are a kitchen staple in households across the globe. Find the best fit for you and your family by comparing some of the top models against your must-have features and cooking needs.
How did we choose these products?
To choose our list of the best microwaves, we conducted online research to determine some of the most popular models currently available. We also factored in the type, size, price and overall features.
Frequently asked questions
Image: Shutterstock
More guides on Finder