Finder is committed to editorial independence. While we receive compensation when you click links to partners, they do not influence our content.
15 medical dramas you won't get sick of
Side effects of watching include never wanting to leave your couch.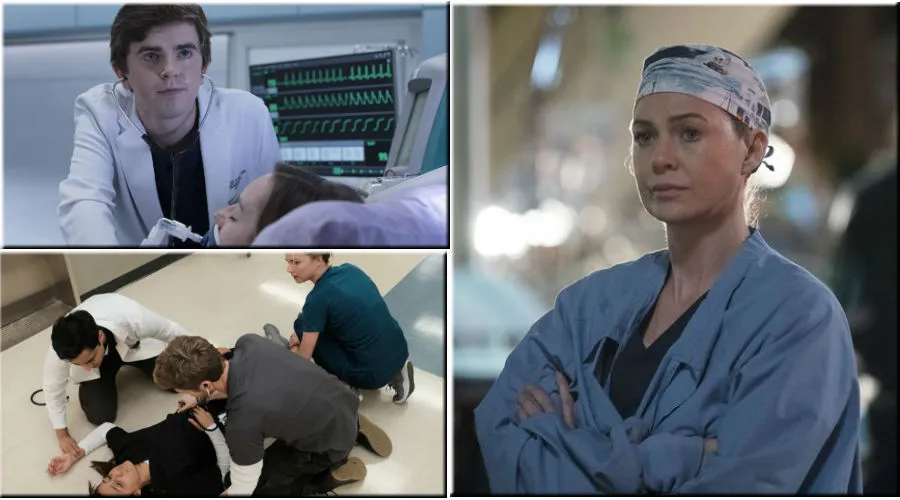 In this world nothing can be said to be certain except death, taxes and the fact that medical dramas will never go out of style. If you can't help getting another dose of your irresistible drama with a side of blood, guts and crying relatives, we're ready to prescribe you more.
1. Grey's Anatomy
---
At this point, Grey's Anatomy is a veteran as far as medical dramas are concerned. The series revolves around a bunch of doctors and has tackled everything from affairs to ghost sex to love triangles to catastrophes, yet still somehow manages to feel fresh 15 seasons in.
If you need a refresher, it centers on Meredith Grey, who starts as an intern at a Seattle hospital and slowly works her way to becoming an overall amazing professional/human, while surrounded by an ever-changing cast of diverse and engaging colleagues, each carrying around their own emotional baggage. It's a fascinating series, especially when the creators manage to tell important stories about domestic violence, transgender rights and health care for women of color. If you're looking for a serious binge, better start with this one.
You can catch up on Netflix and watch the newest episodes on Hulu.
2. The Good Doctor
---
The Good Doctor follows Shaun Murphy, a brilliant young surgeon who is also autistic. His mentor arranges for him to get a job at a prestigious hospital, which comes with all sorts of new challenges for Shaun. However, despite the fact that he finds it hard to connect with other humans, his abilities help him save lives and he quickly becomes part of the team.
The Good Doctor is a hit thanks to intelligent storylines, enough emotion to keep viewers engaged and a topnotch performance from Freddie Highmore in the lead role. Not to mention the fact that the show does a great job of explaining how autistic people may not process the world the same way as neurotypical individuals.
Watch all the episodes on Hulu.
3. ER
---
Before we had Grey's Anatomy, there was ER, a show with a similar premise but a different setting. This time, all the action takes place in the emergency room, as doctors deal with crisis after crisis and have to make difficult decisions on a regular basis. A landmark medical drama, ER is timeless and when it became available to stream on Hulu in the US earlier this year, it caused a lot of excitement.
It's easy to figure out why: besides intriguing storylines and captivating characters, the series also broke new ground in production design and direction. It felt more like you were watching a movie than a TV show. That's expected for television nowadays, but back in the 90s it was a huge deal. Oh, it also has George Clooney in it.
If you're ready to tune in, you can stream it on Hulu.
4. Chicago Med
---
There's no shortage of Chicago shows out there, that's what makes Dick Wolfe's Chicago a franchise. Med is the third installment in the franchise, after Fire and PD. It follows the doctors and nurses working at the emergency department of a Chicago hospital.
Despite not bringing anything particularly new to the table for the medical genre, the series is compulsively watchable, perfectly balancing human drama with interesting medical cases. Also, you don't need to watch the other shows in the franchise to understand what's going on. There are crossover episodes, but you'll get the gist without being caught up on what the firemen and policemen are up to.
You can catch up on the latest season on Hulu or start from the beginning and buy episodes from digital retailers like Amazon and Google Play.
5. House MD
---
Dr. House is the type of TV character you either love or hate. Brilliantly portrayed by Hugh Laurie, he is brutally honest, ridiculously smart and incredibly antisocial, which makes the show so compelling to watch. House MD revolves around the brilliant doctor as he solves medical puzzles with the help of his usually baffled employees. House has no sort of bedside manner, but gets away with it because he's able to diagnose patients that others can't. As a result, his supervisors and underlings tolerate his wild ways.
House MD was a successful and highly influential medical drama during its original run, proving that doctors don't have to be these saint-like figures to be appreciated by viewers. All they need is a whole lot of depth.
You can stream all eight seasons of House MD on Amazon Prime Video.
6. Private Practice
---
A Grey's Anatomy spin-off, Private Practice follows Dr. Addison Montgomery as she relocates to LA and joins a trendy clinic run by some of her friends. Here, she works alongside a fertility doctor, a pediatrician and a psychologist, as well as alternative-medicine specialists.
While the series is more about the drama surrounding the doctors than the medicine itself, it provides some fun insights into alternative treatments and gives Addison room to grow as a character after escaping a toxic love triangle. Plus, the talented cast often compensates for the overly wacky storylines and the show doesn't shy away from tackling important subjects like rape, mental health and motherhood.
Private Practice is available to stream on Hulu.
7. The Resident
---
A more recent addition to the roster of quality medical dramas, The Resident centers on an idealistic young doctor who starts working at a hospital under the tutelage of a more pragmatic mentor, who believes it's important to shatter the romantic illusions of the first-year residents to help them survive on the job.
It's a fun series for viewers disenchanted with medical care, as it focuses on the behind-the-scenes politics going on at a major hospital. There's plenty of witty dialogue to keep you entertained and the fact that it raises questions about the code of ethics doctors are expected to follow provides a refreshing approach to the medical genre.
You can catch up and stream the latest episodes on Hulu.
8. Code Black
---
Code Black follows the staff members from a busy emergency room as they deal with a staggering influx of patients. They race to save lives under a lot of pressure, since the number of patients they have is often too overwhelming for their limited resources.
That makes for riveting medical television, as the show puts more emphasis on the cases than the personal lives of the doctors. Don't worry, though, there's plenty of drama to go around. It's the ideal show for those who religiously watched ER back when it was on the air and feel like Grey's Anatomy features too much melodrama.
Code Black is available to purchase from digital retailers and from Google Play and Amazon.
9. The Knick
---
Interested in the history of healthcare? You're in luck. The Knick takes place in the early 1900s, following a doctor who pushes the boundaries of medicine and pioneers important procedures, despite battling a painful past and severe cocaine addiction.
The doctors in The Knick struggle to provide quality care for their patients in a hospital where keeping the doors opened for new cases is a struggle, which adds another level of drama to the proceedings. Thanks to stunning visuals and great performances, this period medical drama is both addictive and historically interesting.
You can purchase episodes on Amazon Prime and Google Play.
10. The Mob Doctor
---
A completely different breed of medical drama, The Mob Doctor centers on a surgeon who puts her future on the line in order to help a family member. She agrees to work for the mob to pay off her brother's debts and has to learn how to juggle the demands of her day job with her extracurricular activities.
This is not prestige television, but it's the perfect series for viewers who like medical shows and appreciate a new spin on the genre. A clumsy combination of gangster shenanigans and medical drama, The Mob Doctor never fails to entertain, mainly thanks to the absurd situations the main character is put in. You might not be moved to tears, but you'll definitely be dazzled by the doctor's swagger.
The series is available to stream on Vudu.
11. Emily Owens MD
---
A short-lived, yet charming series, Emily Owens MD follows a surgical intern who finds out that the hospital social hierarchy is as cliquey as high school. She has to work alongside her med school crush and her high school nemesis, which doesn't make things easy for Emily. While she might never become one of the cool kids, she certainly has the skill to grow into a great doctor.
Mamie Gummer is endlessly appealing in the title role and the show, at only 13 episodes, is like a breath of fresh air, great for when you need a break from the more dramatic entries on our list. Buy it from iTunes.
12. A Young Doctor's Notebook
---
Similarly to The Knick, A Young Doctor's Notebook takes a period approach to medicine. This time, we follow a young physician in a small village at the dawn of the Russian Revolution. The twist? The show features humorous conversations between the older version of the doctor, portrayed by Jon Hamm, as he mocks his younger self, played by Daniel Radcliffe.
A dark comedy based on short stories by Mikhail Bulgakov, this limited series gets the balance between tragedy and comedy right, featuring just enough gore to make you dizzy.
Stream it on Netflix and enjoy the demented storytelling, as well as the amazing performances from the two leads.
13. Saving Hope
---
A common complaint among people who don't watch medical dramas is that they're too cheesy. That's not always the case — except for when it is. Saving Hope follows chief of surgery Charlie Harris, who ends up in a coma. He leaves his body and starts to wander around the hospital in spirit form, while his fiancée and the other doctors in the facility go about their lives, dealing with difficult medical decisions on a regular basis.
It's a wacky premise, sure, and the show isn't afraid to veer into cheesy territory. However, the characters are so appealing that you'll quickly forget about the weirdness and just enjoy the ride. All in all, the series is pure comfort.
You can stream it on Hulu.
14. Nurse Jackie
---
For some reason, Nurse Jackie is classified as a comedy, despite the serious issues it tackles, often with a lot of tact and grace. The show centers on an emergency room nurse who cares for her patients deeply, but also struggles with pill addiction on the side, a problem that affects all the areas of her life.
While the series does boast some comedic undertones, it's more dramatic than one might expect, with Jackie's slow descent into addiction as compelling as it is horrifying. Edie Falco gives a brilliant performance in the lead role, with a talented supporting cast backing her up along the way.
Nurse Jackie is available to stream on Netflix.
15. The Night Shift
---
The Night Shift follows a group of emergency room doctors as they struggle to get things done during the odd night hours at a financially struggling hospital. The hospital is surrounded by military bases, so several of its employees are veterans, led by bad boy TC Callahan, a brilliant doctor who doesn't care much for rules.
At its core, this is a pretty formulaic medical drama, but it wins bonus points for its fast pace and engaging characters. We wouldn't recommend the series if you're new to the genre. But if you've already binged the giants, it's a fun show to relax with.
You can stream The Night Shift on Netflix.
Bottom line
If you're looking to binge as many medical dramas as possible, signing up for a streaming subscription service like Netflix or Hulu can help make sure you don't break the bank. Compare streaming services to find out which one is the right pick for you.
More guides on Finder