Finder is committed to editorial independence. While we receive compensation when you click links to partners, they do not influence our content.
Best hiking backpacks
Don't let an ill-fitting pack put a damper on your adventure.
Having the right backpack for the job can be the difference between a so-so hike and an action-packed adventure. Keep your hiking style and budget in mind when choosing the best pack for you.
Compare the best hiking backpacks
| Backpack | Best for | Brand | Estimated price | Where to buy |
| --- | --- | --- | --- | --- |
| Atmos AG 65 | Overall features | Osprey | $270 | Amazon |
| Crown 2 | Lightweight | Granite Gear | $200 | Amazon |
| Deluxe Hiking Pack | Affordability | Everest | $60 | AmazonWalmart |
| Baltoro | Overnight | Gregory Mountain | $330 | Amazon |
| Creek 35 | Waterproof | Black Diamond | $170 | Amazon |
Best carry-on luggage
Best hiking backpacks
Osprey Atmos AG 65
This bag is among the top-rated hiking backpacks across the board, thanks to its "antigravity" suspension system and unmatched comfort and ventilation. It's also equipped with a dual-zippered hipbelt and top-lid pockets, and comes in three rugged colors.
Specifications:
Material: Nylon
Weight: 4 lbs, 9 oz
Capacity: 50 L, 65 L
Price: $270
---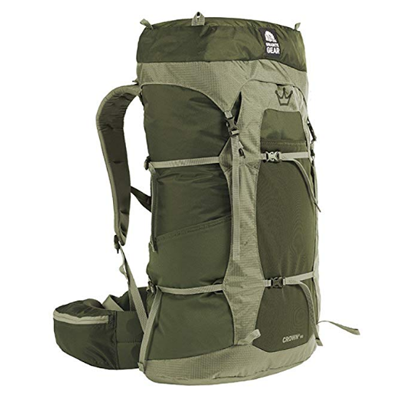 Best lightweight hiking backpack
Granite Gear Crown 2
This model is an improved version of the much-loved Granite Gear Crown VC. Not only is it super lightweight, weighing a little more than 2 pounds, but it's also extremely durable and can comfortably haul as much as 35 pounds. For shorter hikes, remove its frame sheet to further lighten your load.
Specifications:
Material: Nylon
Weight: 2 lbs, 2 oz
Capacity: 60 L
Price: $200
---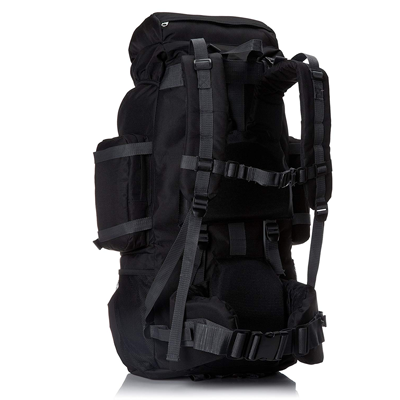 Best affordable hiking backpack
Everest Deluxe Hiking Pack
If you're looking for the biggest bang for your buck, this pack is worth a look. Although it's heavier than more expensive options, it's a durable bag with multiple pockets for extra storage and padded straps for maximum comfort.
---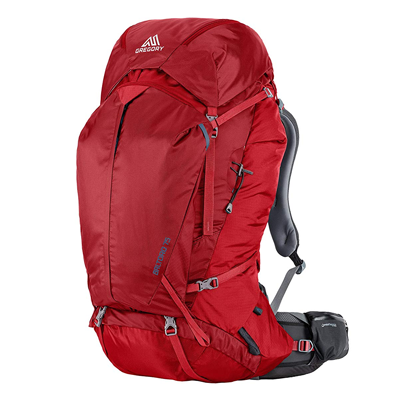 Best overnight hiking backpack
Gregory Mountain Baltoro
When planning an overnight or multiday hike, you'll want enough space to store the essentials without making your bag too strenuous to carry. The Baltoro maximizes its capacity without weighing much more than smaller packs. And with strong suspensions, expert padding and improved ventilation, it's ideal for hauling long distances.
Specifications:
Material: Nylon
Weight: 5 lbs
Capacity: 65 L, 75 L, 85 L, 95 L
Price: $330
---
Best waterproof hiking backpack
Black Diamond Creek 35
Waterproof hiking packs are harder to come by than you might think. But if you plan to fish, kayak, canoe or wade through water during your travels, a waterproof bag can be a huge bonus. This model is lightweight and comes with a stowable rain hood that doubles as a helmet holder.
Specifications:
Material: Polyester with TPU coating
Weight: 3 lbs, 10 oz
Capacity: 35 L, 50 L
Price: $170
How is a backpack's capacity measured?
Model names and details most commonly reference a backpack's capacity in liters, rather than cubic inches. The reason lies with ease: 60 liters is far less cumbersome to advertise than 3,661.42 cubic inches.
Note that capacity measurements typically don't include bottle holders, expansion flaps or other open compartments that might be a part of your pack
What are the advantages of a using a hiking backpack?
You'll find many styles and types of backpacks out there, but you'll want to buy one that best suits your needs. If you're a regular day hiker or hike overnight or across many days, a regular school bookbag isn't going to cut it.
Packs designed specifically for hiking come with a number of advantages over other styles:
Designed for comfort when traveling long distances.
Larger capacity than your everyday backpack.
Distributes the weight of your load more evenly, allowing you to stay active while wearing them.
Features several zippered pockets to maximize storage and organization.
Water-resistant or waterproof.
How do I measure my torso for a hiking backpack?
An accurate torso measurement is crucial when choosing a backpack that fits properly. To measure your torso, follow five easy steps:
Grab a friend to help you measure.
Stand up straight, and find the bony bump at the back of your neck where your shoulders meet your neck. Called C7, this bump is the start of your torso.
Slide your hands down either side of your ribcage, stopping at the top of your hips. This is called the iliac crest.
Draw an imaginary line between your thumbs. This is where your torso ends.
Ask your friend to measure your torso, starting at C7 and ending at the imaginary line between your thumbs. This is your torso measurement.
Back to top
Where to shop for hiking backpacks
Arlo Skye
Briggs & Riley
Delsey Luggage
Eagle Creek
eBags
Back to top
Bottom line
You'll need the right pack for serious hiking. Look for a hiking backpack that offers appropriate storage space for your needs, yet is lightweight enough to carry comfortably. Compare different models that fit your budget to find the best mix of value and quality.
How did we choose these products?
To choose the best hiking backpacks for each category, we considered overall features, material, weight, capacity and price point. We factored in our own online research and unbiased third-party product reviews.

Frequently asked questions
Back to top
Top luggage deals 2021
Back to top
Image: Shutterstock