Finder is committed to editorial independence. While we receive compensation when you click links to partners, they do not influence our content.
The best fantasy movies to stream in 2021
To spare you the dread of browsing through endless catalogues for your next fix, we've gathered some must-see titles.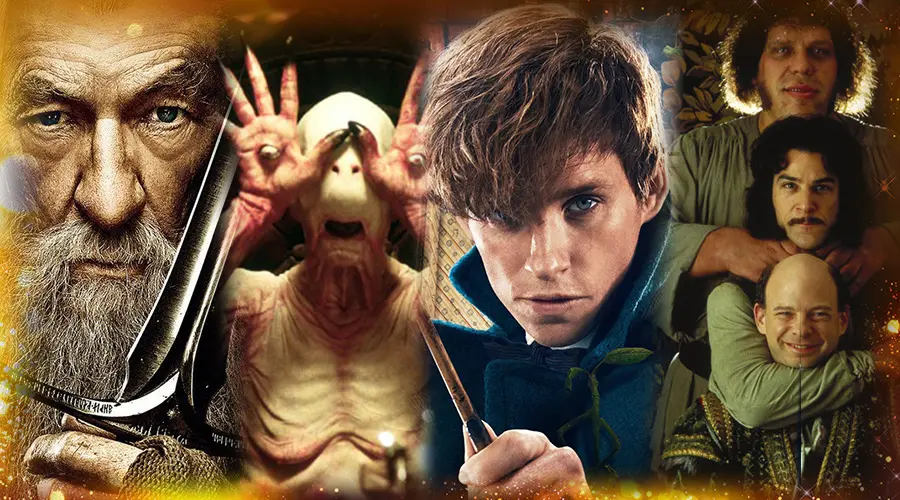 Whether you're looking to escape the modern world or make sense of our bleak reality, fantasy movies provide a great escape. They inspire and provoke us, transport us to magical worlds and give us characters to look up to. In short, they have a unique appeal other genres often struggle to pull off.
With so many movies available, picking the best of the best can be a tough endeavor, but we've rounded up our favorites below.
---

---
Who Framed Roger Rabbit?
This movie has a bold and memorable premise. Combining live action and animation, Who Framed Roger Rabbit? is set in Hollywood during the late 1940s, where animated characters and people co-exist. The story follows Eddie Valiant, a private detective looking to exonerate Roger Rabbit, who is accused of murdering a wealthy businessman.
Who Framed Roger Rabbit? is an innovative and highly enjoyable fantasy movie. It manages to portray a marvelous universe while also telling a touching story. Furthermore, it's incredibly funny and refreshing. If you feel like spending a couple of hours with the looniest cartoon characters, a trip to Toontown is just what the doctor prescribed.
Stream it on Disney+.
Cast:
Bob Hoskins as Eddie Valiant
Christopher Lloyd as Judge Doom
Charles Fleischer as Roger Rabbit
Kathleen Turner as Jessica Rabbit
Stream it on Disney+
---

---
Being John Malkovich
A cult-favorite comedy, Being John Malkovich is a wild and surreal ride. A puppeteer discovers a portal that leads literally into the head of movie star John Malkovich. Would you pay money to journey into his mind?
As bizarre as the description sounds, rest assured — this movie is witty, dark and incredibly smart. Not to mention the fact that it has a solid cast, including John Cusack, Cameron Diaz, Catherine Keener and, of course, John Malkovich. Directed by Spike Jonze, Being John Malkovich stands out for being so inventive and entertaining that seeing it one time won't be enough. You'll likely want to play it over and over again.
Rent it on Amazon Prime or YouTube TV.
Cast:
John Malkovich as John Horatio Malkovich
Cameron Diaz as Lotte Schwartz
John Cusack as Craig Schwartz
Catherine Keener as Maxine Lund
Stream it on Amazon Prime
---

---
Jumanji
Although its stand-alone sequel, released in 2017, was well-received, the original installment of the franchise is still worthy of your attention. The story of Jumanji centers on young Alan, who becomes trapped in a board game. Twenty-six years later, two siblings find the game, start playing and unwittingly release the now-adult Alan. To reverse all of the destruction the game has caused, they then resolve to finish it.
Back in 1995, the movie was one of the best childhood flicks of its time, treating viewers to an exciting adventure. That's still the case today. Jumanji has heart, thrills and humor. And while its special effects may seem dated to the younger generation, it remains the same epic spectacle it was when it first premiered. We're sure it will forever hold a special place in viewers' hearts.
Rent it on Amazon Prime.
Cast:
Robin Williams as Alan Parish
Bonnie Hunt as Sarah Whittle
Kirsten Dunst Judy Shepherd
Bradley Pierce as Peter Shepherd
Stream it on Amazon Prime
---
Logan
One of the best superhero films in recent years, and probably of all time, Logan follows an aged Wolverine and an extremely ill Professor X defending a young mutant. While there's no shortage of action scenes, the movie also manages to be extremely thoughtful and compelling. Logan doesn't play by traditional superhero movie rules, which makes it transcend the comic-book genre.
When it's not gripping, Logan is trying to make you cry. And depending on how strong-willed you are, it will probably succeed. It doesn't hurt that Hugh Jackman delivers a strong, nuanced performance. Overall, the movie is a well-deserved swan song, bidding Jackman a memorable farewell as he exits the X-Men series.
Rent it on Amazon Prime or YouTube TV.
Cast:
Hugh Jackman as Logan / Wolverine
Dafne Keen as Laura / X-23
Patrick Stewart as Charles Xavier / Professor X
Boyd Holbrook as Donald Pierce
Stream it on Amazon Prime
---

---
Mary Poppins
If you're not one to enjoy musical-fantasy movies, you probably haven't watched the right one yet. It's time to remedy that with Mary Poppins, the 1964 classic that will dazzle you with its special effects and catchy tunes. The movie combines live action and animation in telling the story of Mary Poppins, who visits a dysfunctional family in London and employs her unique brand of lifestyle to improve the family's dynamic.
Mary Poppins marks Julie Andrews's first appearance on the screen, delivering an irresistible performance. The movie is light and funny, with luxuriant sets and a charming, magical story. In other words, fantasy fun for the entire family.
Watch it on Disney+.
Cast:
Julia Andrews as Mary Poppins
Dick Van Dyke as Bert
Matthew Garber as Michael Banks
Karen Dotrice as Jane Banks
Stream it on Disney+
---

---
Groundhog Day
This 1993 movie may be 25 years old, but it feels timeless, mainly due to the numerous existential questions it raises. Are we simultaneously existing in infinite forms all at once? What should one live for? Are there certain things we can't change no matter what? Do any of our lives matter? Uh-oh, better not open that door just yet. Did we mention this is a comedy?
Groundhog Day stars Bill Murray as an arrogant weatherman who finds himself trapped in a time loop. In other words, he's repeating the same day over and over again. He does what anyone would do in such a situation — indulges in hedonism. Commits suicide. Eventually starts to re-examine his life and priorities. It's a movie that will make you think, laugh and sigh. Perfect after a long week at the office.
Stream it on Hulu.
Cast:
Bill Murray as Phil Connors
Harold Ramis as Neurologist
Andie MacDowell as Rita Hanson
Michael Shannon as Fred the groom
Stream it on Hulu
---

---
Inception
Since its release, Inception has become somewhat of a modern classic. Directed by Christopher Nolan, the movie stars Leonardo DiCaprio as a professional thief who steals information from people by infiltrating their subconscious. But when he is offered a chance to have his criminal history erased, he has to do the impossible: implant another person's idea into a target's mind.
Ambitious and complex, Inception will have you hooked from the first scene. Thanks to a great performance by DiCaprio and a gripping plot, Inception tests the boundaries of the fantasy genre. It disguises itself as a trippy thriller but evolves into a brain-teaser of a flick that will make you question everything. The special effects are not too shabby either.
Stream it on Netflix.
Cast:
Leonardo DiCaprio as Dom Cobb
Tom Hardy as Eames
Ellen Page as Ariadne
Cillian Murphy as Robert Michael Fischer

---
Big Fish
Tim Burton eats fantasy for breakfast, so there's no wonder Big Fish made it onto this list. It's a beautiful film, both visually and emotionally. After he's been away for a long time, Will comes back home to be at his dying father's bedside. Here, he's forced to listen to his dad's tall tales and sets out to discover how much of what his father's telling him is fact and how much is fiction.
While the fantasy elements are certainly appealing, Big Fish stands out due to its emotional pull. The movie is a compelling look at the relationships between fathers and sons, while also exploring how a child can come to terms with a parent's mortality. Grade-A filmmaking right here.
Stream it on Hulu.
Cast:
Ewan McGregor as young Edward Bloom
Destiny Cyrus as 8-year-old Ruthie
Helena Bonham Carter as Jenny Hill
Albert Finney as Edward Bloom
Stream it on Hulu
---
---
Pan's Labyrinth
This haunting fantasy-drama directed by Guillermo del Toro is set in the aftermath of the Spanish Civil War. We follow Ofelia, a young girl, as she enters a mythical world centered on an overgrown abandoned labyrinth and a mysterious faun creature called Pan. Pan convinces Ofelia that she is a lost princess and that in order to return to her home she must complete a trio of life-threatening tasks. From there, she interacts with all sorts of magical creatures who lead her through the trials of the labyrinth.
Pan's Labyrinth is basically a fairy tale for adults. It's dark, terrifying, violent and gorgeous. The movie flawlessly blends fantasy and drama, delivering a magical flick you won't forget for years to come.
Stream it on Netflix.
Cast:
Ivana Baquero as Ofelia / Princess Moanna
Doug Jones as Faun and the Pale Man
Sergi Lopez as Captain Vidal
Maribel Verdú as Mercedes
---

---
Fantastic Beasts and Where to Find Them
In Fantastic Beasts and Where to Find Them we follow British wizard and "magizoologist" Newt Scamander as he adventures on the streets of 1926 New York in search of some missing magical creatures. His first, small quest leads to a larger one. Soon, you'll be so mesmerized that you won't be able to pause the stream — not even for a Butterbeer.
The first movie in the Fantastic Beasts franchise promises a charming and endearing journey in the wizarding world. And it delivers. It doesn't hurt that Scamander makes friends with a no-maj, aka a muggle, to hilarious results. Not to mention the fact that the magical creatures in this movie are as fantastic as they come. Last but not least, the movie considerably expands the wizarding world, while also working great as a standalone. You'll be in for a magical treat.
Rent it on Amazon Prime or YouTube TV.
Cast:
Eddie Redmayne as Newt Scamander
Katherine Waterston as Tina Goldstein
Johnny Depp as Gellert Grindelwald
Ezra Miller as Credence Barebone
Stream it on Amazon Prime
---

---
District 9
Combining fantastic action with thoughtful storytelling, District 9 is emotionally wrenching. The premise is simple enough: an extraterrestrial race forced to live in slum-like conditions on earth suddenly finds a kindred spirit in a government agent who is exposed to their biotechnology. And yet, District 9 excels when it comes to the details. The aliens like cat food. There are several visual gags in the background that will make you chuckle. You get the point.
The movie grabs you by the eyeballs from the very first frame, despite its low budget — at least by today's industry standards. It's a gory fantasy thriller with a great message and well worthy of your bandwidth.
Stream it on Netflix.
Cast:
Sharlto Copley as Wikus van de Merwe
Jason Cope as Christopher Johnson
Nathalie Boltt as Sarah Livingstone
Vanessa Haywood as Tania Smit-van de Merwe
---

---
The Princess Bride
Few movies are as embedded in pop culture as this one. While The Princess Bride didn't break any box office records upon its release back in 1987, in the years since it became a cult classic and one of the most quotable flicks of all time. Not only that, but it did wonders for fantasy, reviving the genre during a time when it was in decline. It proved that fantasy can be enjoyed by children and adults alike, thanks to its universal themes and delicious humor.
The movie follows a farmhand named Westley who must rescue his true love, Princess Buttercup, from the odious Prince Humperdinck. While it's basically a damsel-in-distress storyline, it transcends expectations by being both enchanting and witty. What's that, you haven't seen it yet? Inconceivable!
Stream it on Philo.
Cast:
Cary Elwes as Westley/Dread Pirate Roberts/The Man in Black
Robin Wright as Buttercup/The Princess Bride
Mandy Patinkin as Inigo Montoya
Wallace Shawn as Vizzini
---

---
E.T. the Extra-Terrestrial
When it comes to E.T., you're likely already familiar with the plot. Directed by Steven Spielberg, the movie tells the story of Elliott, a lonely boy who befriends an extraterrestrial, E.T., stranded on earth. Elliott and his siblings help E.T. return to his home planet, while also attempting to keep him hidden from their mother and the government.
Captivating and magical, the movie will put you under a spell. It alternates between being sweet and sarcastic, while also providing a beautiful portrayal of friendship and childhood. Moreover, despite similar acclaimed movies that didn't stand the test of time, E.T. holds up beautifully, even all these years later. It's Spielberg at his best.
Stream it on Hulu with the Starz add-on.
Cast:
Drew Blythe Barrymore as Gertie
Henry Thomas as Elliott
Dee Wallace as Mary
Robert MacNaughton as Michael
Stream it on Hulu
---

---
Cloverfield
When it comes to monster movies, this is one of the best. A creature the size of a skyscraper descends upon New York, leaving death and destruction in its wake. Using a handheld video camera, a group of friends record their struggle to survive as the city crumbles around them. Thanks to the found footage angle, the movie expertly combines low-budget grit with spectacular effects, making the monster plot even scarier in the meantime.
Another aspect that elevates Cloverfield in the monster-movie genre is the characters. Here, they are fleshed out and developed instead of acting like disposable vessels only hanging around for buildings to have something to land on. Clever and scary, the movie will have you on the edge of your seat without insulting your intelligence. Let the thrills come.
Stream it on Netflix.
Cast:
Lizzy Caplan as Marlena Diamond
Jessica Lucas as Lily Ford
Odette Annable as Beth McIntyre
Mike Vogel as Jason Hawkins
---

---
Hellboy II: The Golden Army
Guillermo del Toro does it again. Unlike the first film in the franchise, which boasted a darker, gothic tone, Hellboy II resembles more of a classic fantasy flick. For centuries, an ancient truce has kept the naive citizens of the human race safe from the horrors of the invisible realm. But now, a power-mad ruler is assembling an unstoppable army of fantastical creatures to wage a supernatural war on humanity. It's up to Hellboy and his team at the Bureau for Paranormal Research and Defense to send the otherworldly overlords packing.
The movie is funny and action-packed, with amazing-looking creatures and thrilling battle scenes. A unique visual feast, while also managing to be compelling and engaging, with endearing characters and an exciting plot. Ready, set, binge.
Rent it on Amazon Prime or YouTube TV.
Cast:
Ron Perlman as Hellboy
Selma Blair as Liz Sherman
Doug Jones as Abe Sapien
Luke Goss as Prince Nuada Silverlance
Stream it on Amazon Prime
---

---
Lord of the Rings: The Fellowship of the Ring
While you should definitely watch all the installments in the series, the first one marks the beginning of this epic tale and is considered a landmark in film making, as well as an achievement in the fantasy film genre. Assisted by a fellowship of heroes, Frodo Baggins plunges into a perilous trek to take the mystical One Ring to Mount Doom so that it and its magical powers can be destroyed and never possessed by evil Lord Sauron.
An unqualified triumph, the movie builds slowly, introducing the mythology and lifestyles of J. R. R. Tolkien's creatures. Beautifully crafted, The Fellowship of the Ring won four Academy Awards from a whooping 13 nominations. It's a must-watch for any fantasy fan out there.
Rent it on Amazon Prime or YouTube TV.
Cast:
Viggo Mortensen as Aragorn
Elijah Wood as Frodo Baggins
Orlando Bloom as Legolas Greenleaf
Ian McKellen as Gandalf
Stream it on Amazon Prime
---

---
Enter the Void
Set in the neon-lit nightclub environments of Tokyo, Enter the Void follows a young American drug dealer who gets shot by the police, but continues to watch subsequent events during an out-of-body experience. Although performing poorly at the box office, it remains a feat when it comes to psychedelic imagery.
The movie provides an immersive and mind-bending experience, while also delivering thrills. Dazzling and depressing at the same time, Enter the Void will take you on an astonishing trip through life, death and the universally wonderful and horrible moments between. Don't be surprised if you find yourself obsessing over it days after you tuned in.
Rent it on Amazon Prime or YouTube TV.
Cast:
Paz de la Huerta as Linda
Nathaniel Brown as Oscar
Cyril Roy as Alex
Olly Alexander as Victor
Stream it on Amazon Prime
---

---
Sliding Doors
While Sliding Doors isn't the first pick that comes to mind when you mention fantasy flicks, its sci-fi elements earn it a special mention on our list. The film alternates between two parallel universes. It follows a London woman on two hypothetical paths — one where she gets home early and catches her boyfriend in bed with another woman, the other where she doesn't.
A romantic comedy at its core, Sliding Doors pushes the boundaries of the genre, and it does so with charm and wittiness. It features elements of romance, comedy and drama, delivering an original story that will make you both feel and think. With Valentine's Day approaching, this may be the perfect movie for a night in with that special someone.
Stream it on Vudu or Tubi.
Cast:
Gwyneth Paltrow as Helen Quilley
John Hannah as James Hammerton
John Lynch as Gerry
Jeanne Tripplehorn as Lydia
---

---
Melancholia
Melancholia is a psychological disaster movie directed by Lars von Trier. Two sisters find their already strained relationship challenged as a mysterious new planet threatens to collide with earth. From there, viewers get a hauntingly beautiful meditation on depression, with flawless imagery and strong performances by the entire cast.
Despite its sci-fi elements and apocalyptic storyline, the movie is more poetic than gloomy. More importantly, Melancholia is both uncomfortable to watch and difficult to forget. It will either move you or bore you to no end. Either way, it will stay with you for a long time.
Stream it on Vudu or Tubi.
Cast:
Melissa Benoist as Justine
Charlotte Gainsbourg as Alex Danvers
Alexander Skarsgard as Michael
Kiefer Sutherland as John
---
Bottom line
There's a seemingly endless pool of fantasy movies available to watch, with more coming out each year. To get the most movies for your money, compare streaming services and sign up for the one that fits your needs.
More guides on Finder