Finder is committed to editorial independence. While we receive compensation when you click links to partners, they do not influence our content.
Compare dishwashers online
Save time, energy, and maybe even a relationship.
Tired of fighting over whose turn it is to do the dishes? Invest in the right dishwasher, and everyone could be off the hook! Whether you need something small and compact or something large and energy efficient, it's worth doing a little research before diving right into a big purchase.
Our top picks
Bosch 100 Series – Best water-efficient dishwasher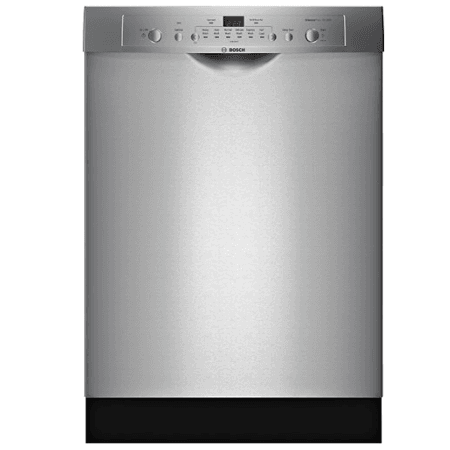 This 24″ tall dishwasher uses an average of just 3.2 gallons per cycle. Most newer dishwashers use anywhere from around three to six gallons of water each cycle. This Energy-Star-certified model also offers a half-load cycle option, reducing water consumption when washing a small amount of dishes.
Key features:
Six cycle options
Built-in sound-reduction system
Available in three finishes
Shop now
---
Kenmore 14573 – Best energy-efficient dishwasher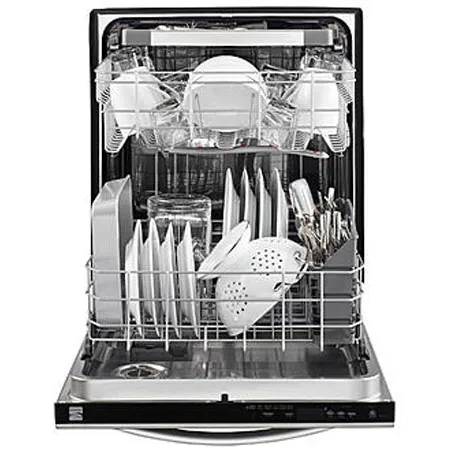 According to Consumer Reports, this model costs an average of $32 annually to run, making it one of the most energy-efficient dishwashers out there. It employs SmartWash HE Cycle technology to automatically adjust water and energy use based on the load size and degree of cleaning needed. And priced under $700, it won't cost an arm and a leg, either.
Key features:
Sanitizing rinse cycle keeps bacteria at bay

PowerWave spray arm for 80% more coverage
Three racks
Where to buy: SearsPrice: $699
---
Whirlpool WDF330PAHW – Best budget-friendly dishwasher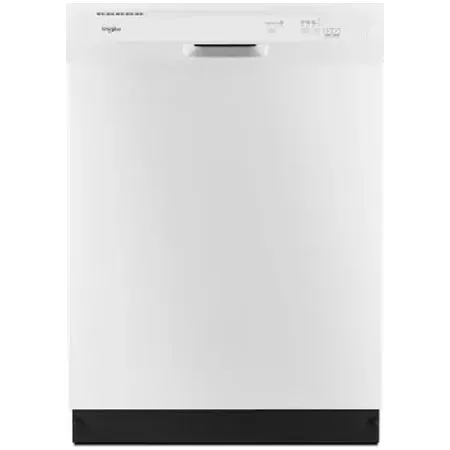 If you're shopping on a budget and aren't looking for bells and whistles, this Whirlpool dishwasher could be just the ticket. With three wash cycles and a high temperature drying option, this little appliance was built to get the job done.
Key features:
1-hour wash cycle
Quiet operation
Room for up to 13 place settings
Shop now
---
Bosch SPX68U55UC – Best slim dishwasher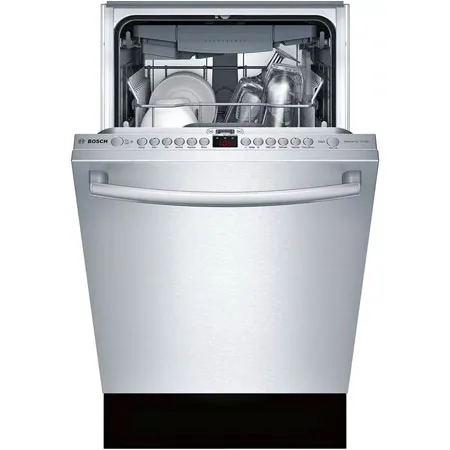 This 18″ model is amazingly quiet and efficient and is the perfect fit for smaller spaces. Its third rack allows for 30% more loading capacity than many other slim models out there.
Key features:
Very quiet
Three racks
Water softener ensures spot-free dishes
Shop now
---
Fisher-Paykel Double Dishdrawer – Best drawer dishwasher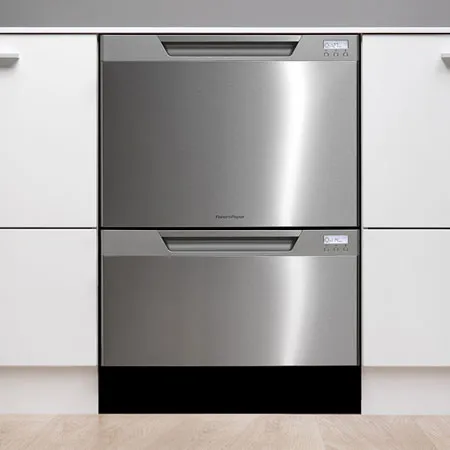 Drawer dishwashers are compact models that are reasonably new on the market. They are built into a small space in your kitchen counters, and slide out like a drawer to load. If you have a small kitchen, these can be a great option.
Key features:
Fits up to 14 place settings
Quiet
Smart controls
Where to buy: AmazonPrice: $1,100
Shop now
---
Bosch 800 Series SHXM98W75N – Best quiet dishwasher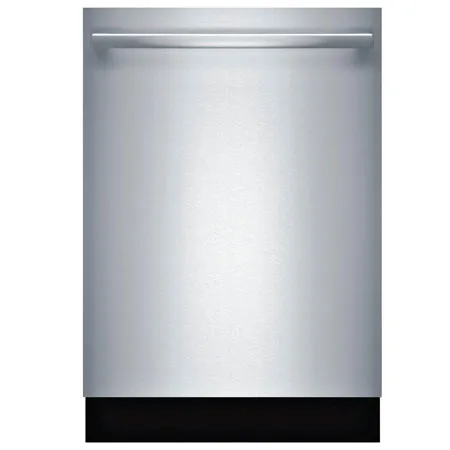 Bosch dishwashers are known for being some of the quietest machines around, and this model lives up to its reputation. With an impressive 39 dBA – well under the average of 45 to 50 – this dishwasher can run without anyone knowing it's on.
Key features:
Advanced leak protection
Large third rack
Touch Control technology
Shop now
Data obtained January 2020. Prices are subject to change and should be used only as a general guide.
Compare financing options
We pulled together four of the top financing options available from our partners.
Choosing a dishwasher
If you're in the market for a new dishwasher, start by figuring out what features you need and what your space limitations are.
Size
Take stock of the size of your kitchen and where your dishwasher will go. If you're making a dishwasher purchase as part of a kitchen renovation, your decision will be much easier. But if you're installing your new dishwasher into pre-existing countertops, you may be a bit more limited on dishwasher size.
Another consideration is the size of your household. Larger families could benefit from a three racks, or drawer dishwasher. If it's just you and partner, you may opt for a slim version.
Drying cycle
Most dishwashers offer a drying function, but not all are created equal. Pay attention to these specs:
Residual heat drying. Residual heat drying is an energy-efficient option because it doesn't use additional energy. But it's not the best for drying a full load of dishes.
Fan and heated air drying. Many models offer a fan assisted or heated air drying function. These only take a few minutes, but isn't considered energy efficient.
Zeolite drying. Zeolite drying uses crystals to absorb moisture and radiate heat to dry without using energy. Highly effective, but come with a high price tag.
Adjustable upper racks
It seems like a standard feature, but good-quality adjustable upper racks are too important to overlook. You should be able to easily adjust the racks with quick-release clips on either side of the rack.
Large spray head
A large spray head is essential to thoroughly clean dirty plates and pots. This helps cut grease and even can clean oven trays.
Delay start
Most new dishwashers come with a delay timer, so you can run your load while you're at work. It's always nice to come home to clean dishes.
Anti-flood protection
This functions detects water at the base of the machine and interrupts the program when it detects something is wrong.
Sensor wash
This auto function adjusts the temperature and length of the cycle based on how dirty the dishes are. You can find this handy feature on higher-end models with a high price tag.
Built-in Wi-Fi
Built in Wi-Fi means you can pair your machine to your phone and control the program remotely.
Energy Star ratings
If energy efficiency is important to you, look for the Energy Star certification. These dishwashers use less energy and water than noncertified appliances with similar specifications.
Noise
The quietness of dishwashers and other appliances is measured in dBAs, which stands for "A-weighted decibels." The average dishwasher usually clocks in around 45 – 50 dBAs. To put this in perspective, normal conversation is around 60 dBAs, and whispers are around 30 dBAs. Choose a dishwasher with a lower dBA if quietness is an important feature for you.
Bottom line
Do your research before springing for a new dishwasher to make sure you're happy with the size, features and price.
Looking to upgrade your entire kitchen? Find even more comparisons, product reviews, coupons and more on Appliance Finder.
How did we choose these products?
To choose our list of the best dishwashers, we compared overall features, size, type, energy efficiency and price for each category listed above. We also factored in our first-person experiences, as well as third-party product reviews to create a well-rounded list.
Frequently asked questions
Top appliance deals February 2021
More guides on Finder