Finder is committed to editorial independence. While we receive compensation when you click links to partners, they do not influence our content.
5 best cruises for first timers
Feel the breeze without a care in the world on these laid-back lines.
Booking your first cruise can be stressful. You have to consider which onboard activities will float your boat and the destinations you'd like to visit. Then, you have to sort out shore excursions, dining reservations and more.
That's where these cruise lines can help. They make managing the details easy, so you can relax on deck without a second thought.
Best for short-and-sweet: Royal Caribbean
Its 3- or 4-night trips provide a taste of what ship life is like — without making you commit to a week-long vacation.
As a first-time cruiser, it'll help you prioritize likes and dislikes so you can choose more precisely the next time around, when more time and money are at stake. Do you prefer quiet, educational classes or super-speedy water slides? Royal Caribbean has both, so you can try it all.
Frequently offers "second guest" deals that let you bring a friend for cheap
Dozens of activities to choose from, including rock climbing, world-class water slides, a surf simulator, karaoke, bumper cars, art auctions and more
Best for entertainment: Norwegian Cruise Line
These ships are better than your neighborhood entertainment district.
From Broadway shows to improv, comedy, ballroom dancing, dueling pianos and good old-fashioned blues bands, Norwegian has a reputation for stellar sounds at sea.
Bars, discos, bowling alleys and themed parties galore
Hundreds of itineraries to choose from that go to every continent except Antarctica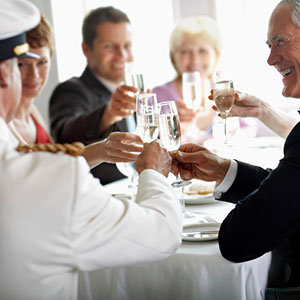 Best for a classic cruise experience: Holland America Line
Its mid-sized ships and relaxed atmosphere are a wonderful way to explore the world at an affordable cost.
If you're wary of bright, neon lights and throngs of people, consider Holland America Line. It's got live music and gourmet food, fascinating classes and fun organized activities — but without trying to be a theme park at sea.
Its culinary council — which guides onboard dining — is comprised of six world-class chefs
Partners with BBC and America's Test Kitchen to offer educational onboard activities
Best for peace of mind: Regent Seven Seas
Literally everything is included in your fare, so you don't have to fret about being nickel-and-dimed.
One of the most frustrating things for first-time cruisers is spending much more on board than they'd budgeted for upfront. Regent Seven Seas includes everything that most cruise lines don't — like gratuities, shore excursions and alcohol — so your fare is truly all-inclusive.
Itineraries visit 450 ports around the world
Every suite comes with a personal butler
Enriching lectures and classes
Best for nonstop fun: Carnival Cruise Line
Its massive ships are packed to the brim with thrills — mini golf, movie nights, Sky Zone trampolines, sport courts, water slides and even a roller coaster.
Your whole family is bound to have a good time. Carnival's cruises are imaginative and energetic, a wonderful way to see how whimsical cruising can be.
24-hour pizzeria to satisfy the late-night munchies
If you want to sail on a brand-new ship, choose its record-breaking Mardi Gras, launching in 2020
Tips and tricks for first-time cruisers
A few key pieces of advice every passenger should know before boarding:
Adhere to the ship times. Give yourself ample time to get to the port on sailing day and back to the ship after a shore excursion, because cruise lines won't wait if you're running late. We don't recommend flying into the port city on your day of embarkation — fly the day before so you don't have to worry about delays.
Tour the ship. Cruise ships are huge. Spend your first day wandering the decks, getting to know where everything is.
Pack a good carry-on. Thousands of bags will be checked in on the first day, and it can take hours for them to be delivered to your cabin, so make sure you bring the essentials — swim suits, sunblock and a good book — in a carry-on.
Mind dress codes. Research dress codes for evening events such as formal nights or themed parties and pack accordingly. You don't want to have to decide between missing an event or sticking out like a sore thumb.
Prepay your gratuities. If they aren't included in your fare, you can usually prepay gratuities at a set amount recommended by each line. That way, you don't have to worry about settling the bill after the vacation is over
Prepare for the possibility of motion sickness. If you've never been on a cruise before, you don't know how your body will react. Bring sea sickness tablets or remedies just in case.
How we chose these cruises
When choosing cruises for this list, we looked at the reputation of each cruise line for curating a smooth and easy onboard experience. We considered the quality of onboard dining and weighed the number and variety of restaurants against passenger reviews. We also weighed cabin amenities against each price point, looking for cruise lines that are known to deliver the highest value.
Finally, we sought out customer reviews on travel websites and personal travel blogs, considering first-person experiences — especially those written by first-time cruisers.
Bottom line
While all of the cruise lines on this list have great options for first-time cruisers, each has its own specialty. After parsing out which is best for you, check to see if there's a discount available before booking your fare.
Frequently asked questions
Traveling during COVID-19
The CDC continues to advise caution when traveling within or outside the US, However, it
no longer requires self-quarantine or a COVID-19 test
for fully vaccinated domestic travelers as of April 2021. International travelers need to get tested three days prior to flying out of the US and within three days after returning, even if you are fully vaccinated. It recommends that you delay travel if you're not fully vaccinated to protect yourself and your family from getting or spreading the virus.
If you're planning a trip outside the US, bear in mind that many countries have placed restrictions on US tourists. Check the US embassy website for updates
before booking international travel
.
Current cruise deals