Finder is committed to editorial independence. While we receive compensation when you click links to partners, they do not influence our content.
Compare the best clothes dryers
Make laundry day a little easier.
A clothes dryer is one of those household appliances that you don't know how much you actually need until you've got one. If you're in the market for a new one, compare a few different types and models before picking the best fit for your laundry needs.
Our top 5 favorite clothes dryers in 2021
1. Samsung DV40J3000EW – Best budget-friendly dryer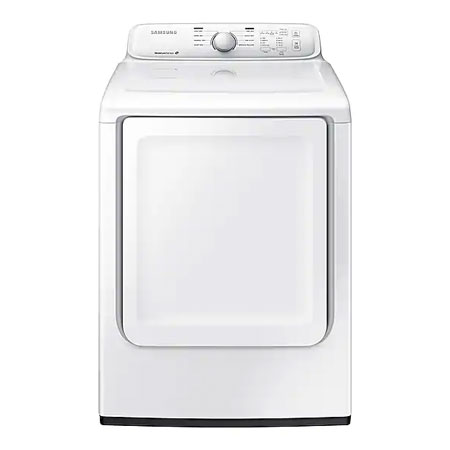 Heat source: Electric and gas available
Size: 27″ x 29.9″ x 44″
Capacity: 7.2 cu. ft.
Cost: $478
This dryer is a solid choice for those who are on a budget but are still after a quality machine that gets the job done. There are eight preset drying cycles, as well as a moisture sensor that automatically turns the dryer off when your clothes are dry. This model comes in both electric and gas options and has a safety child lock door and settings, four-way venting and filter check indicator light.
Shop at Samsung
---
2. GE GTD65EBSJWS – Best mid-range dryer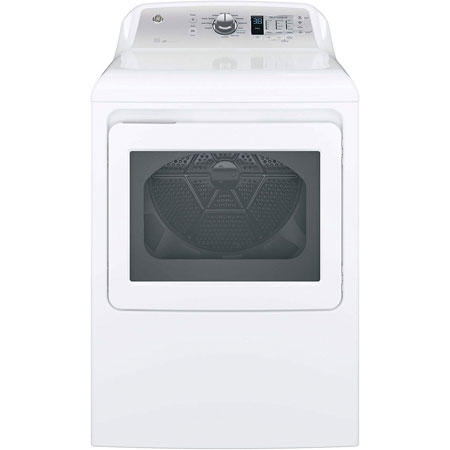 Heat source: Electric and gas available
Size: 27″ x 30.5″
Capacity: 7.4 cu. ft.
Cost: $720
This Energy Star appliance is a good bet if you're looking to cut down on your electric bill without sacrificing performance. This model offers 12 preset cycles to choose from, as well as four heat selections, a speed dry option and a damp alert that lets you know when your clothes are the perfect temperature for ironing. Priced under $800, this machine is a solid value for all of its added features.
Shop at Amazon
---
3. Maytag MEDB955FC – Best dryer for large families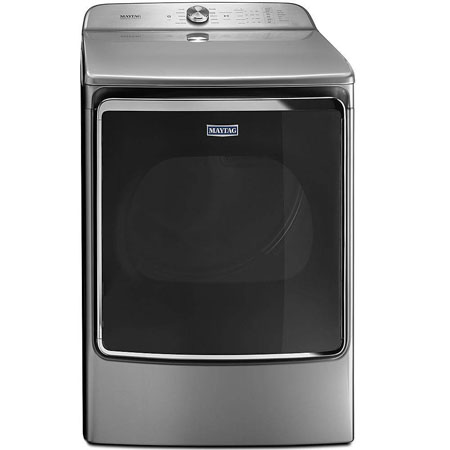 Heat source: Electric
Size: 29″ x 33.5″ x 43.44″
Capacity: 9.2 cu. ft.
Cost: $1260
This is our top pick for large families with lots of laundry. Although a little pricier than some smaller options, this Energy Star machine gives you plenty of bang for your buck. With a 9.2 cu. ft. capacity, a steam refresh cycle,
industry-exclusive extra moisture sensor and PowerDry system, you can dry large loads of laundry in practically no time. As an added bonus, this model also comes with a sanitize cycle, which claims to kill up to 99.9% of the bacteria that commonly live inside the average clothes dryer.
Shop at Amazon
---
4. Bosch WTG86400UC – Best compact dryer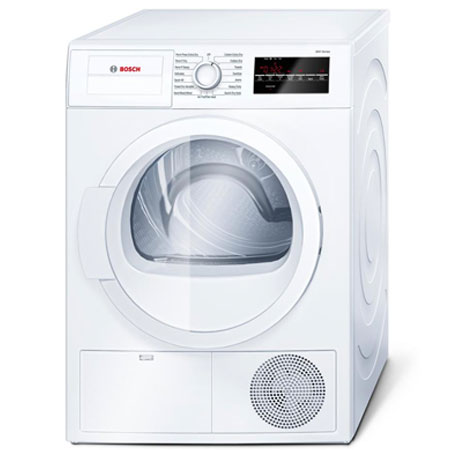 Heat source: Electric
Size: 23.55″ x 23.59″ x 33.15″
Capacity: 4.0 cu. ft.
Cost: $990
If you have limited space, this compact dryer could be a sensible solution. It features 15 preset drying cycles, automatic dry control, a moisture sensor, low vibration and child locks. This model dries through condensation, so it doesn't require any additional duct work to install in your home
— another bonus if you're pressed for space.
Shop at Home Depot
---
5. Samsung Electric FlexDry – Best high-end dryer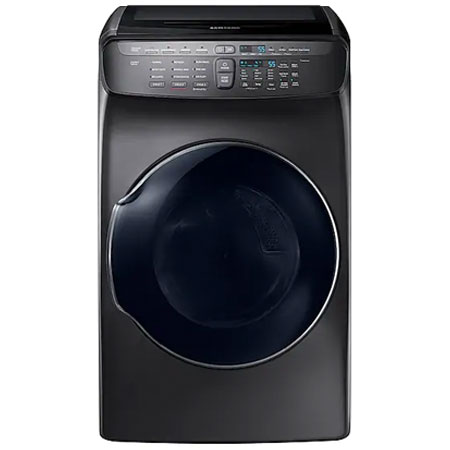 Heat source: Electric
Size: 27″ x 32.5″ x 46.9″
Capacity: 7.5 cu. ft.
Cost: $1,350
This high-end model is best for anyone who regularly dries delicates and other hard-to-dry clothing. It's a two-in-one machine that features a separate top compartment to flat-dry delicates, sweaters and accessories. The bottom part of the machine is a regular tumble-dry dryer for all your other garments and linens. Wi-Fi connectivity allows you to monitor dry times from anywhere in your home and receive alerts when the dry cycle is complete.
Shop at Samsung
---
Which clothes dryer is best for me?
This will depend on how many people are in your household and your personal preferences. Some things to consider when purchasing a clothes dryer include:
Size. Where in your home will your new dryer go? Make sure you measure the space before choosing a model to ensure it fits where you envision it. Don't forget to measure doorways and hallways, too.
Capacity. Dryers generally range from around 4 to 9 cubic foot capacity. Do you have a large family, or are you only doing laundry for one or two people? Do you frequently wash large items like comforters, blankets and winter coats? These factors will determine how large of a machine you might need.
Heat source. Is your home already equipped for an electric or gas dryer? If you don't have access to natural gas, you will need to go with an electric model.
Energy rating. Higher energy ratings generally equate to lower utility bills.
Types of clothes dryers
There are several types of clothes dryers on the market, differing in features, environmental impact and, of course, price. Some types of dryers are more expensive than others, but can be cheaper to run and gentler on your clothes. So understanding what the four main types of clothes dryers do can help you decide which type best suits your needs.
Vented dryer
A vented clothes dryer is the simplest and most common type of dryer. These are typically cheaper to buy, but can be more expensive to run in comparison to other dryers. All clothes dryers need to release the moisture that's taken from your clothes somewhere. With vented dryers, this is usually straight into the surrounding area, so it needs to be placed it in a well-ventilated room. Otherwise, you'll need to install a venting hose to direct the hot, moist air outside.
Gas dryer
Gas dryers work in a similar way to electric clothes dryers, but the main difference is that they use gas as the energy source. These appliances are more expensive to buy, but usually cheaper to run, as they use less energy and often heat clothes up faster than most electric dryers. A gas dryer's drum motor and controls are still powered by electricity, though this contributes only 10% of the energy cost. You'll need to have a gas line running to the laundry room and the dryer must be vented to the outside.
Condenser dryer
Condenser dryers are equipped with heat exchangers that condense the moisture from your clothes into water and either collect it in a reservoir or drain it away. The reservoirs are easily taken out and emptied. While the air that is released into the room from a condenser dryer will still be warm, it won't be moist as it is with vented dryers, so there won't be water dripping down the walls. As a result, these dryers tend to be a bit more expensive, as ventilation isn't as big an issue.
Heat pump dryer
A heat pump clothes dryer works in a similar way to a reverse-cycle air conditioner by recycling the warm air produced by the drying cycle and using it to dry out the clothes. These dryers are more expensive, but they're also much more energy efficient and thus less costly to run. And while they tend to take a little longer to dry clothes than other types, they condense moisture and don't vent any warm air at all, so there are no ventilation concerns.
Where to buy clothes dryers
A few of the most popular stores to shop for appliances like clothes dryers are:
---
Bottom line
Having the right clothes dryer for your and your family's needs is important if you want to spend less time doing laundry and more time doing activities you enjoy. Compare a few top options before investing in a new dryer to make sure you get the most bang for your buck.
How did we choose these products?
To choose our list of the best clothes dryers, we conducted indepenent research to determine some of the most popular models currently available. We then considered the type of dryer, size, capacity, extra features and price, specifically choosing models in a range of prices, sizes and extras.
Data obtained January 2020 and is subject to change.
Frequently asked questions
More guides on Finder