Finder is committed to editorial independence. While we receive compensation when you click links to partners, they do not influence our content.
10 amazing Amazon original series you should binge right now
There are plenty of gems awaiting your attention.
While you might have heard of Netflix original hits like Orange is The New Black or Stranger Things, Amazon's original content, although just as addictive, tends to fly under the radar. That's a real shame, since its versatile library is populated with all sorts of treasures, from a communist buddy cop show to a charming series about a housewife turned stand-up comic in the '50s.
Amazon started to develop its original series in 2013, so there's a generous back catalogue to explore. If you're just getting started and don't know where to start, here are our top 10 picks.

1. The Marvelous Mrs. Maisel
---
Year of release: 2017
Cast: Rachel Brosnahan, Alexandrea Borstein, Marin Elizabeth Hinkle, Michael Zegen
---
When it comes to Amazon originals, this one should be on top of your to-watch list. The show was created by Daniel and Amy Sherman-Palladino, the duo behind beloved series Gilmore Girls. This time, they decided to gift audiences with the story of a ballsy housewife whose life turns around when her husband leaves her. Instead of wallowing, she uses her pain to jumpstart her career as a stand-up comedian. Add in the fact that the action takes place in the '50s and you've got yourself a hit.
Critically acclaimed, The Marvelous Mrs. Maisel ruled the night at the 2018 Golden Globes, winning for best actress in a comedy or musical and best TV series, comedy. Rachel Brosnahan offers an inspired and charming performance as Midge, but the show also wins bonus points for tackling issues regarding sexism and religion. It's fun, it's stylish, it's marvelous.

2. Mozart in the Jungle
---
Year of release: 2014
Cast: Gael García Bernal, Lola Kirke, Bernadette Peters, Saffron Burrows
---
You wouldn't think that classical musicians would lead rock'n'roll lifestyles behind the scenes. Well, this series is set to prove you wrong. Season 1 sees a young oboist, Hailey, trying to break into the New York symphony orchestra, which has just hired a new eccentric conductor, Rodrigo De Souza. The series boasts a talented and electric ensemble cast featuring Gael García Bernal, Lola Kirke, Malcolm McDowell, and Saffron Burrows.
The show just premiered its fourth season, but it's been the critically acclaimed jewel in Amazon's library even since its debut. Turns out, what happens behind the curtains at the symphony is just as captivating as what happens on stage. And you don't even need a degree in classical music to get the jokes.
3. Goliath
---
Year of release: 2016
Cast: Billy Bob Thornton, Maria Elena Bello, William McChord Hurt, Olivia Jo Thirlby
---
Billy Bob Thornton is an astonishing actor, and Goliath stands testament to that. The series follows a down-and-out lawyer as he seeks redemption. It's basically a legal drama, so nothing particularly groundbreaking there. However, it's extremely compelling and the amazing performance from the ensemble cast pushes the series into must-see TV territory.
The show was created by David E. Kelley, also responsible for titles like Ally McBeal, Boston Legal and Big Little Lies. Gritty and entertaining, you'd be surprised by how quickly Goliath will feel like comfort TV.

4. Red Oaks
---
Year of release: 2014
Cast: Joshua Dylan Meyers, Gina L. Gershon
---
Set in the '80s, Red Oaks is a sweet and endearing coming-of-age story. David, a college student and wannabe filmmaker, begins to work at a New Jersey country club one summer and starts to think about out what kind of life he wants to lead in the long run. The series stars Craig Roberts, Jennifer Grey, Richard Kind, Alexandra Socha, Paul Reiser, Oliver Cooper and Alexandra Turshen.
The great thing about Red Oaks is that, despite its setting, the show isn't just nostalgia porn. It's a charming story about adapting to change and fearing you won't be able to live up to your potential. The series ended last year and remains one of Amazon's most underrated original offerings.
5. Transparent
---
Year of release: 2014
Cast: Jeffrey Michael Tambor , Gabrielle Mary Hoffmann, Judith Ellen Light, Amy Lauren Landecker
---
Transparent was the first show produced by a streaming media service to ever win a Golden Globe, which should be reason enough to add it to your watch-list. And despite the recent controversy surrounding it, it remains a groundbreaking and thoughtful piece of work. After all, it's the show that pushed Amazon into the league of premium programming.
The dark comedy revolves around a dysfunctional Los Angeles family following the discovery that the person they knew as their father, Mort, is a transgender woman, Maura. Transparent is a daring and confident series, which benefits tremendously from the perfect ensemble cast – Jeffrey Tambor, Gaby Hoffmann, Judith Light, Amy Landecker and Jay Duplass.
6. Fleabag
---
Year of release: 2016
Cast: Phoebe Waller-Bridge, Olivia Colman, Bill Paterson, Jenny Rainsford
---
Fleabag is funny, dark, rude and extremely honest. This British sitcom follows Fleabag, a young woman attempting to navigate modern life in London. It was created by Phoebe Waller-Bridge, who also plays the title role, based on her one-woman play with the same name. And it has an approval rating of 100% on Rotten Tomatoes.
The main character is flawed, but very likable. Moreover, Fleabag is both narrator and actor. She often breaks the fourth wall by turning to the camera and speaking directly to the audience, which makes the series even more charming. Gut-punch comedy at its best.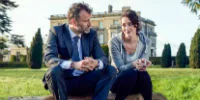 Watch Fleabag with iTunes
from iTunes Store
Watch and enjoy a six-part comedy series with Fleabag!
View details
7. Sneaky Pete
---
Year of release: 2015
Cast: Giovanni Ribisi, Marin Ireland, Margo Martindale, Libe Barer
---
Sneaky Pete sees convicted con man, Marius, released from prison and assuming the identity of his cellmate, Pete, to hide from debtors. Once back on the streets, Marius soon meets Pete's estranged and eccentric family and lands a job with his faux-clan's bail-bond business. The cast includes Giovanni Ribisi, Bryan Cranston, Margo Martindale and Marin Ireland.
This comedic crime drama is captivating, suspenseful and fun, making it ideal for binge-watching. Just as the title suggests, this show will sneak up on you. At first you'll tend to roll your eyes at the show's premise, only to realize you're completely hooked after two episodes.

8. The Man in the High Castle
---
Year of release: 2015
Cast: Alexa Davalos, Luke Kleintank, Rufus Sewell, Rupert Evans
---
This dystopian show is based on the novel with the same name written by Philip K. Dick. It's basically an alternate version of life in the US in the 1960s – if Nazi Germany and Japan had won WWII. The premise is that those nations divided the United States into two puppet states: the Greater Nazi Reich and the Japanese Pacific States. The series follows characters whose destinies intertwine after coming into contact with a series of propaganda films that show a vastly different history from their own.
The Man in the High Castle is strong on both on world-building and characterization. Unlike anything else on TV, the show is filled with unexpected twists, stunning visuals, and strong performances.
9. The Tick
---
Year of release: 2016
Cast: Yara Martinez, Valorie Curry, Peter Serafinowicz, Jackie Earle Haley
---
The Tick is based on the character from the comic book with the same name. The series revolves around a dimwitted superhero, his accountant sidekick and their assorted oddball friends, as they fight off a super-villain who has taken control of the city.
Hilarious and suspenseful, The Tick is the perfect show to watch at the end of a bad day. It will cheer you up in no time. Plus, there aren't enough superhero comedies out there, and this one's definitely a keeper.
10. Comrade Detective
---
Year of release: 2017
Cast: Channing Tatum, Joseph Gordon-Levitt, Florin Piersic Jr.
---
Definitely the oddest entry on our list, but well worthy of your attention. Comrade Detective is a high-concept comedy that will mess with your head – in a good way. It's presented as a fictional lost Romanian television show commissioned by the Communist Party to promote a communist worldview during the Cold War. In fact, the series was filmed in Romania with real Romanian actors. They were speaking Romanian. To reinforce the premise, it was then dubbed into English using the voices of Channing Tatum, Joseph Gordon-Levitt, Jenny Slate, Kim Basinger and Jason Mantzoukas. Convoluted, yet often hilarious.
To say the series is quirky would be an understatement, but its concept is what actually makes it must-see TV. Besides being funny, the show also questions the ways propaganda can infiltrate and influence society. And while it may not appeal to everyone, Comrade Detective will surely make some viewers lose their minds. If you think you're one of them, you'll be in for a treat. One season is available on Amazon.
Bottom line
If you're looking for a new series to binge, you can sign up for Amazon Prime to get access to an impressive library. And if you somehow binge your way through and still need new shows, compare streaming services to find even more original content.
More guides on Finder