Finder is committed to editorial independence. While we receive compensation when you click links to partners, they do not influence our opinions or reviews. Learn how we make money.
7 benefits of having a pet
Caring for pets has been proven to improve your wellbeing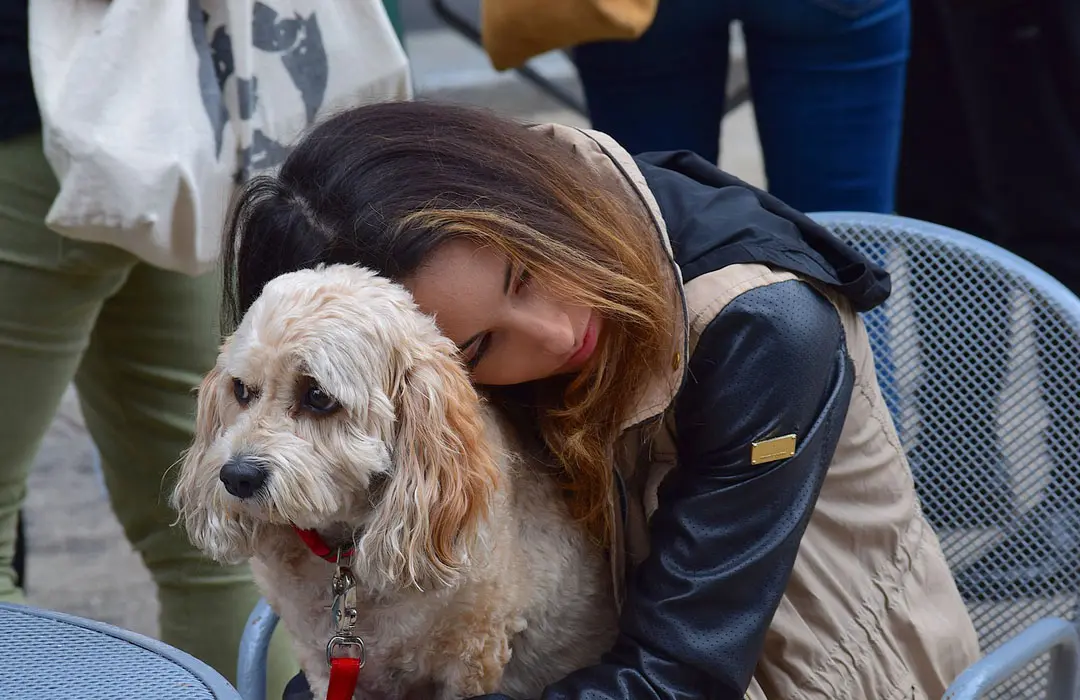 For all the time and care we put into our pets, these furry friends return the love in a variety of ways. In fact, many research-backed benefits of having a pet involve our physical and mental health. A dose of Fluffy's cuddles might act as the best medicine for hard days.
1. Pets can help you stay less stressed and depressed.
Pets offer a soothing presence and a nonjudgmental ear during their owners' sometimes hectic lives. Nearly 75% of older pet owners said their pet lowered their stress, according to the 2019 National Poll on Healthy Aging. A variety of older research has confirmed animals' stress- and anxiety-lowering effects, including studies on children with autism.
People believe in this therapeutic effect so much that many invest in service dogs. These dogs are everywhere, devoted to everything from looking after soldiers with post-traumatic stress disorder or owners with emotional or physical needs.
2. Pets can strengthen your heart health.
Owning a pet, particularly a dog, can improve a number of factors related to your heart's health. Dog owners tend to have lower blood pressure and cholesterol and more physical activity, benefits reaffirmed in an American Heart Association report published in Circulation: Cardiovascular Quality and Outcomes. Dog ownership also improved patients' longevity of life after suffering a heart attack or stroke, the report showed.
3. Pets can stave off loneliness.
Time spent with your pooch, cat or chatty bird means you're not spending that time alone. These loving pets can lend you a listening ear or give you someone to care for, alleviating loneliness. Owning a pet can also give you an excuse and conversation starter to meet new people, such as taking your pup to the dog park and chatting up other dog owners.
Loneliness is a risk factor for mental illness and decline, especially as you age. In fact, not only do pets prevent feeling lonely, they can provide emotional support during tough times.
4. Pets can help you recover from sickness.
Perhaps you've seen one of the many social media posts showing folks recovering with a pet by their side? Story after story tells how a pet's friendly face, soft fur or wagging tail brings a smile to a patient's face. That's because some healthcare settings let patients use animal-assisted therapy (AAT) to support them during recovery.
A few studies have shown positive results with AAT, including one that suggested patients use nearly 30% less pain medication with animals involved in their recovery. The study, published in Anthrozoös in 2014, looked at patients who needed joint replacement surgery. Overall, studies waver on the benefits AAT provides for patients.
5. Exercising your pet can make you fit too.
Pet lovers rejoice: Pets who need regular time outdoors can keep their owners more active as they meet their furry friend's needs. Even if you simply wrestle around at home, you'll get plenty of squats and stretches as you play different pet-friendly games.
In fact, dog owners may get an extra 20 minutes of exercise each day, according to one study published in BMC Public Health. You can thank Spot's exercise and outdoor roaming needs for those extra active minutes.
6. Living with pets can ward off your kids' allergies.
Living with a pet from birth can lower your kids' likelihood of developing allergies as they grow. And the effect multiplies the more pets you keep in the house, says a review published by the Public Library of Science.
While nearly 50% of kids without pets develop allergies later in life, that number dwindles for those with pets. No allergies developed in kids living with 5 or more pets, the review points out.
7. Pets can help reduce blood pressure.
Your pet's ability to lower stress and help you exercise could lead to lower blood pressure. The American Heart Association affirms the positive effects pets can have on your heart.
Yet a few studies hint at a direct relationship between pets and blood pressure. For example: Owning a pet could reduce your systolic blood pressure by 3 mmHg, according to a pilot study from Oregon State University. That's enough to lower stroke risk by 6% and heart disease risk by 4%.
7 ways you can return the favor to your pet
You can show your pet how much you appreciate their companionship by keeping them in tip-top health.
Spay or neuter your pet. Your vet will be able to advise you on the best time to do it. Neutering reduces unwanted pregnancies, reduces aggression and calms behavior.
Keep your pet at a healthy weight. You can control their weight with a balanced, nutritious diet and adequate daily exercise.
Buy engaging toys. Rotating fun toys that your pet will enjoy helps maintain their mental and physical health.
Take your pet to annual vet checkups. Regular vet visits ensure your pet stays healthy and can help you detect any health problems early.
Keep your pet's vaccinations up to date. Vaccines guard against harmful or deadly diseases like rabies, distemper and parvovirus.
Stay current on preventive medicine. Set a reminder for regular heartworm, flea and tick preventives to keep your pet free from parasites.
Consider pet insurance. Weigh the pros and cons of getting pet insurance if it helps you foot your pet's vet bills.
Compare pet insurance for your pet
Bottom line
Pets may not repay you with monetary rewards for your devotion to their care. But research shows some of the benefits of having a pet include improving your mood and health. You can protect your pet with pet insurance to get the vet care they need for a vibrant life.
Common questions about benefits of pet ownership