Beauty spotlight: Glossier Lidstar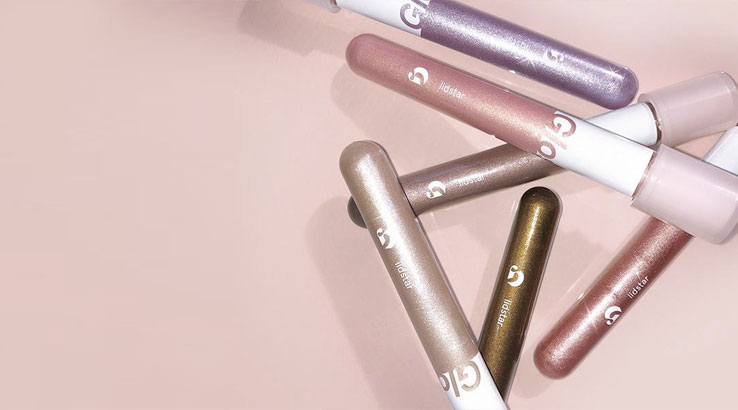 The Glossier girl motto might be skin first, makeup second, but when the brand does release new makeup products, it's sure to create something exceptional.
In the past few weeks, all eyes have been on Lidstar, a shimmering liquid eyeshadow that comes in six shades. It quickly became a celebrity red carpet favorite at the Oscars, and Beyoncé even secretly wore it to the Grammys. I got my hands on a few tubes of this magical new eye glitter and it's safe to say my new favorite eyeshadow comes in a vial.
Why we love Lidstar:
Eye makeup can be overwhelming. Sometimes it's hard to know exactly what kind of look you want to create and where to start. Lidstar isn't overwhelming at all.
It's remarkably uncomplicated, fun and easy, while still managing to be striking and beautiful. The six shades are a gorgeous range of gentle metallics, designed to look great on all skin tones. Since I'm pretty pale, I chose the lightest pink and purple, Slip and Lily. Both are very glimmery and attractive.
Lidstar's wand is shaped a lot like a lip gloss wand, and the applicator will be familiar to any girl who's ever owned one. It's unintimidating and could seriously be applied by a child, which is great. Lidstar is the lip gloss of eyes: it doesn't require a liner or a lot of effort to apply.
I frankly don't have time for a complicated makeup routine at 7 a.m., and Lidstar makes it easy. Use the applicator to swipe a little of the product on your eyelid and then use your finger to blend it. You're done.
Lidstar lasts all day long and doesn't smudge or move. You shouldn't have to reapply it throughout your day, even though you might want to because it's so fun to use.
A long lasting liquid eyeshadow that's easy to apply without making a mess? Glossier, you've done it again.
Where you can get them:
Shop Glossier.com to discover Lidstar and other amazing products from this millennial cult beauty favorite.
Cost:
You can buy a duo of Lidstars for $30 or purchase individual Lidstars for $18 each.
Image: Glossier